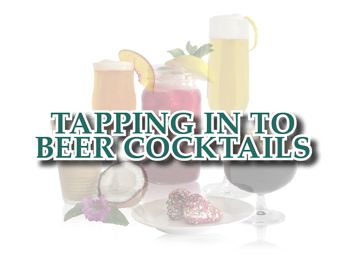 TAPPING IN TO BEER COCKTAILS
Take a close look at beverage menus around the country, and you may start noticing an interesting ingredient in cocktails – beer! The popularity of craft brews has been growing steadily over the years, resulting in a larger share of shelf space as well as expanded beer lists at bars and restaurants. With all these unique flavor profiles – from Black Lager to Flemish Red to Milk Stout – bartenders have started using beer in place of sodas to add a new dimension of carbonation to drinks.
Kati Semanski, General Manager at Scholars American Bistro & Cocktail Lounge in Boston, explains her take on beer cocktails. "What makes a beer unique are the same characteristics that make a cocktail unique: sweetness, sourness, bitterness, acidity, and especially flavor originality. As a mixer, beer contains some of the qualities we strive to achieve in a cocktail, but in such unique proportions as to be very challenging to work with. Successfully using an ingredient with so much character is certainly a challenge, but one which stokes our creativity. The carbonation gives the cocktail a refreshing boost, whereas the "bready" or yeasty quality of beer can soften the bite of some hard alcohol without making the drink overly sweet. In contrast, a Porter or Stout can give the drink a rich sweetness that can't be matched by any soft drink known to man [or woman!], and of course the inclusion of beer gives the cocktail an additional "kick" after a long day at work." Beau Sturm of Trina's Starlight Lounge in Somerville agrees: "Beer offers so much more complexity than most carbonated mixers. You have earthy grains, spice, citrus, sweetness, etc . . . There are layers of flavors to beer that make it a logical ingredient to crafting a cocktail."
This aspect of mixology has been around long enough to be included in David Embury's classic tome "The Fine Art of Mixing Drinks" which was published in 1948. In it he describes a version of a Sangaree using ale, beer or porter with two teaspoons sugar syrup mixed in a highball glass over ice and dusted with fresh grated nutmeg. And if you've been to Mexico or Southern California, you've most certainly had a Michelada – a mix of beer, lime, salt, hot sauce, and sometimes tomato juice. Then there's Boilermakers and Car Bombs, the requisite shot-in-a-beer drinks that are less about mixology and more about the convenience of consumption. Beau Sturm recalls an early experience with beer cocktails. "One of my first bartending jobs was in West Virginia – the day shift started at 8:3Oam and I would go through a case of tomato juice and a tray of eggs making Red Eyes for the coal miners getting off (or going to) work. Even my friends from Mexico and Central America drink their beers with a salt shaker and limes."
Sturm feels beer adds a level of complexity when used in cocktails. His creation, called "Word to Your Mom", is based on the classic Last Word cocktail and combines Bols Genever, Yellow Chartreuse, maraschino and lemon, shaken and served in a double rocks glass and topped with Pretty Things Jack D'Or beer. Explaining the beer choice, Sturm says of Jack D'Or: "It is dry, earthy, crisp with citrus to balance it. Many of the same notes from ales are in Bols Genever – malty sweetness with tart juniper and citrus. So we had a starting point of a dry beer and a malty sweet base spirit and built our version of a Last Word cocktail around that." Trina's also serves a brunch beer cocktail called "La Saladita" with blanco tequila, St. Germaine, grapefruit juice and Pacifico Clara beer in a salt-rimmed pint glass. "It's just a glass of summertime!" says Sturm.
So what do the beer companies think about all this? Charles Storey, Senior VP Marketing, Harpoon Brewery sees the usage of beer in cocktails as a natural extension of the craft cocktail movement. "Many bartenders are reviving old classics and also creating new cocktails. An important trend is the use of local, authentic, hand crafted and – at times – unusual ingredients. Craft beer fits nicely with these trends." In the past Harpoon has had success promoting a drink called the Harpoon Apple Pie, a mix of Harpoon Winter Warmer with Harpoon Cider.
Beer is typically seen by most people as a straightforward and approachable drink choice. Those same consumers are often wary to try new cocktails with a long list of ingredients and historical pedigree. Adding beer changes the marketing of a cocktail simply by being part of it. Storey explains: "Beer is a wonderful drink, and part of what makes it so enjoyable for so many people is that it is not snobby. Indeed, it is accessible, fun, affordable. With this in mind, why not use beer as an ingredient? I personally regard beer, however, as a complete drink that does not need other components to be mixed in. From time to time I enjoy mixing different beers together."
It's likely most brewers enjoy the additional usage of their beers on cocktail lists, and some may invest behind beer cocktails as a marketing strategy. Semanski has spoken to several breweries about sponsoring cocktail competitions at Scholar's and they are all positive about the association. She adds, "I think beer companies are a little wary of upsetting beer purists. I think this reticence is completely unnecessary. Beer drinkers are pretty adventurous, and if they know the beer is being used to some purposeful end, there's no need to get upset. The one thing I wouldn't want to see, and I think most beer aficionados would agree with me, would be brews created especially for mixing purposes."
The brewers at Harpoon would agree with Semanski. "I think they'd prefer that the beer be consumed by itself rather than as a part of the cocktail. However, most brewers are happy when people take pleasure in the beer they have made however it is consumed," says Storey
Semanski admits mixing and matching a wide variety of beers and cocktails is a process of trial and error. "I've found the easiest types of beers to mix are light Lagers, American-style Hefeweizens, and Porters or Stouts. IPAs are fun as well, but the result is too esoteric for some patrons." She's created several winners for the menu at Scholar's, including the Lagerita, made with blanco tequila, triple sec, fresh lime juice, fresh lemon sour, and Modelo Especial beer, and the popular Kati's Weissen-gria, a combination of Allagash White beer, Sailor Jerry's Spiced Rum, peach liqueur, triple sec, fresh lemon juice, fresh peaches, and oranges. "I have two different aims in mind with my beer cocktails: one is to challenge an adventurous drinker to a new taste and new experience; the other is to give somebody a familiar taste, but with a twist being the addition of beer," she says of her recipes.
J Bellao, also of Trina's Starlight Lounge, sums it up best: "Beer cocktails are amazing. In a world of classic cocktails where people simply only look to the back bar, beer brings you so many tastes, finishes and textures that you can't really find or duplicate anywhere else because of the care and attention to detail brew masters all over the globe take in creating their respective brews. Whether it's a pilsner, a saison or a thick stout, simply including beer with its different levels of malts, barley, hops, and carbonation, you can change the way you will look at the art of making cocktails."
Summer Cocktail Recipes
by beer expert and sommelier
Samuel Merritt
THE GUINNESS
CARIBBEAN PUNCH
7 ounce can sweetened, condensed milk
16 ounce bottle Guinness Extra Stout
1 raw egg
pinch fresh ground nutmeg
In a pitcher, vigorously beat egg and condensed milk together. Slowly pour Guinness Extra Stout down the side of the pitcher and gently mix. pour into stemware, grate fresh nutmeg on top.
THE MAINER SUMMER SATURDAY PUNCH
4 ounces Allagash White Ale
1 ounce Lindeman's Framboise Ale
1 ounce Hendrick's Gin
In a punch bowl, pour gin, slowly add Allagash White then Lindeman's Framboise. serve over ice in punch glasses. garnish with cut raspberry.
THE EVIL PEACH
6 ounces of Duvel Ale
3 ounces of Lindeman's Peche Ale
Peach slice to garnish
Pour Lindeman's into bottom of a 12 ounce tulip glass, slowly add Duvel into the glass. Do not stir. garnish with peach slice.
THE BROOKLYN VALENTINE
12 ounces Brooklyn Black Chocolate Stout
11.2 ounces Lindeman's Kriek Ale
Pour Lindeman's Kriek slowly into a large tulip glass followed by the stout. top with whip cream if desired.
THE FRANCO AMERICAN
12 ounce Miller High Life
1 ounce St. Germaine Elderflower Liqueur
Pour St.Germaine into the bottom of a pilsner glass, slowly add Miller.
optional garnish with a lemon twist.