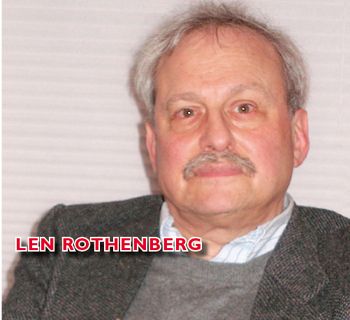 LEN ROTHENBERG 63
Owner, Federal Wine & Spirits, Boston
Federal Wine and Spirits has been Len Rothenberg's baby for 25 years, and he still thinks of it in terms of a congenial 197Os folk club. Federal has become a hangout for wine enthusiasts, a 'coffeehouse' for the exchange of enthusiasm and ideas. Federal's bailiwick is forging community and wine culture connections in Boston's Financial District. Its customers are lawyers, newspapermen, bankers, financial analysts, stockbrokers, venture capitalists, as well as Freedom Trail tourists and street people, all with differing expectations. Settled into his cramped cellar office, surrounded by cyclopean granite stones, restacked cases and wine bottles, tapping out his newsletters, e-sales and taste-notes, 'Laptop Len' tells his story from the ground up. Like some of his peers, his interest in wine grew alongside other aesthetic pursuits (folk music) and innovations in marketing. Little wonder Len's relied on the showman's tools of backstory and broadside to make his points.
A FEDERAL CASE The shop took its name from being founded on Federal Street in 1944, but we like to tell Canadian tourists off the Freedom Trail that Federal means the 'official government store' for spirits. After World War II, Ed Breger ran it from 1948 to 198O, when he sold it to Bobby Hoffman and Bill Friedberg, who'd begun Boston Wine Company. When Bob took the chance to become a co-owner of Classic Wines and BLM in 1985, and wanted to sell out his half, I bought it. Around 199O, Bill wanted to sell out, so I bought his half too, and have owned it ever since.
PALATE EVOLUTION I got into the wine business after college in 197O as a busboy at Ferdinand's in Harvard Square. I was interested and worked hard, the owners liked me and kept promoting me. As a waiter, I had a tendency to drop things, so they made me night manager; that meant I had to bartend, host, lock up, and by the way, attend to the wine list. I knew nothing about wine. That meant, when we ran out of one of the 1O wines, I'd re-order it. People would come in and say 'nice place but the wines aren't much'. I decided that since wines were my responsibility, I'd better learn about them. I got the owners to buy me Alexis Lichine's Encyclopedia of Wine & Spirits. As I started reading it, I realized you actually had to taste the stuff! We were doing business with C. Pappas & Sons, Dreyfus Ashby, and new guys on the block, like Classic Wines, represented by Bill Friedberg. Bill showed me stuff; I started going to tastings (Fred Ek held some at his house).
BIT BY THE BUG In 1973 I took my first vacation – a month in France. Fred and Bill set me up to visit people not yet famous. At Baumard's estate I got sick from overindulgence; I can still point out the front room of the chateau on the old Quarts de Chaume label. In Bordeaux, I picked grapes at Château Beaucaillou, had way too much to drink, and later developed a strong relationship with them. Marcel Guigal became a friend. I met people in Burgundy (Roland Remoissenet) and Alsace (René Schmidt), saw the amazing Retable de Issenheim in Colmar. Came back a thorough Francophile. Ferdinand's owners asked me to run their adjacent rooms – Blue Parrot [restaurant] and the Idler [folk club/coffeehouse]. Byron Linardos, the last manager of Club 47, gave me ideas about publicizing acts and turning it into a folk music destination. I ran it until 1982. When a falling out between owners lost me my job, I promoted concerts for Tom Paxton, Dave Van Ronk, The Neville Brothers. I was the first to book Suzanne Vega, then 19, outside New York. I booked Ferron from coffeehouses to church halls to Symphony Hall.
BLOWIN' IN THE WINES When Bill needed holiday help at Federal, Christmas of 1984, I came in. Our downtown competition then was Merchants Wine & Spirits, John Gilbert & Sons, and a State Street shop. Federal was a service store, supplying local offices for parties. People drank lots more in those days. The Globe and The Herald were our corporate customers, and as you know, newspapermen drank plenty. We did some fine wine – nearly all European, mostly French – in a market largely defined by conservative old Yankees with big cellars. While our customer base was old-fashioned, the industry was watching California's ascent: Stag's Leap, Robert Mondavi, Montelena. Mr. Parker's famous ratings of the 1982 vintage were all the rage. When I asked a supplier at Ferdinand's, "What're the good California vintages?" he replied, "Doesn't matter – they're all the same."
BROADSIDES 4 BORDEAUX When I started understanding wines, I looked at them as I looked at musical artists – with real personalities and idiosyncracies. I wrote The Federal's monthly newsletter much the same way I did the Idler's calendar – I wrote about wine the way I wrote about musicians. Jeff McLaughlin, the Boston Globe critic, friend and Idler fan, taught me this: "You're not just selling a bottle of wine. Give them a story to take home and savor!" So I had to craft how people thought about the wines – to influence their expectations!
EXPO COUP My computer interest began when my college roommate, Doug Carlston, who'd become a computer game publisher in California, needed help organizing his wedding. On his Apple 2-E (a pre-Mac desktop with CRT displays), I learned the basics, then attended Macintosh conventions, read books on guerrilla marketing, and thought up ideas on the cheap. The first year of Boston Wine Expo, run by Peter Sagansky and Carol Boychuk, I called distributors to ask which wines they were showing; when they gladly complied, our sales sheet turned out to be Expo's most accurate and complete wine listings. I didn't tell them I was going to make a public offer to consumers! I was just doing what we'd done to promote concerts: hand out flyers for the next one. We handed out sheets to people entering until the police chased us away. Then we went out to the parking lot and leafleted the cars, many of which were those of our competitors. They were furious. The wholesalers were a little embarrassed, but they weren't complicit in this.
FIRST FLASH When a new wine was being released, I'd try to be the first one out with a notice on it. I had terminal difficulties with deadlines, and printed invitations and flyers were killing me. I went outdoors and looked up at all the potential customers I wanted to reach in these tall buildings, and decided on faxes instead to describe our weekly tastings. Quickly the fax list grew, but it was all one-at-a-time. I'd take half the list home and run the fax machine all night long. When email came in, I was overjoyed. Roger Ormon (of Brookline Liquor Mart) and I were the first to go with email newsletters.
TASTES OF THE CITY When I decided I wanted to enjoy running the store, I intentionally wrote the newsletter so it isn't easy to read, but rather engages your attention. I try not to write for geeks, but people who are interested in the subject. It was liberating to realize that I didn't have to cater to everybody. Some read the newsletter, some don't. The market defines itself, and our customers self-select. I wanted to center sales around tastings that served as a platform for the stories we told about the wines, to involve the newsletter readers. Before tastings I'd describe the wines; the following week, I'd describe people's responses to the wines – and if they were negative – so be it! It gains trust to tell people the truth.
SELECT STAFF Our tastings have become half academic, half thematic (around a grape). We run our own, using salesmen only if winemakers (or distillers) are directly involved. When they do, they're amazed at how sophisticated our clients are. We want our imprint on the wines chosen. Good key people have been with us for years. Peter Hemenway really understands Italy and the Mediterranean; I handle France (especially Burgundy and Bordeaux) and California. Joe Howell supervises spirits – notably Single Malt Scotch – and was just named whisky magazine's Retailer of the Year. He's self-taught about his interests, as I am. He has 3OO to 4OO malts available. Joe's been aboard about 1O years, he's very bright, motivated, energetic, and smart. He's learned a great deal through tasting, reading and talking to people. Peter had worked around the industry as a supplier's rep and decided he didn't want to travel anymore, so he tried retail. John Hafferty [Bin Ends, Quincy] put us in touch while at MS Walker.
NO TASTE-BY-NUMBERS Online sales have been big for us. We started early (1995), taste constantly, and post lots of notes. We don't use points: we don't buy by points, or sell by them, or really even know what they are. If a customer says, 'I want a gift Bordeaux that scored big' I honestly have to go look them up to find out. Because we buy by what we think is good. My computer notes are arranged like this: Côtes du Rhône; price level; what I like and why; what's available. You have to listen, be candid. While I don't keep notes on specific customers' tastes, I do have a sense of what they might like.
WINE TALES I think of wine as a narrative. What's interesting about that Malbec we tasted? The fact that it was made in Bordeaux. How does the taste differ from a Malbec made in Cahors, or Mendoza or Washington State? There's a story of how the winemaker decided to make it. I think in terms of climate and terroir, not clones. But today people think you can talk about quality in two digits, and meaning can be conveyed in tweets; that's not how I think about wine. I'm feeling a bit passé in terms of current marketing. I think that not only are wine's stories not being told, but the way people taste wine has changed.
NEW FLAVORS I've been going to the Boston Sommelier Society, run by Michael Meagher. It seems that the younger generation are looking for different things in wine than we do. They look for strong initial impressions, strong simple flavors, lots of acidity. It's not about teasing out the meaning of the wine over time – never mind an hour, not even two minutes! Their tasting model is more impressionistic, flavor-of-the-month. I notice that some people I like and respect in the trade regard wines as condiments – I'm exaggerating, of course – like a mustard or sauce, asking whether they'll 'go with' or complement certain dishes. I try to make sense of a wine on its own terms: how is it structured? Is it balanced? Both views have their validity. When we were learning about wine, there were areas that made very thin secondary wines not worthy of attention; now these are the younger soms' [sic] darlings. What used to define a good vintage in France was whether the grapes ripened enough. When they tasted for greatness, they looked for ripeness. (That's why the French picked the American wines in The Judgment of Paris in 1976.) Take, for example, upper Loire wines; they used to be thin and unripe, but have shown a bit better since global warming. Even today the wines from Reuilly and Valencay are not showing much compared with Sancerre and Vouvray. Yet those same unripe characteristics now are regarded as virtues.
VALUE ADDED With the climate today heading toward a heartless Amazon.com mentality – maximum points for minimum dollars – the conscientious small retailer has to ask her/himself: "What's my value added? Why should customers come to my boutique rather than a chain store?"
At Federal, we stand by these precepts: 1 Tell the story. 2 Be amusing – and honest. 3 Use good judgment. And just the other day Peter again voiced 4 as our mantra: "I want to put the very best wine I can in front of our customer."