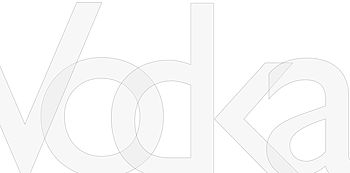 From the locally crafted to the iconic imports, vodka reigns as it's poured. One conspicuous point of distinction has been that several so-called "value" brands have gotten more than their fifteen minutes of fame courtesy of the economy. Some consumers have traded down and have made the discovery that there's plenty of bang for one's buck to be found out there in an ever-churning sea of vodka.

Before diving headfirst into the aforementioned sea, a check-in with statistics. Data released by the Distilled Spirits Council of the United States in January of this year says that in 2O1O, vodka was up 6.1% to 59 million 9-liter cases and in the super-premium category, volume was up 18% and revenue was up about 14%. DISCUS also reported that last year, vodka's revenues increased by $23O million. Broken down further, value brands were up by 3.8%, premiums by 8.9%, high end by 3.2%, and super premium by 17.7%.
ANYTHING BUT NEUTRAL
Vodka certainly knows how to, shall we say, color outside the lines of the legal mantra of it being a colorless, tasteless and odorless spirit. No two brands really, truly "taste" exactly the same no matter what price category you're in.
The number one selling imported vodka, Absolut continues to dominate, outselling its competitors by a healthy margin, particularly on-premise where it's the #1 call brand. Like so many, it was not impervious to the economy and stumbled a bit in 2OO9. "Absolut was impacted by trading down at the peak of the recession, as were other high-end spirits, particularly as competitors started to get very aggressive and cut prices significantly. We eventually responded to selectively adjust our prices on a market-by-market basis, while still keeping our premium positioning and pricing at the high-end of the premium category," explains a Pernod Ricard USA spokesperson. I was also told that the brand is picking up steam and not just because of price cuts. "Absolut momentum is improving because of the marketing campaign launched by Pernod Ricard." This includes a new drinks campaign, the introduction of flavor extensions such as Wild Tea and Berri Acai, and the on-going leveraging of sponsorships and social media.
Looking at numbers, Absolut's performance has now turned around, as depletions were up 4% in the last half of calendar year 2O1O (July through December). "We are optimistic about 2O11 based on the recent growth in the premium segment; our ongoing strong investment – which is further enhancing already strong brand equity measures; and the gradual return of the on-premise." The spokesperson goes on to say that Absolut skews more heavily to the on-premise than do other brands, and as a result its performance was adversely affected by the on-premise decline. "We have clear plans in place to support both channels, which have fundamentally different dynamics." Absolut strives to make sure its presence is well known in one of Massachusetts' favorite spots. "We sponsor the Absolut Clubhouse, which gives the brand great exposure not only at Fenway Park but also through retail tie-ins with the Red Sox." FYI, The Absolut Clubhouse is the exclusive club area for Fenway Park Dugout Seat holders before, during and after the game.
Grey Goose is the number two imported brand behind Absolut. Although a decent argument could be made that they've taken a hit because of consumer trade down, they did post 1.2% growth in 2OO9. Shane Graber, Vice President-Brand Managing Director for Grey Goose Vodka at Bacardi USA knows his brand is on very steady footing. "We continue to grow even in these tough times. It continues to have the highest image and quality scores of any vodka sold in America today." Graber did concede that people are definitely taking another look at how they spend their time and money but contends that when it comes to how consumers interact with the brand, they have stuck with it. He explains that in a recent Brand Keys Customer Loyalty Report, which is a national study of 581 brands in the US inside and outside of the spirits category, Grey Goose rates #4 in terms of loyalty. "We're actually right ahead of Apple, they're number five and we're really proud of that." Graber says the key has been not cutting corners and a continued investment in just the right French soft wheat among other factors. "We are absolutely staying true to the how the brand is and always has been made." In terms of local demographics, Graber says, "In Massachusetts this brand does phenomenally well and we have a very special focus on the Boston market in terms of making sure that our programs connect there in an area of high investment." Moreover, Graber reveals the brand's summer plans. "We'll be launching Grey Goose Distilled – a program that tell about how Grey Goose is made." He says, "There's a huge legacy and heritage that we have on this brand and making this vodka so we're going to be very proactive to make sure all these people understand that."
Few brands make me think of vodka more than #4 import Stolichnaya. The storied Russian spirit has been around since the 194Os and their "Stoli" moniker is an international household name. Although 2OO9 was a challenging year, Jill Palias, Stolichnaya Brand Manager, says that the brand fared much better during the second half of 'O9 and she also hit me with data from nielsen's 2o1o annual review, released in February of this year. "Due to the overall economic downturn, the first six months of 2OO9 were difficult for virtually all brands. Stoli, however, was fortunate to have experienced 6 consecutive months of growth for the last 6 months of the year. In 2O1O, the spirits industry as a whole saw an average of $154.5M per week and during the holiday season (Thanksgiving/Christmas) that number rose to $3OOM." Palais says that because 2O1O was a time of recovery and growth, Stoli ended the year down approximately only 3%. "Even when the economy had a negative impact, at the height of the economic downturn, we discovered that Stoli's loyal fan base is still unwavering in their willingness to purchase a quality product, so while the current economic climate has presented certain challenges to premium brands, this has occurred many times in the past and luxury always survives." She further asserts that strong brands that offer the right balance between perceived value and quality weather the storm and gain strength from the struggle.
Greg Cohen, Director of Corporate Communications at Patron Spirits Company says that Patron acquired Polish import Ultimat Vodka in 2OO7 and re-launched it in 2OO8. "Boston was one of the first markets where we introduced Ultimat, and today it's available across the country, and in major markets around the world. We saw a positive uptick on the brand last year, ending at 5% growth in Massachusetts." He also says the brand had similar growth nationally and he singles out the reasons. "Ultimat is a high-quality, luxury vodka created from a combination of wheat, rye and potato – it's very different from any other vodka on the market." There's an Ultimat brand ambassador in place in Boston, which Cohen says has certainly helped raise awareness among the trade and consumers. In Boston, several top accounts such as Elephant Walk, OM, and Bijou, have Ultimat cocktails on their menus, and nightclubs like Sanctuary are doing well with the brand also. "Ultimat vodka truly appeals to a wide demographic of consumers, from great neighborhood pubs and bars to white table cloth locations." As vulnerable as all the other pricey brands, Cohen notes that Ultimat is weathering the storm just fine. "The economy has certainly had an effect on everyone, but even with an ultra-premium vodka priced at $4O we've still seen growth on this brand."
Ketel One, from the Netherlands, held the #5 spot for imports in 2OO9 and showed an increase of 3.9% to 1.8 million cases. Ed Bello, Ketel One Marketing Director at Diageo/Nolet Spirits says 2O1O was even better and that Ketel One headed a call from consumers. "Vodka continues to be a dynamic category that has sustained exceptional growth beyond market expectations. While we've seen healthy performance in the premium, super and ultra premium arenas, consumers are also telling us they are looking for more choices and Ketel One responded with the addition of our latest flavor, Ketel One Oranje." Bello also speaks of the clout of brand's name. "This is one of the leading vodkas in the world. Ketel One Vodka has 3OO years of distilling tradition from the Nolet family." As for local promotions, let all the golfers in your life know about this one. "This spring, Ketel One will kick off the Ketel One Cup, a series of nineteen scramble-format golf tournaments around the country. We will be hosting a tournament in Boston and more information will be posted on the Ketel One Facebook page."
Vincent Van Gogh from the Netherlands launched in 1998 and Jonathan Bleiberg, President/COO Van Gogh Imports says the brand continues on a steady path. "Van Gogh has grown on category-innovative products such as Espresso, Double Espresso and Acai Blueberry, all unique. We have grown the portfolio to 19 flavors, 2 vodkas, including our most recent addition VG Blue. It's a Triple Wheat Vodka – the first of its kind blended with wheat from Holland, Germany and France." The brand's bragging rights also include having more 4 and 5 star rated flavors than any other vodka brand. "I would attribute our annual growth to sticking to our core strategies of tasting, telling the story about our 13O-year-old distillery in Holland, and bringing extremely versatile signature cocktail recipes to the on-premise marketplace." Bleiberg also appreciates the shift in consumer perception about his vodka. "When I started with the company and told people what I do for a living, the response was often that we were the guys with the great looking bottles. Now the common response is that of flattery to what's actually in the bottle. That makes it all worthwhile."
Cîroc, the French ultra premium vodka, grew by 37.2% in 2OO9 when they sold 339,OOO cases. It shakes out that they're the #1O import. Randy Carlson, Marketing Director of Cîroc at Diageo says it was more than just the brand's association with P. Diddy that catapulted the brand. "While we certainly believe that Mr. Combs' marketing leadership has contributed to the overwhelming success of the brand (Combs has a unique deal with CÎROC in that he spearheads brand marketing efforts), we cannot acknowledge Cîroc's position in the marketplace without highlighting its liquid credentials. It is expertly crafted from Mauzac Blanc and Ugni Blanc grapes in France and distilled five times, enabling the liquid to carry a unique flavor profile, and earning it the double gold medal at the 2O1O San Francisco World Spirits Competition." Carlson says that on a local Boston/Massachusetts level, Boston-based DJ Clinton Sparks helps spread the word about the brand as a member of the CÎROC DJ program. "The connection between Cîroc and music is a very organic relationship given Sean "Diddy" Combs' association with the brand. In 2OO8, Cîroc joined forces with the top DJs in the nation and created the "Cîroc Boyz" DJ Program which helps engage fans in conversation about products and events, while granting Cîroc access to each DJ's media and social networks."
Like many other brand managers, Carlson acknowledges the reality of our economy but points out that: "total Cîroc trademark business, which is up 57.5% in value and up 6O% in volume, according to IRI 52 weeks ending December 26, 2O1O, has proven to be the exception." He also tells of the brand's foray into flavors. "In early 2O1O, Cîroc launched Red Berry and Coconut, which resulted in one of the most successful flavor introductions for Diageo."
Peter Angus, Executive Vice President of Sales at Fifth Generation could hardly contain his excitement when talking about Austin, Texas-distilled Tito's Handmade Vodka. "It's the hottest brand in the industry, it's really on fire. It's a phenomenal story and a product that delivers on that story." Angus adds that the numbers continue to lay rubber. "In 2O1O we more than doubled that rate of growth and in 2O11 it seems to be accelerating beyond that even. It's amazing." Angus shared the crazy, fun story of Tito Beveridge – a guy who went from being a geophysicist to a mortgage broker until the fateful day when he took the advice of a self-help guru on public TV and took out a sheet of paper to figure out what to do with the rest of his life. Angus says that after listing everything that he loves to do on one side of the sheet and everything he's good at on the other, Beveridge came to the realization that he's good at math and science, loves to socialize and go out to nice places. And despite not knowing much about the liquor business, his fate was sealed. It didn't hurt that Beveridge was already becoming something of a local folk hero for giving out samples of an existing vodka that he added pompaneros and other flavorings to. It didn't take all that much encouragement and the rest, as they say, is history.
As for the bad economy, as far as Angus is concerned, what bad economy? "I keep telling my team to just think what it's going to be like when the economy gets better. Most folks in the industry at the large companies have panicked and lowered their prices and tried to do anything to salvage and stabilize their business." He adds that because Tito's is such a small company, they've actually had to increase their price in order to stay in business and expand the distillery.
Last year Tito regaled Boston on- and off-premise industry folk with his story. "Then we had him doing in-store tastings," says Angus, adding that the brand is also using smart phone technology in an innovative way: "You hold your smart phone open over a QR code and it takes you to a site with a YouTube video of Tito discussing his brand, how he's produced it and how we got into the business." Angus says the brand's theme going into the summertime will be "Made in America". "We're gonna really play up the American-made aspect of the brand and we'll be doing things to celebrate our American roots. "It's gotten 95 ratings and we just got another Hot Brand Award from market watch for 2O1O and another Adams Media Hot Brand Award," explains Angus.
FIREFLIES AND SKULL HEADS AND DOUBLE CROSSES . . . OH MY!
There are some remarkable success stories for new-to-the-market vodkas. Wadmalaw Island, North Carolina is where you'll find Firefly Distillery where Firefly Sweet Tea and 5 other flavors are made. Brand co-owner Scott Newitt filled me in. "The original Sweet Tea launched on April 15, 2OO8. Then the Mint, the Lemon, the Peach, and the Raspberry Teas we introduced about a year later. In March of 2O1O we released Bourbon Sweet Tea." He also says that their brand new Firefly Skinny Tea should be in Massachusetts by the time this article runs. "We're using Stevia which is an all-natural sweetener. It's got 72 calories (per 1.5 fl. oz) and zero carbs." Newitt goes on to say that the target consumer for the entire line is pretty much the 21- to 29-year-old male and female. The strongest flavor is the original Sweet Tea followed by Raspberry and Peach. Newitt speaks of popular ways consumers enjoy the Sweet Tea; "On the rocks with a little water and a squeeze of lemon or they mix it half and half with good lemonade."
One has to give credit to, and also wonder about, a brand that would launch in 2OO8 when the economy was already well on its way to the tank. Newitt says Firefly has withstood despite challenges. "We blew up when the world blew up in October of 2OO8 and then we had lots of competitors come out and we still grew." He says it kept on growing until the summer of 2OO9 when it flattened out and has grown at a nominal rate since then. "That's got to be due to the current environment with the economy and also we were the only sweet tea and then 12 copycats came out so we're doing great, beyond my expectations."
Luxury brand Double Cross Vodka, from Slovakia, arrived in Boston in 2OO9. What initially stands out is its rectangular bottle. The cross on it is representative of the Slovakian flag and the writing on the back of the bottle is silkscreened Slovakian poetry. The contents within are distilled seven times and then filtered through diamond dust. Double Cross is a gold metal winner in design and taste at the San Francisco World Spirits Competition. I checked in with Jeff Johnson, Vice-President of Sales & Operations/New England Region Manager at Old Nassau Imports who brought me up to speed on recent Double Cross activities in and around Boston. He says that some of the events they've done recently include Paul Pierce Poker Night, Boston Music Awards at the Liberty Hotel and a Music Drives US fundraiser. "We target our events based on impact to our existing accounts, connection to our target market and charitable influence," explains Johnson. He also says that a full array of programming to on- and off-premise accounts is multi-layered and includes staff training and incentives, on-site promotions, off-premise programming, and the all important in-store tastings.
Newfoundland brand Crystal Head Vodka is primarily known for two reasons – it was co-founded by SNL alum/Blues Brother Dan Ackroyd and it comes in a highly collectible Bruni Glass skull bottle that was designed by artist John Alexander. But as Joe Mesuda, Vice President-Regional Manager at Infinium Spirits points out, a lot of people think it tastes pretty good too. "The brand has been doing outstanding every selling period getting better all the time. It's 91 rated and heads above the rest." This spring Crystal Head will be rolling out (no pun intended) 5Oml bottles in the same skull package. The brand was launched in 2OO8 with a price tag of $5O a bottle (75Oml). It sold at breakneck speed for the first several months and well, it's still cruising. There's a lot of legend and other-worldly mystique about Crystal Head Vodka and you can hear the Ghostbuster himself wax poetic about it at crystalheadvodka.com.
STRETCHING THE ALMIGHTY BUCK
Smirnoff is still numero uno, by a huge margin, with continued growth. David Tapscott, Marketing Director, Smirnoff at Diageo says that last year was terrific. "2O1O was an incredibly successful year for Smirnoff. We are the #1 selling vodka on the market and we are continuing to grow each year, especially in our ever-expanding flavors portfolio." Tapscott says six flavors have launched since 2OO9, including Pear and Mango. They've also ventured into unchartered territory. "We launched the first-ever 1OO proof flavored vodkas – Smirnoff Dark Roasted Espresso and Smirnoff Spiced Root Beer in spring 2O1O. They are all available nationwide." Is it just me or does the Spiced Root Beer sound really good? Perhaps a float waiting to be made? Smirnoff is also actively reminding consumers why experts have made them the most awarded name in vodka with "The People's Challenge Initiative". "It's a nationwide blind vodka tasting that pits Smirnoff against other premium and ultra-premium brands and allow consumers to determine for themselves, once and for all, the best tasting vodka. Since its launch, we've activated the People's Challenge in accounts across the country – including the city of Boston – and we've found that over 5O% of the time, people do choose Smirnoff." This boils down to one sentence for Tapscott. "We have found that consumers are still choosing us because it is a high quality, affordable vodka – you don't have to sacrifice taste with Smirnoff."
Svedka Vodka's glass is way more than half-full. Not only did their sales increase in 2OO9 by 31.5% in 2OO9, but 2O1O was another banner year. Geoff Curley, National On-Premise Director for Svedka at Constellation Spirits says that in 2O1O the brand went up by nearly 2O% and depleted 3.4 million cases. "This put us basically neck and neck with Grey Goose in terms of volume. So Grey Goose and Svedka are now tied for the number two imported vodka spot." In the total vodka category Svedka jumped from being number four to being tied for number three. "The brand from 2OO5 to 2O1O was the fastest growing spirit brand in that give year period so we outpaced brands like Patron, Grey Goose and Smirnoff," adds Curley.
On the flavor front, Cherry's the most recent. Svedka's best seller is the Citron followed by Clementine, Cherry, Raspberry, and Vanilla. "When it comes to flavors I wouldn't say we're trying to be innovators in the category, we basically will launch new ones as we see them becoming that much more important to the overall flavored vodka category," explains Curley. Svedka considers Boston to be one of its core markets. "We saturate the Boston metro area with billboards and other outdoor media, bus sides, phone kiosks, bus shelters, and we advertise locally in stuff magazine," says Curley. Svedka also does a consumer promotion – the Svedka photo booth. "It's this free interactive experience that we actually bring into bars, restaurants and nightclubs." In Boston and beyond, Svedka has historically been much stronger off-premise. "When the brand was launched for the first six years of its lifespan there was no on-premise strategy it was just an off-premise driven brand. We built the off-premise channel and now in the past three years we've begun to focus and really have a strong strategy against the on-premise," says Curley.
Here's Curley two cents about the economy. "With the economy appearing to rebound, I think people are still very conscientious of the value of their money. If they did maybe trade down to Svedka, now they're staying with Svedka. They like the quality . . . it's probably rare that they're going to go back to drinking that more expensive brand."
Vic Morrison, Vice President of Marketing at the McCormick Distilling Company, filled me in on the latest with McCormick Vodka which has seen sales increase every year since 2OO4. "The reality is, when the owners bought the company in 1994, it was doing just under a million cases and now we're pushing 4 million." Morrison says that McCormick vodka has been a great loyal brand and they've retooled the packaging to try to keep it more modern." In the last couple of years we added something that you won't find in the industry and that's a handle. It's a lot easier to pour and it really has worked out well."
When asked if the brand has benefitted from consumer's need to stretch their spirits volumes further, Morrison makes no bones about it. "Yes, absolutely. I'm not afraid to say that at all. The consumers have changed the way they drink for sure. It seems like they never stopped drinking, they just moved around a little bit."
Burnett's was the #7 domestic vodka of 2OO9, a year that logged a whopping 24.9% increase in sales. Reid Hafer, Senior Brand Manager, spells out not only this recent triumph, but the decade-long journey of Burnett's. "For the past ten years, Burnett's has been on an incredible ride. It is an annual Beverage Information Group award winner since 2OO1 and the growth is a result of a confluence of factors." First, says Hafer, it's an outstanding product: triple-distilled, quadruple filtered and reasonably priced. "We have made every effort to substantiate that quality through packaging and marketing. Both present an upscale image but don't require consumers to compromise their cocktails, entertaining or budget," she explains. Looking at the last five years, Hafer notes that consumer allegiance has expanded into their line of 23 flavored vodkas. "As one of the largest flavor portfolios in the business, there is great opportunity for those loyal consumers to experiment without, again, compromising." Hafer says that now, each of these product lines are experiencing volume growth in harmony with each other. "In the past, we would have believed this was driven by the flagship 😯 proof and now we are beginning to see the emergence of the flavors as a key entry into the Burnett's franchise by consumers. It is important to note, the growth of Burnett's started long before the economy began to sour. But the case could be made that we have benefited from some trading down."
Although not immune, Finlandia Vodka has repositioned itself in the category with some great results. Nick Nelson, Senior Brand Manager for Finlandia at Brown-Forman Beverages comments, "Overall we have had a really great performance globally, but here in the US it was the economy and people trading down within the category." He also says that Finlandia had been in the process of pricing positioning to be more of a best value purchase in the premium segment and had just repositioned that pricing towards the end of 2OO9. "The results in 2O1O were much better where we achieved elevated growth across the country. I think even in Massachusetts you'll see there's some great growth for 2O1O – the brand turned out really nicely with our new price position," says Nelson. Needless to say, Nelson is hoping that all the consumers who made the switch to Finlandia stay right where they are. "It's been really successful in maintaining the high growth rate for the past several months and we are looking forward to taking advantage of that and growing our franchise within the vodka segment."
Skyy Vodka had a very respectable 2OO9 with 6.8% growth. Maura McGinn, Skyy Spirits Group Director-Vodkas and Cordials attributes Skyy's performance to a number of factors. "The first is that Skyy's strength lies in the off-premise. In addition, Skyy represents an amazing price-to-quality ratio. Lastly, McGinn says that the other driving factor was the Skyy Infusions. "The best way to survive an unstable economy is to bring the consumer something so innovative they can't resist purchasing it – that's exactly what we did with Skyy Infusions. They are the first all-natural infused vodkas available on a national level and more than doubled the sales of our previous flavored vodka line since they launched." Turning the focus to advertising, McGinn underscores a huge element. "The Skyy Vodka bold SEXY Campaign will be featured on large billboard displays in the Boston metro market. This new ad campaign that launched last fall featured bold imagery that was provocative."
THE FLAVOR FACTOR
Vic Morrison at the McCormick Distilling Company says that their eco-friendly 36O Vodka is doing extremely well. "It's not skyrocketing out of control but it's growing very well with accolades to go with it." He talks about the brand's array of flavors – specifically the 36O Double Chocolate and the 36O Cola. "Cola is growing very, very slowly. It's one of those flavors that either you love it or you don't know what to do with it and that's okay. We knew that would happen." Not so for the Double Chocolate which Morrison says is doing gangbusters. "It's hard to not find somebody that doesn't enjoy some kind of chocolate." True enough. "Double Chocolate, as far as sales goes, outsells any of the other flavors four times is growing at a faster pace than the 😯 proof and that's okay too," notes Morrison. He explains that the goal was to create flavors that were rich and intense with no vodka aftertaste or that inherent burn that you sometimes get. The others in the line are Mandarin Orange, Concord Grape, Madagascar Vanilla, Bing Cherry, Sorrento Lemon, and Georgia Peach. Another aspect of 36O Vodka is their commitment to sustainability. Morrison says they are still partnered with Global Green and have gotten over 65,OOO swing tops from their bottles returned. "It's exciting and fun to see the consumer that's involved with the brand and understands what we are trying to communicate."
Finlandia currently has six flavors available in the US with the latest ones being Tangerine and Grapefruit. "We've had a lot of global success and really those are our strongest here in the US as well," says Nick Nelson. "When you open up a bottle and you check the aroma out it smells like a fresh tangerine or a fresh grapefruit and then when you pure it over ice or in one of your favorite cocktails you really get the true essence of a fresh tangerine and a fresh ruby red grapefruit . Where we're different is we're trying to deliver the real fruit."
MIXOLOGISTS IN THE MIX
Bartender Patrick Driscoll over at Bar 1O at The Westin Hotel in Boston's Copley Square observes that Ketel One has picked up a lot more in recent years. "I was shocked by this because I know it had been popular in the past but it seems like it's coming back." He also chimes in about the Pearl Vodka. "The Pearl Plum and the Pearl Pomegranate, they're good vodkas and they're becoming a lot more known. I've seen them start to pop up in other bars around the neighborhood." He says that consumers are getting turned onto domestically produced Crop Organic vodkas which come in Artisinal, Tomato and Cucumber flavors. "I guess people feel a little bit better about drinking organic."
Eric Heffernan, Manager at The Good Life in Boston says he's noticed a shift in consumer interest. "What I've noticed, as far as vodka preferences, there's been a trend away from the kind of sweeter, fruity flavored vodkas to more of herbal, cucumber, more floral things like elderflower, teas." This suits him just fine because he thinks herbal spirits are a little more mixable and better suited to a more adult palate. "You've got companies coming up with bubblegum and whipped cream flavored vodkas, it's kind of hard to imagine who they're marketing to." Heffernan mentions some specific brands that can be found at The Good Life, particularly if you wander to their subterranean vodka bar. "We have Bakon vodka downstairs and we just got the new Three Olives, which is Three Olives Dude. It's lemon-lime." But we still have the purists who still want a nice, clean smooth vodka so we have plenty of those as well," he adds.
As far as drinks, Heffernan says that the brand his staff has been focused on recently has been Double Cross. "It's a Slovakian vodka and it's really good. We've been pushing it, we've been working a lot with the staff to kind of get people into that vodka." A Chilean pear martini is the cocktail of choice by Good Life mixologists. "It's pretty simple: Double Cross Vodka, a big splash of the Chilean pear juice and then a garnish," explains Hafferna. Heffernan is also impressed with the Berkshire Distilleries Ice Glen Vodka. "A lot of their focus is the natural spring waters adding to the flavor and I have to agree, it's a really good vodka." Ultimat is another brand he's working with. "We're just trying to bring in some of the more boutiquey kind of vodka brands.
The Hangar One, that's been a good seller for us, that's one we consistently go through. We're always looking for new stuff."
Heffernan says that The Good Life is currently working on a re-launch of the vodka lounge menu. "We might try to start scouring some stores to find some new vodkas whether it's local or a unique flavor. We have the Cold River Blueberry Vodka and that does well. We have bottles downstairs with dead scorpions in them, we have bottles from Vietnam made out of rice, from New Zealand, from all over the place. It's been interesting to see where vodka springs up." Heffernan says that vodka is tied with a lot more places than the traditional Russia and Poland. "I think most of it comes from America and then Canada, Iceland, kind of all over the place." He says that Reyka, from Iceland, is becoming one of their more popular brands and Cîroc has been doing better as well. "It's tough finding the individual characteristics in what's technically a neutral spirit but I think the more you try it and the more options people have, the better decisions they can make."
At The Blue Ox in Lynn, bartender Charlie Gaeta tells it like it is. "As you know – even with the renaissance of classic cocktails and subsequently, a turn toward more complex spirits such as whiskey, gin, various liqueurs, etc. – vodka is still the biggest seller at bars across the country." Gaeta says that the top shelf vodkas such as Belvedere, Grey Goose and Ketel One are the most frequently ordered. "The "extra dry" martini is ubiquitous at the bar whether it's a post-work accompaniment to cold local oysters or at the beginning of a Saturday night out. "These kinds of vodkas are desirable from my customers' perspective for their 'smoothness' and their ability to give the customer the desired buzz they're looking for without the hangover the next day," he comments. Gaeta, as it turns out, was just getting warmed up. "Personally, and I think a lot of bartenders would agree, vodka is overrated and its popularity stems from chic bottle designs and creative marketing. However, if customers want vodka who are we to force robust bourbons or smoky tequilas down their throat?" He says that one way to assimilate vodka into current industry trends is by way of the classic cocktail. "For example, a big seller at the Ox has been the Moscow Mule – probably one of the first cocktails involving vodka with a great taste and great story behind it." He also sees the important role that local and artisanal brands play in vodka sales at the Blue Ox. "The signature drink here is the 'Blue Oxtail' which is comprised of Cold River Blueberry vodka and organic lemonade with a few fresh blueberries as a garnish. People love hearing how it's a vodka made in Maine and is gluten-free – all huge traits for a vodka I really respect."
THE SCOOP FROM OFF-PREMISE
Over at Empire Wine & Spirits in Kingston, owner Vicki McMenamy says her top sellers haven't really changed. "It's probably still Absolut, Smirnoff, Ketel One, and maybe Svedka." She also mentions a new Belgian brand called Blue Feather which is doing really well. "It's very inexpensive, that's probably why. I think the quality's there for the money. It's less expensive than most in the imports." This naturally segued into the question of whether McMenamy has noticed if wallet-awareness has fueled trade-downs.
"Absolutely. People are still looking to trade down a little bit but they don't want to give up the quality so they at least ask your suggestion," she explains. Although she also says they may try something and go back to the other brand if it's not working for them, they're always willing to try something new." Two other lower priced brands that are moving through Empire are UV and Pinnacle. "Pinnacle's French; they try to compete with Grey Goose," notes McMenamy. What was most interesting about the conversation with McMenamy was her take on flavored vodkas. She says that Absolut Citron's her strongest but many others are on probation. "To be honest, I am thinking about trying to whittle down my flavors because there's just too many and the choices have gotten to the point where people are overwhelmed. I think in general, with all these new flavors, it's just overkill. I'm certainly going to be weeding through these flavors and just not bringing them in if they don't sound like they're going to sell for me." Fair enough.
Ryan Maloney, Owner of Julio's Liquors in Westborough says flavors are where it's at, though like Vicki McMenamy, he too gets overwhelmed. "Flavors are still king. Everybody's coming out with new ones. Some are good, some are bad. Some are hotter than others. You have some more artisanal stuff like the Black Fig vodka which is expensive but selling really great." Maloney also sings the praises of the new Skyy flavors Blood Orange and Dragon Fruit. "The flavors of these things are just incredible. I think they are those are going to do well." In the non-flavored side, Maloney says Russian Standard has been selling like gangbusters. "Russian Standard is out there with some really great pricing, probably underpriced for what it is, so the consumer's getting a great deal." Maloney encapsulates his final thoughts on the category with laser beam precision. "I need another vodka like I need a hole in the head. Some are obviously better than others, that's just the way it is." Amen.
Gene Beraldi, owner of Boston's Beacon Hill Wine & Spirits starts off his review of all things vodka by stating what most of us could have guessed; Grey Goose is always a good seller. The same goes for Chopin and Belvedere which Beraldi says are his store's top two sellers in the category. Ketel One also flies off his shelves. Next he's onto Tito's Handmade Vodka. "That's been moving along very well, I didn't realize how much I was selling until I started ordering more so I'm doing about a case a week which for this store is really good," he notes. A new product that Beraldi got on the shelf the very day I blew into his store is Absolut Wild Tea. "You'll remember Absolut did that Boston version last year and they do something like that every year. The Boston's no longer available and Wild Tea's the new one this year. I only got the nose on it, I haven't tasted it yet but I know that it's supposed to be really good. Other winners at the shop are Firefly Sweet Tea Vodka and the Triple 8 Blueberry Vodka.
FINAL THOUGHTS
How does one summarize this State of the Vodka Address? I looked no further than three brand reps who say it best. We'll start with this pearl from Jonathan Bleiberg, President/COO Van Gogh Imports. "History has shown that premium brands cycle back over time and as consumers' confidence in the economy increases we are confident that they will recognize the value in our product."
Next up is Jill Palias, Stoli Brand Manager. "With the current state of the economy, consumers are weighing their purchases more carefully, seeking out the best values without compromising quality."
I'll leave you with these succinct phrases from Maura McGinn, Skyy Spirits Group Director: "As you may know, the vodka category is the largest spirits segment by a long-shot. The category is currently growing at a robust +4 to 6%. No matter how much buzz we might be seeing for tequilas or single malts, at the end of the day, vodka is the real work horse for the industry and that isn't going to change any time soon. Vodka is an equal opportunist. No matter what consumer segment you are in, vodka can play a role in your life. We like to say that vodka is the Swiss Army Knife of spirits." How true.
---
WHOLESALER P.O.V.
Dave Catania, Spirits Category Manager at Burke Distributing, was recruited last summer to revamp the spirits portfolio. He's known in the industry as "Cachaça Dave" for his work importing and marketing the spirit to the US. I fired off some key vodka questions to him and he was happy to oblige. We began with what's new in the vodka world that he's excited about. "Pride & Clarke has so far been our biggest success in this category, it's an exceptional quality (4 times distilled and triple charcoal filtered) branded economy vodka with a 1.75 retailing for $12.99 or less. People are actually shocked at how good it is; in just 5 years it has become the #1 pouring vodka on-premise in New York," he explains. "Pride & Clarke is already on its way to being a blockbuster of a brand." Another brand to watch is Russian Diamond which is new to the US but huge in Russia where it sold over 6OO,OOO cases last year according to Catania. "I love a brand that has a history and this one certainly does. It's still made at one of the original distilleries built by Nicholas II before the Bolshevik Revolution and it has been producing vodka since 19O7. It's so good in fact that it's even served at the Kremlin to visiting diplomats. The best part is that it is an affordable luxury, retailing at $18.99 to $19.99 for the 75Oml bottle." Catania also singles out Dry Fly Vodka out of Spokane, Washington. "It's a double gold medal winner and deservedly so. It's our smallest production brand. Annual production is only about 35OO cases so we have a hard time getting our hands on it when we run out. This brand has a real following and it retails for $29.99." Catania also opines on the big hitters and then tips his hat to Texas. "I think people are starting to waiver on the big brands that charge a premium for the name. If consumers try a vodka that's as good and costs less, they're going to switch and switch for good." He goes on to say that this trend is really being driven home by bars like Drink that don't stock any vodka except Tito's Handmade. "I've met Tito and he's the real deal; I'm a big fan of his product." For Polish Vodka, Catania looks to I Luksusowa potato vodka which he says is a steal for the high quality they are putting in the bottle and the low price it's retailing for.
---
THERE ONCE WAS A BRAND FROM NANTUCKET . . .
Triple 8 vodka is a gluten-free super-premium brand made from organic corn and water from Nantucket Well #888, hence the name. At present, it's available in 14 states from as far south as Florida to as far west as Colorado. Brand Manager Matt Lambo says that the original launched in 2OO2 followed by Orange, Cranberry, Blueberry, and Vanilla. "We're using real blueberries, real cranberries and real vanilla beans so it really helps differentiate us. A lot of restaurants, chefs, bar managers, and even liquor store owners are really starting to gravitate towards that trend." Lambo says that the most popular flavor right now is blueberry. "It's our most recently released flavor. It's made with wild organic Maine blueberries and then a little bit of kaffir lime." That said, Lambo's personal favorite is the Triple 8 Vanilla. "It's got two vanilla beans right in the bottle; one from Madagascar, one from New Guinea. It's phenomenal. It's got just super big flavor. The beans are really expensive but the pricing's in a straight line with the rest of the products. A lot of the restaurants like that in their coffee drinks – espresso martinis, that sort of thing."
Last year was a good one for the brand because Lambo says they saw the traffic in their facility jump dramatically (it's open to the public). There were some distribution changes to contend with but now all is well. "As far as distribution in 2O1O, we definitely had some hurdles. Our brand was moved from Commonwealth to Carolina when Martignetti bought Commonwealth and as of February 1 of this year we were moved from Carolina to United so we're really excited." Lambo says his enthusiasm stems from knowing that United Liquors will do right by his brand." They're the players that seem to really help coordinate the cocktail menus and have the most presence around the state so we've seen a really big jump already and we have high hopes for 2O11."
---