Massachusetts retailers have had a few tough years weathering the economic downturn and a state-imposed alcohol tax – all of which affected consumer spending. Luckily, 2O11 is starting out tax-free, and the economy seems to be slowly rebounding. So what does this mean for our business in the year ahead? Take a look at what these retailers have identified as successful strategies for growing their business, and what they see consumers buying.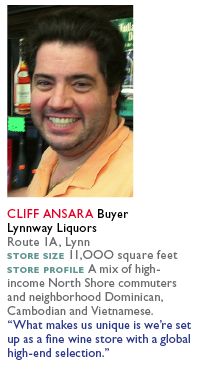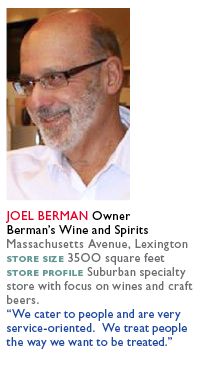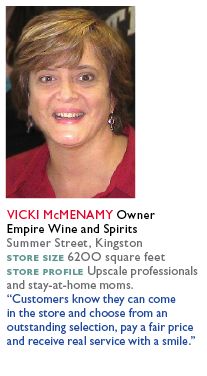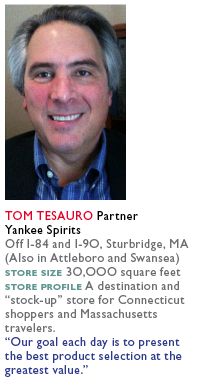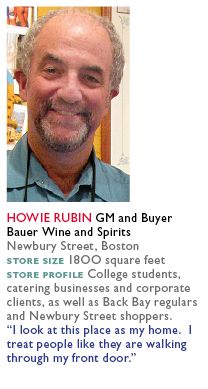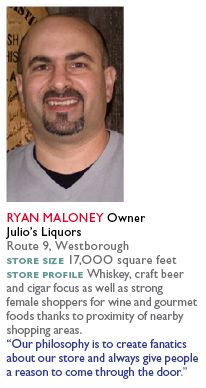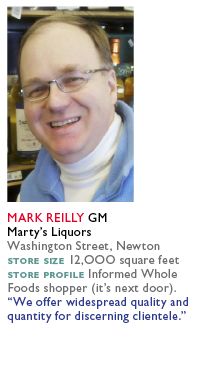 THE TIDE IS TURNING TOWARD SALES
One thing's for certain – consumers are starting to shake off the shadow of the recession and it's not only lifting their moods, it's opening their wallets. All of the retailers interviewed were positive about holiday 2O1O sales, with spirit, beer and wine categories remaining steady or growing. Overall, spending varied across store locations, from rare wines to value vodkas. A noticeable difference was in the consumers' demeanor. As Mark Reilly pointed out, "People were in a more celebratory mood which resulted in them buying special gifts and spending more." And Joel Berman wasn't the only one who noticed an uptick in premium wine sales. "You don't have to read the newspaper to see a rise on consumer confidence," he said.
But was it all of the supplier rebates and reduction in prices that made consumers smile? According to the retailers, it certainly helped in some cases, but many value brands are still holding strong. Vicki McMenamy is starting to see her customers trade up slightly, but are also "willing to try new quality brands that may be cheaper than the ones they used to buy." But if cheaper isn't better "they just buy what they like, no matter what the cost," she said. Mark Reilly also sees his brand-loyal consumers staying true, but notices "a healthy proportion of people who want quality and value, and like the adventure of trying new things."
Across all sectors, consumers are becoming accustomed to getting great brands at bargain prices, something Howie Rubin has focused on for his customers by finding well-made bin end wines he could offer at a discount. And Joel Berman has weathered the storm by "being aware of what's available at the best possible prices." The producers and suppliers of well-known premium brands have been at the mercy of this dynamic, with unheard of deals that Cliff Ansara says can "irrevocably damage brand equity."
As category leaders try to maintain share, some new entrants are quietly changing the conversation by being unique enough to offset any pricing concerns. Tom Tesauro notices a growing consumer interest in a host of different categories, from artisanal tequilas to small batch bourbons to locally made products. "A great example is Cabin Fever, a whiskey flavored with Vermont maple syrup. A local New England family created the brand and has been in our stores regularly tasting and educating consumers. There's a special connection when an individual who's truly behind a brand is on site." Joel Berman also agrees, "We're thrilled to do business with local people and get their best products. Our customers appreciate it." With a unanimous increase of craft beer sales in their stores, these retailers are expanding their selections to include host of locally made beers from Pretty Things to Mayflower to Berkshire. Ryan Maloney's store is known for an extensive American and international craft beer selection and his "Malt Monday" tastings have been growing in popularity. "We're excited about what we sell as much as the customer is excited about discovering it."
There's a saying in the beverage alcohol industry that most brands are built on-premise, so it's no surprise retailers are getting questions from consumers on everything from Pisco to Amaro to bitters. As the classic cocktail resurgence settles happily on menus across New England, retailers are seeing spillover to the off-premise. Mark Reilly has seen an increased curiosity in "esoteric mixers like Luxardo Maraschino Liqueur and often overlooked aperitifs like Maurin Quina." While some consumers come armed with recipes from their favorite cocktail bars, many are looking for guidance from retail staff. "It falls on us as retailers and our supplier partners to educate them and work at demystifying mixology," suggested Tom Tesauro.
GROWING, GOING, GONE
WHAT ARE CONSUMERS BUYING?
2O1O SURPRISE SHELF SUPERSTARS
It goes without saying that vodka, big-name domestic beers and inexpensive Australian or Californian white wines are predictable purchases for most consumers. But when asked to name a few standout categories and brands that flew out the door in 2O1O, the retailers cited these shelf superstars:Bourbons, Irish and Single Malt Whiskies like Buffalo Trace, Balvenie and Jameson; American Microbrews and Belgian Beers like Sierra Nevada, Pretty Little Things and Chimay; Aged and sipping rums like Ron Zacapa, Appleton, Mount Gay, and Goslings; Southern France, Italian and South American Wines like Santa Ema and Haut Cabanieux; Californian red wines like Apothic; Whipped cream flavor found in Cream brand cans and Pinnacle vodka; and Proseccos like Bartolomeo.
2O11 PURCHASE PREDICATIONS
With a positive holiday selling season over and a repeal of the alcohol sales tax to help spur first quarter sales, what do retailers see gaining sales momentum in 2O11? A common theme is small producers, both global and local, with a focus on value and quality – South American wines, artisanal tequila, craft distillers, aged and sipping rums, american microbrews, and local brands.
IS THERE ROOM FOR MORE VODKA?
If you ask these retailers, the answer is probably not – unless suppliers are willing to switch out new flavors and big-brand line extensions with underperforming ones. All agree that unless they've tasted (and like) a new flavor or brand themselves or customers are asking for it, there's no room for another citrus vodka. "There may be a buzz early on with a new flavor, but then I don't see many repeat buyers," said Vicki McMenamy. "I think I will be much more selective in the future with new flavors instead of just automatically taking them in." She's not alone. Cliff Ansara "picks flavors based on what I think will do well and my palate." Consumer reception for new vodka flavors is "lukewarm" notes Tom Tesauro, with a few exceptions like Pinnacle's Whipped Cream and Bubble.
SUCCESSFUL SALES STRATEGIES
As with any business, innovation is crucial to growing and retaining customers. Despite the saying "alcohol is recession-proof", these retailers know it takes a lot of hard work to keep the customers coming through the door. There the three common strategies that are helping drive their business.
Customer Service
Howie Rubin notes that 5O% of his wine sales come from Bauer Wine and Spirits' staff recommendations, which is why it's crucial to build trust with customers. "We're about dialogue. We never talk down to people." The key to building customer loyalty according to Rubin, is simple: "It's the little things – say 'thank you'." Understanding the customers demographic is also important, especially for ethnic stores, where brand appeal is often rooted in culture. Cliff Ansara at Lynnway Liquors always plans for the Asian New Year and Dominican Mother's Day and Father's Day by promoting brands his customers will be looking to celebrate with. Keeping staff educated and available is an on-going process. Says Yankee Spirits' Tom Tesauro, "We'll continue to refine and expand our offerings while ramping up product training."
Digital Communication
Having a website used to be enough, but now retailers are finding it takes even more to communicate with customers. Joel Berman at Berman's Wine and Spirits has a popular newsletter called "Berman's Buzz" as well as a blog aptly named "Joel's Ramblings" where he can share his extensive knowledge on wine, as well as guide consumers on what to buy and when to buy it. At Marty's Liquors, a newsletter goes out a minimum of three times a week announcing new arrivals and limited inventory specials. "We go through a lot of product that way," said Mark Reilly. Digital communication like Facebook and Twitter is also a great way to promote special events and tastings say the retailers.
Tastings and Events
Regular store tasting and events make for loyal consumers and bigger basket rings. Advises Ryan Maloney at Julio's Liquors: "Don't push. The more people try to expand their range, the more purchases they will make throughout the year and remember where they first tasted a new product." His weekly schedule of events facilitates higher customer count during the weekdays. For Cliff Ansara, Friday night tastings are a top sales tool with an influx of Boston commuters on their way home for the weekend. "I experiment with new brands on Friday nights, and sell a ton. It's better than any other advertising I could do." Taking it a step further, Vicki McMenamy has started spirits seminars at Empire Wine & Spirits to educate her customers across categories so they can make more informed, and profitable, buying decisions. And for Mark Reilly, he lets the customers at Marty's help themselves with a recently installed wine-tasting machine that offer a selection of 12 featured wines to try for free.
Perhaps Howie Rubin sums it up best:
"Don't get lazy, constantly market yourself."