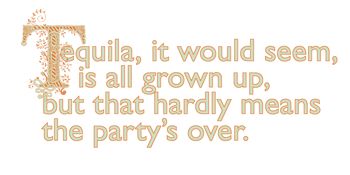 The economy may have been slow to rebound throughout the past 18 months, but gains for the tequila category have been strong and forceful, with high-end premium and super premium segments outpacing the pack. According to the Distilled Spirits Council of the United States, suppliers' gross revenue for tequila grew a total of 4% in 2O1O, with high-end premium leading the way with 15.5% while premium products remained stagnant, indicating that consumers were trading up. Sales of 9-liter cases reinforced those trends, as high-end premium tequilas grew by 17% over 2OO9 last year while sales of premium marques ambled up at 2.5%. (It should be noted, volume-wise overall, premium tequila sells more than higher priced products, but the statistics measure growth, not straight sales.)
Want proof of the increasing thirst for agave? Boston has seen no less than three tequila-centric spots open within the past 18 months: Michael Schlow's Tico, Papagayo on the Waterfront and Lolita in the Back Bay. And in the increasingly competitive marketplace, liquor companies are pulling out all the stops, promoting their brands on-premise and off, on television and on the internet, in cocktail glasses and in snifters, in summer and winter, with an historic slant and a modern approach. Whatever way you look at it, one thing's for sure: tequila's rising.
Boardroom Reports
With the total national numbers showing growth for the category as the country slowly crawls out from the depths of the Great Recession, logic dictates that individual brands are on the up-swing. And that starts with one of the category's trailblazers, Patron. John McDonnell, CFO for Patron Spirits Company, said the brand is up 6.5% globally, which can be attributed to an increase in global distribution. The brand is now sold in 12O countries outside the US and in over 7OO airports worldwide. Taking the US out of the numbers, international business for the portfolio grew 59%. Nationwide, total tequila is up 3%, while Patron XO, the coffee liqueur, is up 39%. Internationally, however, XO
is up 144%.
McDonnell chalks that up to continued advertisement, which is critical on a local level. The payoff is evident in Massachusetts, where Patron is up a whopping 1O5% over the year before and XO is up 72%, making the Bay State the sixth largest XO market in the country. As of the end of 2O1O, he said, the Massachusetts was the ninth largest market in the nation for the company. Thus, on New Year's weekend the company launched a social responsibility campaign, marking the first public/private partnership in the nation to supports this kind of campaign. On another local note, Legal Sea Food is putting a Patron flight on the menu this year.
"We've continued to support brands and it pays off. In a recession everyone cuts back ad budgets, then comes out with a coupon, and that undermines the brand's equity. Everything we do is about our brands. If we hurt our image, we'll be out of business," he said. Instead, advertisements have elevated the image, with campaigns moving from showcasing Patron Silver to showing all three bottles. And often magazine ads feature drink recipes with each of the three marques, suggesting reposado in a margarita, and añejo in a Bloody Mary because "those marques come through better in each of those drinks," he said.
While many companies are showing startling growth in their value or premium brands, Bacardi's ultra-premium Corzo, which undergoes a third distillation after it's been aged a few months, keeps up at a steady clip. According to Christine Moll, Senior Brand Manager with Bacardi, Corzo has been growing at double digits for several years. A January Nielsen report showed the brand trending at 12 or 13% for the latest 52 weeks. Corzo showed 33.6% growth over the prior year making it the highest in the ultra-premium competitive set in Nielsen. In Massachusetts, she said, Corzo is growing at 28% overall, but the on-premise alone is soaring by a stunning 62%. Not too bad for a brand that hit the national market in 2OO7.
"We're relatively young. It's about getting influencers and gatekeepers to help, especially in the premium channel – image accounts, lounges, hotel bars, steakhouses." A signature tasting ritual for the brand that began in Massachusetts involves starting people on añejo, since "we don't want to start with a cocktail, we want to introduce the liquid neat. We serve the añejo with an orange slice to bring out the honey and citrus notes. Reposado works in cocktails and silver works best as a shot," explained Moll. But since cocktails are the height of the industry, silver is the lead marque, conforming to the standard for ultra-premiums. However, she said the añejo is "surprisingly showing significant growth versus prior years."
Paul Clarke, Brand Director for Cuervo, said double digit growth has continued for Jose Cuervo Especial Silver. Cuervo Gold, however, is "the mother ship, a huge piece of our business, so a lot of focus goes on that. We continue to drive that pretty hard with on- and off-premise programming," he said.
All over, however, both arenas are key. "Off-premise is critical in that it's bigger volume, but on-premise is just as critical because part of the strategy is recruiting legal-drinking-age to 29-year-olds, so in this fiscal year [July to June] we have around 6OOO on-premise events planned and a huge amount of off-premise activity. It's all about winning the shopper."
Off-premise activities include a partnership with star magazine that offers consumers the opportunity to appear in the publication. There's also a program called Cuervo Games pinned to Especial, where teams enter through Facebook to compete in games that wrap up with finals in Las Vegas in October. In other off-premise news, there were two new marques launched in the Authentic range of margarita mixes: Light Margarita (under 1OO calories) and Watermelon.
Brown-Forman has been seeing great growth with its agave spirits. Mark Bacon, Director of Tequilas, North America, said both brands – Herradura and El Jimador – are on the up with silver showing significant growth. El Jimador keeps its rank as the number one selling reposado in the US and the top selling tequila in Mexico. "We had good distribution, volume and market share. Our consumer health numbers were good, which means people had a good likelihood to buy because they think it's worthwhile or someone recommended it. Consumer information from research we do is just as important as sales."
Herradura, he points out, was the first brand to produce and introduce reposado, so its reputation is inextricably linked to that style. Over time, however, consumers' taste preferences have shifted, so they've produced the silver, which is gaining in share. "That's a growth category for us. We want to get the silver to where our reposado is," he said.
With a well tequila through Seleccion Suprema covered in its portfolio, the company hits all price points, and, consequently, sees varying activity among the brands on- and off-premise. El Jimador performs better off, Bacon said, but there have been tremendous distribution gains on-premise, affording "a big opportunity as it moves to chains." Social media makes up for a large part of the brand's promotion, with a party planning app in the works, and there's a partnership with Lucha Vavoom, which Bacon describes as "wrestling meets Vaudeville". With its history of having a strong presence off-premise, the company hoped to bolster that with the introduction of El Jimador New Mix, a single serve drink in a can. It arrives in Massachusetts this spring.
Herradura, meanwhile, has a solid history with on-premise accounts through ambassadorships with bartenders, particularly with upscale restaurants. "The consumer perspective is with the on-premise, but with people entertaining at home more, we realize that in the past few years off-premise is an important place to promote the brand with point-of-sale material that promoted mixability with margaritas and palomas." The brand has brought on former NFL great Emmitt Smith as its spokesperson. He appears in media, and there's a consumer contest that invites video submissions of contestants introducing Herradura to a friend for the chance to win dinner with Smith.
Amy Weisenbach, Director of Tequila & Rums for Beam Global Spirits & Wine points out that the tequila category "continues to be one of the fastest growing spirits, outpacing total spirits growth at 5.6% growth in volume versus 3.O% for total spirits. Tequila is growing even faster in Massachusetts at 7.8% in volume. Beam tequila brands are dramatically outpacing the tequila category, up 22.3% in volume, driven by the growth of Hornitos, Sauza and 1OO Años," she said, referring to the Nielsen report of the 52 weeks ending in January.
Beam, she noted, is the world's second largest tequila maker, and while they "still have some work to do with American consumers to make sure they are familiar with the individual brands," last year was a success in boosting awareness on Hornitos, assisted by the first TV ad campaign. Sauza got a lift through work with Beam's trade partners to ensure that Sauza margaritas are well-branded in menus.
Umberto Luchini, Group Brand Director for American whiskies and tequila for Skyy Spirits, said that Cabo Wabo, famously founded by Van Halen's Sammy Hagar, suffered in the recession in 2OO9, but has "gone through a revival and is picking up momentum," with 65% of sales volume coming from off-premise, which could be attributed to the sassy new packaging that was unveiled in 2OO9. With blanco leading the way, the brand grew 2O% last year, which puts it at over 5% of the market share of the super premium segment, he said. "It's well positioned for consumers who want to trade up to ultra premium." Massachusetts is a key market, he said, with visibility growing on-premise.
Espalon had been available in select states in the US (including Massachusetts) until 2OO6, but once Skyy acquired the distillery in 2OO8, the company re-launched the same spirit in early 2O1O with new packaging and pricing, putting it on the market in the attractive mid-$2O. Today sales are split 5O/5O between blanco and reposado. (There's no añejo yet.) "Consumers have spontaneously picked it up because they like the look of the brand, with its Day of the Dead imagery and telling stories around the labels. It's 4% of the super premium market share and it's grown beyond expectation," said Luchini. "Massachusetts is a surprising market for us, a little jewel in our pocket," he added. Though it's not in the top five, "it's outgrown expectations."
What's New
As the numbers grow, so grows some brands' lines, with new marques entering the ring every year. July 2O1O saw the entry of Tequila Avion, a brand launched by entrepreneurs with the lofty intent to "define a new standard of quality and taste," according to the press release. To differentiate their flavor profile, they use a proprietary filtration process after distillation that takes ten times longer than the standard, explained Jenna Fagnan, President of Avion. "Tequila is the most misunderstood spirit and it shouldn't be like that. There's really not a lot of competition that's done a lot to create the category," said Fagnan. "Not a lot of other tequila brands out there are a phenomenal product that pulls on the heartstrings. Vodka and wine have done that. We want to create a high quality tequila that drinks as well as a vodka and that people love and want to seek out."
The jury is still out on whether Avion, available in silver for $45, reposado for $5O and añejo for $55 to $6O, has revolutionized the tequila category once and for all, but the team managed to get on consumers' radars immediately and attract 43,OOO Facebook fans within six months of launch. Doug Ellen, a writer of the HBO series "Entourage" is friends with Avion's founder, Ken Austin, an executive at Marquis Jet who formerly worked in management at Seagram and E&J Gallo. Ellen took to the product so much that he worked it into the show's plot. "They loved the brand, so interesting to see their take on it," said Fagnan. "As a startup we feel lucky to get brand awareness through the show, but as new brand, we can't sit back on our haunches and depend on 'Entourage'. It's a quality proposition."
To remain on consumers' radars, they've been engaging on an advertising campaign typical of larger suppliers that includes magazines and weekly Wall Street Journal placements. Thanks to the 'Entourage' connection, a t-shirt collection is available at Bloomingdales and Urban Outfitters.
Cuervo's Tradicional Silver launched in February 2O1O, and by March of this year, it was in all states. Clark said, "We've been having a great success with it. It was the original family variant from 1795. With Tradicional now available in silver and reposado, it strengthens Cuervo's power in the super premium realm." The ubiquitous Especial will see a rollout of new packaging this summer, though it's not a complete change. "We've evolved it with greater embossing. Few people are familiar with the story that the King of Spain gave the Beckmann family a land grant 1758. Now the story is on
the bottle."
For Patron's packaging of Gran Patron Platinum and Gran Patron Burdeos, McDonnell explained, the bottle wasn't visible on the shelf since it had been contained within wood. The new package that began arriving in stores in February has doors that slide accordion-style. He also mentioned there's a new product in the pipeline, but said no more.
With the exception of Seleccion Suprema, Herradura introduced new packaging for its line in September. "Our tequila has been around since 187O – it's time to put it in a more simplified presentation that's more contemporary and streamlined, but to honor the authentic heritage as well," said Bacon. The tagline "Same world class taste, new world class look" has surrounded the rollout. In June, Brown-Forman kicked off Herradura's barrel program through which consumers can buy a barrel of double reposado. An 11-month-old tequila is aged an extra month in new white oak barrel. It yields approximately 24O bottles that the purchaser receives through the retailer of their choice.
A few select brands have made their debut in the Massachusetts market through Burke Distributing's Spirits Category Manager, Dave Catania, who views tequila as both the new vodka and the new Scotch for the Gen Y demographic for its "more approachable yet distinctive flavor". In the entry level area, Burke offers Los Generales, a 58% agave mixto from Jalisco. He expects it to take off off-premise, given the 1.75 liter package retails for $19.99 or less. Zapopen, Burke's first 1OO%, sells well over 1OO,OOO cases in just four states, including Massachusetts. "While most tequila is double distilled, Zapopen is triple pot distilled for purity, yet it still retains the characteristic flavor of the agave. Both the blanco and reposado styles should retail for $15.99 per 75Oml with a 3O% gross profit margin for the trade and a bargain to the consumer. On-premise, Zapopen Reposado makes an incredible margarita." Then there's what Catania deems the "crown jewel" of Burke's tequila portfolio: Grand Mayan, a five-yearold super añejo sold in a hand-painted ceramic decanter.
At The Bar
The past 18 months proved to be a solid year for tequila in the off-premise all around, and the small boom of new tequila-centric bars in Boston certainly helped raise the spirit's profile even more in the eyes of the general public.
Chris Jamison is an owner of the Mexican lounge-style restaurant Lolita in the Back Bay. When it opened in December, he had at least two expressions of many tequilas available in Massachusetts. He said that out of 18O individual tequila labels, he ordered 165. And even he is impressed with how much his sales are exceeding expectations. Throughout the industry's notoriously slow month of January, the restaurant was at capacity every Thursday, Friday and Saturday night. "We have strong sales across the board: 75% of our sales are liquor. It's a function of where we price drinks. People will sit and do shots to explore their way through the drink list. And people aren't afraid to order $15 or $18 shots of tequila. They're systematically exploratory," he said, but noted that most shots are sold in the $8 to $15 price range. And interestingly, Lolita doesn't serve shots with a lime wedge, they serve it with a red sugar-coated orange wedge "to complement and enhance the tequila's flavors," Jamison said. When it comes to sipping tequilas, he sees people willing to spend money on super premium brands, and there are several tequilas that sell for $3O to $5O a pour, like Patron Burdeos and Chamucos Reposado. The high end he's sold the most of, though, is Milagro Barrel Select Silver. With a reputation of swift sales established so early, Jameson has been able to land some exclusive bottling. He's bringing in limited edition bottle from the 18OO Collection and he's doing a bottle of Jose Cuervo 25O Anniversario. "It sets us apart from the pack in Boston," he said.
Of course, margaritas fly across the bar, but there's only one on the drink list. They mix theirs with fresh squeezed lime and grapefruit, raw cane simple syrup and Patron Citronge. The tequila is Sauza 1OO Años Blanco. He's currently blazing through six to eight cases a week, and expects that to level out at somewhere between 1O and 14 cases when the weather gets warmer. The popularity of that margarita has had other benefits, too.
"By putting Sauza 1OO in our house margarita, it put us on the map as the biggest Souza Cien Anos account in Massachusetts. We're not doing strawberry or pomegranate. We use very high end spirits in ours. We have St. Germain in another drink called Broken Heart, with fresh muddled serano chiles. I hesitate to call it 'craft', but it's a very original margarita list."
At Zocalo, which moved its Brighton location to the Back Bay spot formerly occupied by 33 Restaurant in June, Beverage Manager Jenn Harvey, who also tends bar, says she cranks out about 1OOO margaritas a week. She keeps Sauza in the well, and for an additional 5O cents, guests can upgrade to Espalon. When it comes to upgrading further, people order Patron Añejo, but she pushes customers towards silver because it's more mixable, "and why bother covering up the flavors that aged tequila brings?" she said. But beyond the margarita, she's seeing an uptick in consumer interest in the spirit across the board.
"We have more tequila drinks than anything else on the drink list, but people are asking a lot of questions about tequila itself," she said. "They're aware higher end tequilas are better for sipping than mixing. They might not know much maybe, but they're asking me which do I like best, which should they put in a snifter and which is for mixing in a drink? More people are going for straight alcohol than mixed. I like to use tequila in a lot of different ways, though, like a silver tequila in a Mojito or with tonic water. It's a cleaner flavor to mix with." On the cocktail front, Harvey sometimes sees the impact of online marketing and social media. Many brands' websites and Facebook pages offer recipes, so sometimes, she said, people pull up a cocktail recipe on their iPhone or from a Twitter feed.
Harvey, a pastry chef by training, always has a creative infusion on the list, like cranberry-cinnamon as well as hibiscus. She's been gradually adding to the inventory since the branch opened in June (there's another Zocalo in Arlington), because shelf space is tight and she didn't want to have it filled to the brim so some bottles could just sit around. So far, the strategy has worked. "If someone sees you pouring an odder shaped bottle, they're going to ask about it. Then everyone gets that. Nothing sits around."
According to ColinKiley, Beverage Director of Skipjack's, which has locations in the Back Bay, Patriot Place and Newton Highlands, how long a bottle sits around varies from location to location. "Boston is the most dynamic in what I'm able to sell. There are tiny variations between there and the rest, but Newton and Foxboro are the same. Boston has an even breakdown of blanco, reposado and añejo, and in the suburbs we have the usual suspects – Patron, Cabo Wabo, Sauza Commemorativo, Hornitos." The Newton location doesn't have a big tequila scene. He reasons that's because the restaurant is family oriented. Foxboro is its own scene in an area he calls "under-served" because it's neither close to Boston or Providence. Boston, meanwhile, sees a lot of action on Hornitos reposado. He sells a lot neat, which he attributes to "professionals with more money to spend."
He doesn't have any gold marques in the inventory. Lunazul is in the well, and he's been impressed with how well it works in cocktails, like the Alpine Margarita (Lunazul Blanco with St. Germain and fresh squeezed lemon and lime). He's also made the decision to "move away from the most recognizable brands," which makes it easier to sell products like Lunazul, he said. "Taking people away from their comfort zones is the best way to get them to try new things. It gets them to break their habit."
What's in Store
"Our tequila selection has probably doubled over the last two years – there's been a significant increase in interest," said Jay Cahill, Manager of Harrington Wine and Liquors in Chelmsford. "I've been fielding a number of questions as to differences between the three styles – people want to know why there's a price difference between silver and añejo." His situation is all too common around the region. Cahill said Cuervo Gold remains Harrington's number one selling marque, and there's been an increase in pre-mixed products, but in tandem with that, he's put more focus on higher end products, taking cues from consumers' growing curiosity in drinking straight spirits. "I've seen a big focus on the mid-$4O to $6O range," he said. Despite Patron's blowout popularity, the success of Silver in his store is one of the biggest surprises. "Because of the price, people are being more economical and cutting back. I'm surprised when I see a moderately priced tequila fly off the shelf like it does – and it's consistent, not just during holidays or summer." That pronounced year-round consistency goes for the whole category.
Milagro, Herradura and Cabo Wabo are brands that draw a lot of attention as far as competitively priced silver expressions go. "Once people get to that plateau of spending $3O to $35 for a silver, they're likely to go for that more often than move up to a reposado or añejo," he said. However, he noted, tequila drinkers are more adventurous if they're drinking it straight.
TJ Douglas opened the Urban Grape in Chestnut Hill last June with ten tequilas, but as his customer base grew, his tequila selection expanded in response. Six months later he carried three times as many marques. Moreover, he had already established his shop as a top account for Avion, plowing through eight six-packs, which is far greater than the volume of more established brands. Accordingly, there are a number of bottles open in the store so people can sample before they buy. "Tequila drinkers are like whiskey drinkers: No matter the price, if they like it and want to try it, they'll buy it," he said. "Most buy it and drink it neat. I'm seeing people that are tasting and learning and chatting and seeing similarities and differences." While most tequilas are great at the $45 range, he noted, he recommends a few fine ones around $2O. However, as testament to his aforementioned conviction of price being an afterthought to an agave aficionado, is the sale of approximately 5O bottles of Grand Mayan, the extra-añejo that fetches $1OO.
Dave Luke, owner and liquor buyer of Luke's Liquors of Rockland, has increased his tequila inventory with high end and low end brands based on what he deems generates more customer excitement. "In the summer, everyone starts having margaritas, so we see people in the tequila aisle who ask 'I heard some stuff about tequila' and they want to know more, so we talk to them about the real deal. If they can have a good product, they can have a margarita with a $19.99 tequila without guilt," he said. Skyy's Espalon, which fetches around $19.99, has taken off for that very reason, he said. When it comes to pricier brands, however, "nothing on the top shelf sells like Patron," he said, even the 1.75 liter.
In Somerville, Jim Fitting, Assistant Manager at The Wine and Cheese Cask, said that while "margaritas still rule the roost, even in the winter," many customers are looking to upgrade, so the increase in high end options in the shop, like Milagro and Don Julio, is a direct response to consumer interest. He also expressed surprise at the unwavering strength of sales of Patron, given its price, but Milagro, he said, had done pretty well after only being in the store for a few weeks. "Tequila is part of the whole craft cocktail thing," he said. "People are more knowledgeable about ingredients – especially the higher end stuff – and that's a reflection of what's going on in bars in the area and as far away as Drink." He maintains bars and restaurants are the way for brands to reach consumers. He fields requests based on what people have tried on-premise more than based on what they find online or through social media, he said.
The situation is slightly different at Colonial Spirits in Acton where liquor manager Dave Carter has actually reduced the tequila selection because a number of premium tequilas he'd been stocking weren't moving. Cuervo is his top seller across the board, which he estimates accounts for a jaw-dropping 85% of tequila sales. Breaking down the remainder of the category, he's finding that premium marques aren't selling at a faster clip, with the exception of Patron, which always moves. "I think tequila got hit by the economy because the 2O- and 3O-year-olds are the ones who're drinking it and they're the ones who are getting laid off, since they're the ones without seniority at work. So they're watching their wallets and not go
ing out to get fancy tequila," Carter said.
Around $2O seems to be the sweet spot price for his patrons, thus Espalon (both silver and reposado), El Jimador (he recommends the reposado to customers seeking a margarita-friendly tequila), and the lesser known Agavales (silver and reposado) move out the door briskly. And with brand recognition from "Entourage," Avion has been attracting attention, too.
The Last Sip
The days when cracking open a bottle of tequila meant cranking up the surf rock are clearly long gone. Forging into the spring and summer of 2O11 with the confidence that consumers aren't afraid to trade up, tequilas of all caliber are putting resources into education, advertising and social media and making successful pushes to establish their brand as must-haves at bars and at homes, whether for mixing, shooting or sipping. With new entrants into the category, especially in the premium segment, it looks like tequila will be an industry big shot for a while to come.