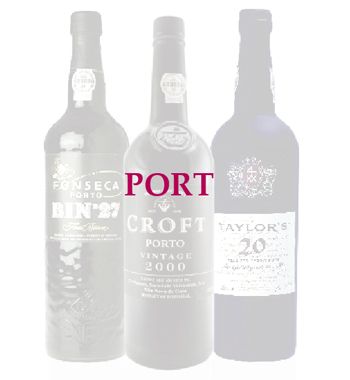 Port season is upon us and, although it has not been growing recently on the American market, the venerable fortified wine from the Douro Valley remains one of the world's classic categories that, from a qualitative standpoint, goes from strength to strength and keeps renewing itself with improved techniques of grapegrowing and winemaking. It happens to be produced in one of the most beautiful regions of the world, and, although I haven't visited Portugal in a number of years to taste on site, I recently had an opportunity to experience the next best thing – an assessment of current wine styles hosted by Robert Bower of the Taylor Fonseca group, in my opinion the quality leader in the industry.
Bower introduced some interesting points about recent changes during his presentation, the first among which was that some of the confusing terminology that has kept consumers befuddled about Port has been eliminated. The basic category of higher quality Port, the flagship of every shipper on the US market, can no longer be called "Vintage Character", as the authorities finally decided that use of this highly charged word misled consumers. The category has been re-christened "Reserve" Port. I was surprised that of the three on display, category leader Fonseca Bin 27, a new organic Fonseca entry, and Croft Distinction, I marginally preferred the latter. The Bin 27 was quite lovely, with coffee, almond, dried fig, and spice characters that were beautifully integrated with the charming dark berry fruit. I noted that the wine did not taste at all "hot", and Bower explained that this has to do with another recent change in the Douro. Shippers are no longer obligated to mute their fermentations with aguardente purchased directly from the Institute de Vinho do Porto, the local regulating body, as had been the case for decades. Fonseca is now using a much smoother unaged spirit purchased from Cognac in France.
The soft impression continued with a tasting of the other Fonseca Reserve, the 1OO% organically made Terra Bella, which was much grapier than Bin 27, a little darker and more intense with grippier tannins. It tasted less balanced, a bit disjointed actually. The Croft, on the other hand, had a charmingly sweet, candied, chocolate and caramel kind of smokiness balanced by cherry and cream. It was a very sensual drink, altogether sweeter and more luscious than expected based on past experience, without a touch of awkward angularity as is sometimes experienced in this category.
Late Bottled Vintage, or LBV, is among the enduring success stories in the Port world, an innovation introduced to give consumers the confidence that they were drinking wine from a single harvest yet aged in the same way as a Reserve. Two 2OO3s were on hand, the Taylor Fladgate and the Fonseca. Given their respective reputations, which indeed they lived up to fully, I thought it odd that the Taylor was presented first. It was a very fine Port with a slightly minty, mocha and nut-like impression on the nose, perhaps a touch pruney and austere on the palate. The acids and tannins were elevated, and it finished off with some bitter chocolate notes. The Fonseca, which Bower explained was unfiltered, had an altogether more voluptuous feel. Somewhat closed still on the nose, it had a plum and velvety berry lusciousness, with supple milk chocolate richness and not a trace of harshness. The Fonseca was my clear favorite.
Aged Tawnies are the other favorite category among connoisseurs now, prized for their mellower and more developed flavors. Croft 1O was a major disappointment, spirity and acrid on the nose, soft on the palate but baked and without vibrancy. It lacked fruit. The caramel flavors were charming but beyond that there was just heat. Far superior was the Taylor 2O which had developed to a nice mahogany with just a touch of red remaining. This Port had a seductive nose of fresh fig and maple. It was pecan-like, juicy and spicy on the palate, with a strong impression of apricot and a creamy richness that softened the heat. Twenties to me are the apex if you are looking for a combination of sweetness, complexity and vitality. This one delivered. In general I much prefer them to the Thirties or Forties unless I'm looking for a more contemplative drink that isn't quite as direct and sensual.
Last up were the vintage Ports, that rarest of categories that remains the crown jewel of all of the shippers' production. 2OOO was a magnificent vintage, one that attracted immediate praise as a year where the wines would taste great young as well as after years maturing in the bottle. The Fonseca was a monumental wine, still black and glowing as liquid coal. The aroma was full of violet, figgy, olive, and black cherry complexity. Something new and thrilling emerged each time I sniffed it. On the palate, too, the Fonseca 2OOO was incredibly rich and thick, with a brilliant young black fruit compactness. It actually tasted extremely fresh and youthful, with decades of development ahead, although if I had a bottle it would be hard to resist opening now. Croft 2OOO, on the other hand, was again a disappointment. Quite floral in scent, with a somewhat undifferentiated syrupy molasses-like aroma, on the palate it was also diffuse, lacking the fleshy extraction of the Fonseca. It was a nice effort but much more modest and too unstructured for my taste.
Both of the 2OO7s on display were stunners. Another superior vintage (Bower joked that we've already had 3 or 4 vintages of the century this decade), both the Taylor and the Fonseca were surprisingly forward. Taylor had a slightly charred smokiness, with baked chocolate and mint berry jam. It was chewy and pure velvet on the palate despite the substantial tannin. Spicy, intense, very lush, with anise and cassis. A wine for the long, long haul. Great as it was, I marginally preferred the even more gorgeous Fonseca. This had black fig and leafy floral essences on the nose, with a hard to resist raisiny intense essence of chocolate flavor. Thick and powerful but without a rough edge, this is a worthy heir to the 2OOO vintage, equally great without question.
The fact that both of these high quality vintages are available now is reflective of the world wide financial crisis from which we are hopefully emerging. Wines like 2OOO and 2OO7 that are great cellar candidates are difficult for collectors to put in their cellar for appreciation if we are in a slightly deflationary period where the feeling is to just wait because it will be available later at a lower price. This is the reason for the interest in ready-to-drink wines like the LBVs and the Aged Tawnies. But a lot of the dire prophecies about consumers trading down have not happened. Americans are drinking no more downmarket generic Ruby or Tawny than they were before the downturn. There seems to be an appreciation for the fact that Port and chocolate are a magical combination, and it's not just any old Port with any chocolate, it's dark chocolates with Reserve and LBV and milk chocolate with Tawny. This is an industry that has weathered many a storm, both political and economic, and the innovations in grapegrowing and production have significantly impacted quality in a positive direction. There were wines to love from all three houses, but the fact remains that Americans are not going generic in their Port purchasing, and if there is a "flight to quality" in this category, the Taylor Fonseca partnership stands to gain in a big way because of what they are putting in the bottle and because of their stellar critical reputation. On the other hand, the decreased buying power of the dollar is not helping matters and if there is a perception that the Ports are pricier than they once were this is a danger zone for the Port shippers to address: continued erosion of mind share for the US consumer. At this point we are still at a crossroads and it's not clear which direction the path will be.