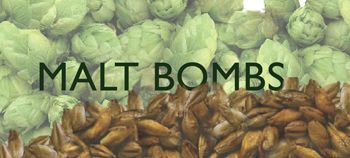 My brother-in-law Curt is a chef, and I love hanging out around the table with him. He's nuts about truffles, hates factory-farm chicken, loves fresh-picked fruit. He's fearless about what he'll try, but he's just as fearless in stating what he doesn't like.
One of the things he doesn't like . . . is hops. Likes beer, loves beer: his fridge is filled with Brooklyn Local 1, Celebrator doublebock, Southern Tier porter (for the lighter moments), and there's a magnum of Duvel tucked away in his closet for a special occasion. He likes big, flavorful beers. But if it's hoppy, he's not interested. "Pfff!" he says, glaring. "Keep that crap away from me." Curt likes what we call "malt bombs".
So when we went out to a brewpub a while back, and the bartender asked him what he'd like, Curt said, "What do you have that's not hoppy?" The bartender fixed him with a sneer and said, "Sorry, we don't serve fizzy yellow beer." We eventually got him straightened out, and Curt got a Scottish wee heavy (which would have been the right answer to his perfectly reasonable question).
The experience left me with some questions. Why is loving hops the litmus test for beer geek respect? What are the beers for people who don't like hops in their big beers, and who are these people? And since I was going to write about it, what could I do to shine a little light on these big, malty beauties?
The first thing I found out was that asking "What do you have that's not hoppy?" often leads to a pause, and a (hopefully) thoughtful silence. It's not a question that gets asked that often, which could mean that this whole exercise is pointless . . . but I don't think so.
Instead, I'd venture that the reason it doesn't get asked is perhaps that the people who are most likely looking for these beers don't know what it is they like about them. I do beer tastings with a wide variety of audiences, from folks in the industry to complete novices, and I've heard people say things like "It's not hoppy, like other bocks are," and "Now this one is too bitter for me" while lifting a glass of dubbel that didn't have a bitter note in it.
If people don't know what it is that they want, they won't ask for it; "not hoppy" doesn't get asked, and you don't think of your selection in that way. That's natural enough, and to help with that, I've provided short descriptions of the styles that can be called 'malt bombs', along with a couple common examples, by way of priming the pump the next time that question comes your way.
"It's the tyranny of hops."– david geary, geary brewing
Still, how did we get here? Why have hops eclipsed every other aspect of beer-making for so many of craft beers' most enthusiastic advocates?
"Hops have taken a strange place in beer-making in the US," said Dann Paquette (who's back in Massachusetts with his Pretty Things Beer & Ale Project). "Above and beyond ABV and color, they're the difference between someone who really likes craft beer and someone who doesn't. One of the reasons is that in our not-too-recent history, there
weren't a lot of hops in our beer. And there is a certain amount of machismo, extreme palate going on. There's a lot of craziness at the fanatic level. It's one of the best things: there's so much excitement that anything can work."
"American craft beers had to differentiate themselves from mainstream beer by being radically different," mused Bill Covaleski, President and co-Founder of Victory Brewing (Downingtown, Pennsylvania), where the malty side of the line-up includes St. Victorious doublebock, St. Boisterous hellerbock, the strong Belgian-type ales Golden Monkey and V-Twelve, and Baltic Thunder porter. "We had hops, and we indulged them extravagantly, and that became the signature. People have become predisposed to liking hops. It's still a small percentage. But one thing grows on the last thing; the brewers have tried to do more and more of what worked, and the small leading percentage says 'Great, what's next!' and it just keeps going. It may be reaching its logical end; you can't go much further with hops and still have
something pleasant."
Todd Marcus at Cape Cod Brewing, where Old Man Winter Ale is the big malty number, used a comparison I've always thought was appropriate: hot sauce. "People, with hot sauces, start out mellow," he said, "and then want to try all of them. They usually wind up not looking for the hottest sauce they can find, but a hot, hot sauce with really good flavor. Some brewers were making hoppy beers without any regard to drinking it. People tend to migrate to beers with more hop character and flavor. You know they're getting it when you hear them say something like, 'I tried this really hoppy beer last night, but that's all it was: a really hoppy beer.' There's more to it than bitter."
"For me, beer's about balance," David Geary, founder of D.L. Geary Brewing (Portland, Maine), told me. "Any idiot can overhop a beer, and many of them do. Our Hampshire Ale is nicely balanced between hops and malt.
It's actually the hoppiest beer we made, up until the Imperial IPA. But it's the ratio, so you couldn't tell, because of the balance of the malt. IBUs [International Bittering Units] become meaningless above a certain level, anyway. You see people claiming 14O IBUs. No, they don't have that. Not really."
"Balance" is a word brewers and drinkers use a lot, but Paquette's not convinced it's such a good metaphor. "Malt sweetness on its own is insipid, disgusting," he pointed out; "hops are terrible on their own. Put them together, and it works. It's not balance per se, it's more like dissonance, and you're finding a place in the middle."
He also mentioned that hops are almost too easy, too seductive, to a brewer. "It's instant flavor!" he said. "You put hops in at the late stages and you can make incredibly beautiful beers very readily. There are so many nice hops out there. Once you've got two IPAs your pale ale doesn't taste so great any more. But that can all work with malt, too.
Malty beers could be an interesting way to go in the future because traditionally malty beers have been re-made hoppy by craft brewers: brown ale, porter, barleywine. So it would be fun to make a malty beer and buck that."
"You get the enzymes going, and they go to town." – todd marcus, cape cod brewing
If we're going to buck the tyranny of hops then, what's involved? Hoppy beers have gone over the top, and balance has been forgotten; what does a brewer do to get malt character that doesn't smother a beer? "Hoppier" is to a large extent almost as simple as adding more hops. You have to be cognizant of the type and bitterness of the hops you add, and decide when you're going to add them, but once you've got that dialed in, you can turn the dial up pretty easily. Not so with malt.
"It's a razor's edge," said Covaleski. "Hops are spice, but malt is structural.
It has to be conceived of at the start of the process, then you have to build with it properly, and if you don't, you don't have a good beer. It's more difficult to work with: there's temperature, time, consistency. It's about the mashing, how to make it lean but still mouth-filling. You want to lose a lot of dextrins, but retain enough sugars to keep it full." Mashing is the 'cooking' part of brewing, where the brewer adds hot water to cracked malt, initiating the conversion of the barley's starches to the sugars that will ferment and become beer.
If that's not technical enough to stay ahead of your geekiest customers, here's the back-up, from Todd Marcus. "When you're mashing the brew," he explained, "temperature plays a crucial role. You have the ability to activate two different enzymes in an overlapping range, by changing the temperature, the chemistry, even the thickness of the mash. You even have to get the crush of the malt right, to expose the right amount of material while leaving enough husk intact.
You get the enzymes going, and they go to town. If you favor either end of the range, it has a significant impact on how the beer winds up." Swing it one way, you have a lean, mean beer with lighter body and more alcohol; swing the other, and you've got a big, chewy beer with less alcohol.
On the other hand, if that's too much technical detail, Dann Paquette gives a beautiful description of the kind of malt character he wanted to get in his St. Botolph's Town Rustic Dark Ale. He'd been working at a Yorkshire brewery in England for a while, and the brewery was only 2O minutes from the Thomas Fawcett maltings.
"When the malt arrived," he recalled, "it was still warm. If you opened the bag, it smelled so great you just wanted to start brewing right there. Quick! I started thinking about malt in a whole new way there, something fresh out of the oven. I'm looking for something reminiscent of the smell when I'm milling in [grinding the malt], that kind of character. It's like with hoppy beer; you're trying to get that smell you get when you first open the box of fresh hops."
Malt is like hops in one sense: there are different types with very different characteristics. The workhorse is pale malt, the closest thing to "plain malt". But do different things to malt during the processing – heat it longer, drier or wetter, at higher or lower temperatures – and you get dark malts, caramel malts, malts with more unfermentable sugars, sour malts, a whole artist's palette of malts to work with for different flavors, aromas, textures, and colors.
The malt is structural, though, as Covaleski explained, and you can't just throw beams and bricks on the ground and call it a house. You need to build it with mortar and nails. Paquette put the influences of his Yorkshire stay to work building St. Botolph's. "It's a very Yorkshire-influenced beer," he said. "I was thinking about Old Peculier and the Sam Smith beers, malty beers. I wanted to make a beer that's reminiscent of the beers I was drinking in Yorkshire.
"It's a pretty simple beer, although it does have three yeast strains," he said. "Old Peculier has three strains, Thwaite's is using three strains. The beer's got a real hearty malt component to it, and the yeast strain I like the best, that gives the best malt characteristic, is a German ale strain; almost gives a dry coconut character. To justify thinking of it in a northern English way, I have two English strains in there to give it a more English character."
It wasn't just malt, either, and Paquette laughed to admit it. "I used some brewer's caramel in it for color," he said, noting that adding caramel and sugars is common English practice. "I was trying to make English and Belgian beers all-malt, and that doesn't work. Using that in the UK was liberating. As long as you're not turning a pale ale into a dark ale just by adding caramel, I think you're okay."
Sometimes you make the beer you make for other reasons, like the name. Atlantic Brewing in Bar Harbor, Maine, made an Old Ale to celebrate an anniversary. "We made the Foonf Zane for our 15th birthday (fünfzehn is German for 15)," said brewer Jon Hill. "We wanted a stronger beer to celebrate the occasion and Auld Ale (or Old, if you like) seemed to fit. There are barely enough hops to balance the malt, but little hop presence. The smooth richness of the beer allows it to be consumed on its own, and with, or even after, dinner." It's old ale, after all, and as Hill pointed out, "Hops don't age."
"The winedrinker will go for a doublebock." – tom welton, beer manager, julios liquors.
We've got the beers made, they're malty, and they're ready and waiting. All we have to do now is match them with customers. Who wants malt?
Paquette said St. Botolph's has a solid following: women. "It came as a surprise that this is universally loved by women," he said. "It's the Fabio of our lineup. The women really, really love this beer, you can always get them."
Covaleski agreed. "My first response is that women enjoy malty beers, and usually the dark malts," he said. "They have an affinity to dark malts; I've seen women react positively to dark malts in ways the average man does not. At first blush, you think, why? But it happens again and again, so you accept it."
I've found that winedrinkers will go for a malty beer. I first saw this at Wagner Valley Winery, in the Finger Lakes in New York. They added a brewery, and the best-seller at their tasting room at the winery complex quickly became their doublebock. I was confused by that initially – doublebock's not the usual best-seller – but it makes sense: 8% isn't that strong for a wine drinker, and doublebock's not bitter.
"Yeah, that's true," agreed Tom Welton, Beer Manager at Julio's Liquors, in Westborough. "They've been taught that bitter's bad in wine, so it's a flavor they don't come easily to. But the winedrinker will go for a doublebock, or the Dogfish Head Raison d'Etre."
The job gets a lot easier in general this time of year. The holidays and the deep winter months that follow them are the malty beer season. It's winter warmer time, doublebock time, and people are springing for the big Belgians.
"The first malty beer that pops to mind?" asked Crystal Burlingame, Beer Manager at Blanchard's in Marshfield. "Doublebocks, like Celebrator. People particularly like them this time of year, although some go for them year 'round. The Belgian Noels are always super-malty. I love them, I don't even know how to describe it, that big flavor in there that I love. Everyone does their own thing. I love the Wachusett Winter; it has a little smokiness to it. I like the smoky, malty things."
"This time of year it's a lot easier," agreed Welton. "A lot of times we go to the Belgians: a tripel, a dubbel for that really rich, malty flavor. The doublebocks are a natural: Troegs just came in and the Troegenator is great. Here in Massachusetts, Berkshire does some great stuff, like the Scotch Ale; they did a bourbon barrel version for us. Smuttynose does well with the Wheat Wine and their Winter Ale. Mayflower Brewing did the Thanksgiving Ale, an old ale aged in a barrel. Allagash does some great stuff, and their Triple is good for a little less money."
Selling malty beers in general takes a little imagination. As Dann Paquette pointed out when I told him I'd made a list of the malty beers made in New England, "It's not a long list, is it? And there's not that many from other areas. So why not put together a malty area, instead of by styles, or countries: hoppy beers here, malty beers down here, sour beers over there . . . why not?"
Burlingame and Welton have hopes for a malt revival. "American microbrewers are really heavy-handed with the hops," she said. "It will eventually fade, everything does. Don't know when, but everything does. I try to get my customers to get balanced beers. I had a wicked hophead, and I told him to try for harmony.He liked it and now he looks for balance."
"It's nice to see people turning away from the crazy hoppy stuff," Welton said, admitting that he's a big fan of malty beers. "The more unbalanced the hoppy beer is, the more popular. It's nuts."
Covaleski takes the direct route: the stomach. "In cooking, malty is better," he said, pointing out that cooking concentrates hop bitterness, so you have to be very careful with using IPAs. "You sell the beer to drink, and to cook with. If you can get some display materials that talk to that, you can get not only the natural drinkers, but you get sales for cooking, too. Tell them why this beer applies to this taste. Once you've had Baltic Thunder glazing an Easter ham . . . you'll never go back!"
Welton uses that tack, too. "If anyone is looking for a beer with a recipe or a menu," he said, "the maltier beers just pair up so naturally. The caramelization of the malts works with the carmelization of the meat, the dark fruit flavors work so well with stews."
I know Curt agrees. He had a lot of success with a beer dinner at his restaurant, including quite a few surprised wine drinkers. And you can just guess what kind of beers he chose to be served. Fans of malty beers are out there, and they're another niche you can work.
---
"What do you have that's not hoppy?"
BELGIAN STRONG (Light/Dark) examples Duvel, Brooklyn Local 1/Chimay Blue, Affligem Noel. Mostly balanced to the malty side, though not always; but all are spicy, complex, and strong, and great with food.
BIERE de CHAMPAGNE examples DeuS, Malheur Brut Noir. As you'd expect, quite fizzy, but not lightweights; this new type of beer presents with spicy forwardness, very much something to try on wine people.
BOCK examples Samuel Adams Winter Lager, Einbecker Ur-Bock. Bock is the IPA of malty beers: malt is its reason for being. A good bock is rich without being heavy or sweet.
DOUBLEBOCK examples Ayinger Celebrator, Tröegs Troegenator. Bock, turned up to 11. Increased alcohol without booziness, increased body with being cloying. Ideally, a doublebock should exemplify "dangerously drinkable".
DUBBEL examples Westmalle Dubbel, Ommegang Abbey Ale. Fantastic with or in slow-cooked meat stews. Dark malts give a roasted note with hints of fruit, coffee, and chocolate. Great with or as dessert, too.
EISBOCK examples Kulmbacher Eisbock, Aventinus Weizen-Eisbock. Take a doublebock, then partially freeze it, and take away the ice: the remaining beer has concentrated flavors and alcohol.
ENGLISH STRONG examples Geary's Hampshire Special Ale, Fuller's 1845. Halfway to barleywine, the English strong ale is like a young cruiserweight boxer; light on its feet, packing a solid malty punch, and without much bitterness.
ENGLISH BARLEYWINE examples JW Lees Harvest Ale, Weyerbacher Blithering Idiot. Huge, but not bitter. Malty like a huge pillow, rich with fruity and nutty notes, comfortable and interesting, and ultimately soothing.
EXPORT STOUT examples Cisco Captain Swain's, Lion Stout. Export gets more malt than dry stout, and packs it on the body. Export is heavier, sweeter, and more powerful, but not as bitter or dry as imperial stout.
MAIBOCK examples Smuttynose Maibock, Berkshire Maibock Lager. The closest bock comes to hops, maibock is a golden beer with a drinkable maltiness. American brewers may make theirs hoppier.
OKTOBERFEST examples Spaten Ur-Märzen, Samuel Adams Octoberfest. Not huge, but oversized, and definitely malty: toasted notes, perhaps caramel, and a juicy robust mouthfeel.
OLD ALE examples Fuller's Vintage Ale, North Coast Old Stock Ale. Old Ale will have a solid strength to it, and rich malt flavors with perhaps a tang of tartness, all in a sturdy body.
QUADRUPEL examples Koningshoeven Quadrupel, Allagash Four. A bigger, fatter version of tripel. Malty and sweet, with even more alcohol than tripels.
TRIPEL examples Westmalle Tripel, Unibroue La Fin Du Monde. A Trappist-originated beer, light yellow-orange in color with a big white head; malty, sometimes sweet/sometimes dry, often with a sweet orange characte, lighter-bodied thanks to use of brewing sugars.
WEE HEAVY examples Skullsplitter, Berkshire Scotch Ale. Maybe the maltiest of them all, wee heavy is unabashedly sweet, with layers of malt flavors. Strong, big, rich, like a glass of malt pudding.
WEIZENBOCK examples Aventinus, Victory Moonglow. Hefeweizen cranked up to bock strength: bigger spice aromas, bigger body, bigger flavor. Great fun to cook with, too, especially with desserts and breakfast.
WHEATWINE examples Smuttynose Wheat Wine. Barleywine made with malted wheat, for a lighter-bodied big beer with a hint of tanginess and a tenacious head.
WINTER WARMER examples Samuel Smith Winter Welcome, Redhook Winterhook. Malty holiday gifts wrapped in festively-decorated bottles. Not much hop at all here; these beers are mouthy with malt, sweet and full-bodied.