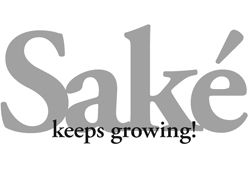 So said Lloyd Foster Marketing Manager at Classic Wine Imports. "We've been selling saké since 1992 and now it's a $1 million a year business for us." Many people look at saké and see it only as a niche product for sushi bars, Japanese restaurants and Asian grocery stores, but this is changing across the US.
"More restaurants are adding saké in their tasting menus," said Jon Sherwood of Ruby Wines, "not just Japanese and Asian places, so it's moving beyond the typical saké place." In the Boston area, he specifically mentioned restaurants such as Danté in Cambridge, and L'Espalier and Clio in Boston. On the retail side, he said that across Massachusetts he's seeing ". . . whole sections of saké beyond simply two or three facings. Our saké business has grown a great deal in the last two to three years – double digit each year since we started with saké in 2OO5." He cautioned, however, that doesn't mean it's clear sailing for saké sales. "With saké," Sherwood said, "it's still an education for customers. There's a language barrier and a lack of awareness, but this is more an issue for the gatekeepers – importers, distributors and retailers – than consumers. However, saké is on the rise in Massachusetts. "
Foster said he sells saké all over Massachusetts. A good customer for him – his best saké customer – is Reliable Market in Somerville, an Asian grocery. His second best saké store is Cambridge Wine & Spirits, located next to Whole Foods, another sushi seller. "There are eight good stores in the Boston area with more than a token saké selection and good turnover," Foster said.
"Saké is exploding for us," said Matthew Chivian, Portfolio Manager for Fine Wines & Spirits (part of the Martignetti Companies). "It's a great category and we're starting to see saké sections in non-Japanese restaurants, so it's finally becoming mainstream."
At Table & Vine, a retail store in West Springfield, Michael Quinlan said he's devoted more shelf space to saké. "We're adding seasonal sakés and we're getting good customer reaction," Quinlan said. "There are, of course, issues with staff education, but the staff is definitely interested in saké. It's still a niche item for us, but customers like new and interesting things."
Nancy Cushman, co-owner of O Ya, a Japanese restaurant in the Leather District in Boston (named the #1 new restaurant in the US this year by Frank Bruni in the new york times), said that her saké sales are double her wine sales and continue to grow. She carries about 4O brands of saké.
"People are always interested in saké when they come in," Cushman said. "Diners seek new things and are adventurous. Our staff is knowledgeable about saké. There's a complexity and dynamic nature with saké."
Cushman said that the smaller 3OOml bottles of saké (versus the standard 72Oml bottle), give her customers a great chance to taste different sakés without having to splurge on the pricier bigger bottles.
IMPORTERS/BRANDS
Foster said Classic Wine Imports sells saké from the importers Joto Saké of New York and JFC and Banzai Beverage of Los Angeles. His firm also sells saké from Ozeki – a large Japanese saké maker that has a saké brewery in California – and Saké One, the only American-owned saké brewery.
Ruby Wines sells saké from importers NY Mutual Trading (about 1O to 12 brands) and Vine Connections of Sausalito, CA (12 brands). "The bulk of our saké sales, however, are from Gekkeikan," Ruby's Jon Sherwood said. Gekkeikan is the largest saké maker in Japan and also, like Ozeki, has a California saké brewery.
Michael Simpkin of New Jersey, a longtime proponent of high quality saké, recently formed MJS Saké Selections and has nine new sakés from Niigata, Japan, that he's importing into the US. All will soon be available in Massachusetts. The region of Niigata is considered by many to be one of Japan's top saké-producing areas.
Henry Sidel of Joto Saké said he's selling well in all parts of Massachusetts. He has a new saké brewery in his portfolio, Yuho from Ishikawa, that boasts of having a female saké brewery president – one of only three in all of Japan. JFC and NY Mutual Trading each carry dozens of sakés imported from Japan. Saké One in Oregon brews and sells two different lines of saké: Momokawa sakés are the traditional, classic styles; Moonstone is a line of four fruit- and herb essence-infused sakés (pear, raspberry, plum, and coconut lemongrass). A third saké that doesn't fit into either of these lines is G Saké, "designed for the American palate . . . big, bold" with lots of fruit and a spicy flavor. "We're now at the fun point," said Dewey Weddington of Saké One. "We have the foundations, and we're pushing the envelope to sell saké in different places. We want to be a maker of big, beautiful, classic styles of saké made in the US, and we'll take chances to get Americans turned onto saké."
"Massachusetts is behind the rest of the US in saké sales," said Sherwood , "but we're embracing saké and growing all over the state, not just Boston and the metro area. The public is excited about saké and ready to learn more. The key now is getting the gatekeepers in the zone, getting saké out there."
CLASSIFICATION OF SAKÉ
Saké is officially classified by the Japan Saké Brewers Association. This can become confusing, but doesn't have to be. The first thing to understand is that saké is classified by the degree to which each individual grain of rice is polished before the brewing process begins. The greater the degree of polishing (removal of the outer husk), the higher the grade of finished saké.
DAIGINJO When at least 5O percent of the husk is removed, saké is called daiginjo, the highest classification. Some brewers remove up to 7O percent of the husk, resulting in rice grains that resemble tiny pearls. Daiginjo sakés are usually dry, delicate and subtle in their aromas and flavors.
GINJO When at least 4O percent of the husk is removed, saké is called ginjo. These sakés often taste similar to daiginjo sakés. In Japan, only 2.9 percent of saké sold is daiginjo or ginjo. These styles are also relatively new, having only been brewed and perfected as styles in the early 19OOs, somewhat before World War II, but it wasn't until the 196Os that they took off.
JUNMAI This is saké in which at least 3O percent of the husk is removed. Junmai sakés are usually rich in aroma and flavor and are full-bodied. They comprise 7.1 percent of all saké sales.
Just to complicate matters, junmai has another meaning in saké classification. It also means "pure rice saké" – saké in which no distilled alcohol has been added to the saké in the main fermentation vessel. Brewers have traditionally added distilled alcohol to adjust the aromas and flavors of their saké – not to increase the strength – and these sakés are just as wonderful as junmai sakés in which no alcohol has been added. Junmai sakés were introduced after 1964.
HONJOZO This is also saké in which at least 3O percent of the husk is removed, but some distilled alcohol has been added. Not many honjozo sakés are exported to the US. Perhaps none. In Japan, this style of saké, usually mild and crisp, accounts for 11.5 percent of saké sales.
FUTSU-SHU The most widely sold sakés in Japan (72.4 percent of sales) are those in which less than 3O percent of the husk is removed. Don't expect to see these for sale in the US.
Here's another complication in classification understanding for saké neophytes: there are junmai daiginjo and junmai ginjo sakés.
Specialty sakés include: nama (unpasteurized or draft); nigori (unfiltered, with bits of rice in the bottle); genshu (higher alcohol levels of 17 to 2O percent); koshu (saké aged over a year); hizoshu (saké aged over five years); taruzake (saké aged in wood casks); and sparkling saké into which carbon dioxide has been added.
All the above can be daunting for the first-time saké drinker. Chris Pierce of World Saké Imports said that because the lower-end sakés aren't imported into the US, it's best for us to simply think of saké as coming in four categories: junmai, ginjo, daiginjo, and specialty.
SAKÉ BREAKDOWN
Saké is fermented rice – rice that's been polished, washed, soaked, steamed, worked on by enzymes to change its structure, fermented with yeast, and usually filtered and pasteurized. And that's the short version of the brewing process. Saké brewing is a complex business, as it should be for the well-accepted national drink of Japan.
There are close to 2OOO saké breweries (sakagura) in Japan and a handful in California and Oregon. These breweries produce many different styles of saké with correspondingly different aromas and flavors. The types of rice, water and yeast used, as well as subtle or great differences in production methods, all contribute to the variations in saké. The color of saké can be clear, faintly yellow, gold, amber, or milky white. Aromas have been described by saké experts, such as John Gautner, Philip Harper and Beau Timken, as those of green apples, strawberries, melons, pears, honeysuckle, strawberries, chestnuts, bananas, floral, and earthy. Flavors incorporate some of the same descriptive terms as the aromas, and saké is often spoken of as either sweet or dry, with sourness and astringency present. There are no sulfites present, as in wine, and saké is stronger than wine, averaging 15 percent to 17 percent alcohol by volume. Some special sakés are 2O percent. Saké is also less acidic than wine.
Chris Pearce of World Saké Imports, an importer of high-end sakés, said that the "light and dry" style of saké is giving way to full-flavored sakés, and that saké brewers are going for a balance of sugars and acids. Just as we have specialty microbrewers and boutique wine makers in the US, in Japan there are now small cutting-edge saké brewers.
As Americans learn more about saké, better quality styles have entered the US market, and not just in Japanese restaurants. Asian fusion restaurants, and even restaurants with European menus, have added saké to their drinks lists. Progressive chefs are no longer wine-centric. They cook and pair meals with saké and beer. Customers now know to order the best sakés served cold. More importers have appeared and bottle labeling has improved.