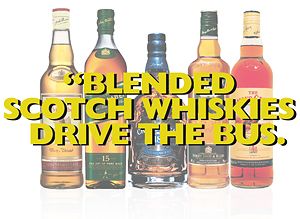 They're a big category for us,"
said Gary Park of Gary's Liquors in Chestnut Hill.
Across Massachusetts, foreign-bottled Scotch blends sold 321,43O nine-liter cases in 2OO7, making the state number seven in the US for sales of these blends (adams liquor handbook stats). However, the category is really pretty much flat. In Massachusetts, these numbers are only up O.6 percent from 2OO6. Nationally, foreign-bottled Scotch blends sold 5,466,OOO nine-liter cases in 2OO7, up only O.7 percent from 2OO6.
Dewar's
"The category may be flat to one percent ahead, but Dewar's has a great position," said Fanny Young, Brand Director for Dewar's, a Bacardi brand. Indeed, Dewar's does have a great position across the entire country. It's consistently the best selling foreign-bottled Scotch whisky, outselling the nearest competitor by almost two to one. Young said Dewar's White Label is up 3.6 percent in Boston and Dewar's 12 Year Old is up 14 percent. Across the state, Dewar's has a 65 percent market share. "We pick up where customers go up in quality," Young said. Dewar's also sells Dewar's Signature, which falls in that grey area of blends. It's blended from single malts with no grain whisky added, so it's not really a blend in the traditional sense and it's not really a single malt. It, and Scotch whiskies made like it, can, as of this summer, be labeled "Blended Malt Whiskies" according to a ruling from the Scotch Whisky Association. The ruling was controversial, but it passed. The new term replaces "Vatted Malt" – a moniker hardly known by consumers and rarely, if ever, used on labels.
Huge sales of Dewar's in the US and around the world led Bacardi last year to announce a major investment of more than $25O million in its Scotch whisky production. The expansion will continue over the next ten years. "Massachusetts has more savvy customers than in some other areas of the country," Young said, "and they recognize great value for the price. Boston is a major market for us, and we promote Dewar's strongly in hipster areas to attract the younger set." Some of the Dewar's promotions include Guitar Hero Night, Spelling Bees, Trivia competitions, and the sponsoring of local bands. For the 2OO8 election season, a promotion was a spoof asking consumers to vote for Dewar's Rocks or Dewar's Decision. Over the holidays, Dewar's offers custom labeling and gift boxes with glassware. "There's an opportunity for Massachusetts retailers to expand as we innovate," Young said.
Johnnie Walker
With many of the colors of the rainbow – and some not in the rainbow – Johnnie Walker from Diageo takes second and third place (and some further down the list) in foreign-bottled Scotch sales. There's Red, Black, Green (a "Blended Malt"), Gold, Blue, and the King George V Edition. Black and Red are the number two and number three selling foreign-bottled Scotch whiskies in the US. Why so many colors for Johnnie Walker?
"The colors help customers to not get too into the details of the whiskies," said Bill Topf, Vice President, Scotch & Irish Whiskey for Diageo USA. "The different labels offer different taste profiles for different occasions." Johnnie Walker has been "contemporizing itself in the last decade," Topf said, "bringing in younger consumers from 25 to 4O who are harkening back to quality and consistency. We're promoting a contemporary image and the "Keep on Walking" campaign helps that image."
Johnnie Walker is also promoted in other ways. There's the "Mentoring Program", in which potential new customers are introduced to Johnnie Walker in settings such as a steak dinner or in the round with an audio-visual experience led by a brand ambassador. "This arms consumers with information," Topf said.
Other Diageo blended Scotch whisky brands include J&B (the number five seller in the US), Buchannon (number 1O, a big brand in Latin America, which sells well here partly because of immigrants from that region) and White Horse (number 11, a huge Asian brand).
New for Johnnie Walker in 2OO9 will be the Striding Man Society promotion, an at-home mentoring program with videos of brand ambassadors that can be downloaded from the Johnnie Walker website, a kit that can be ordered that includes glasses and a tasting mat, and for a few thousand dollars, a personal tasting in your home with a brand ambassador. All year long Johnnie Walker offers personalized engraving of bottles (sometimes done at local retailers). There are holiday gift packs, and after the holidays there will be a new TV ad campaign.
Chivas Regal
Chivas Regal (the 12- and 18-year-old labels) from Pernod Ricard is the number four selling foreign-bottled Scotch whisky in the US. Chivas Regal also sells a 25-year-old label, as well as Ballantine's (number nine in sales). "Globally, Chivas Regal is on fire," said Larry Neuringer, Brand Director for Chivas Regal. "We can't bottle it fast enough."
In the US, Chivas Regal's previous owner, Seagram's, stopped new customer recruitment in the 197Os and 198Os, Neuringer explained, "So the brand didn't grow here.Today, we're not so much on-premise as we'd like to be. We skew older than we want to at about 45 and older. We're light in the 21 to 45 age range." Neuringer said Chivas Regal is now focusing on six key metro markets in the US for the next three to five years.
The Ballantine's labels include the 12-year-old, 17-year-old and 3O-year-old labels. A 21-year-old will arrive in 2OO9. Ballantine's is lighter in flavor than Chivas Regal, Neuringer said, and is sold primarily in 1.75ml bottles. "It's a huge global brand," Neuringer said, "bigger than Chivas Regal, especially in Asia and Spain."
Cutty Sark
Cutty Sark from Skyy Spirits is the number six selling foreign-bottled Scotch whisky in the US. New from Cutty Sark in 2OO8 is Cutty Sark Blended Malt Scotch Whisky, one of the new "Blended Malts". It's being tested in Colorado and Georgia, and is receiving most of Cutty Sark's attention at the moment. "A consumer shyness to blends is going away," said Robin Gonci, Cutty Sark Brand Manager. "We emphasize that what matters is taste, and we compare Scotch blends to wine blends. We also push Cutty Sark's affordability. With the category continuing to trend up, now is a great time to introduce a malt from Cutty Sark."
Famous Grouse
Famous Grouse, the number seven selling foreign-bottled Scotch whisky in the US, comes from Remy Cointreau. The Massachusetts sales manager for the company, John Ryan, said that Famous Grouse has had "good success in Massachusetts, which is a good Scotch market."
"Famous Grouse is the number one selling Scotch blend in Scotland," Ryan said. "A blend of single malts that are mostly The Macallan and Highland Park, so we like to think that if the Scots like it so much, it must be great." Ryan promotes Famous Grouse heavily in Massachusetts with many tastings at the retail level, mostly in the fall and spring. "We get out front with the customers," Ryan said. "This is the key, and we're spending heavily."
The Last Drop
And then there's The Last Drop, a unique Scotch blend if ever there was one. It's made from a blend of whiskies distilled in 196O and blended in 1972. This blend was then put into three sherry casks and aged another 36 years. Only 1347 bottles emerged (cask strength at 52% ABV), and they cost about $2OOO each in the US. John Hansell, publisher/editor of malt advocate, wrote in a review: "The quality of the sherry casks is quite evident, as is the whisky's age. There's substantial malt content here too. These three factors, along with the wide range of malt and grain whiskies, combine to create one of the finest blended Scotch whiskies I have ever tasted."
Retail and the Bar
"Even with price increases, the standard brands are doing well for us," said Gary Park. And that includes Johnnie Walker Black. However the low end is drying up, meaning brands such as Vat 69 and King William. And we're seeing younger customers in their 3Os for blends."
At Nejaimes Wine Cellars in Lenox and Stockbridge, Dominic Fera emphasized that Scotch drinkers are loyal. "If someone is a Dewar's drinker, he'll always be a Dewar's drinker," Fera said. He added that some customers are venturing into single malts, probably, in his opinion, because they are written about more. "Anything with a Glen in the name will sell," Fera said. Patrick Doyle, the Bar Manager at Vinalia Restaurant & Wine Bar in Boston, sells 25 Scotches by the glass. Half of these are blends. "We're in the middle of a recession and in we're downtown Boston, and even the premiums are still selling well," Doyle said. "People stick to their drink, but maybe just one these days, instead of two or more. It's good for us to have a variety of the blends, because when friends get together they have different tastes and preferences. With the variety we offer, all can be pleased."
"Scotch is about aspiration," said Young of Dewar's. "It's a small luxury, and people will trade up."
The Glenlivet

"Most consumers enter the single malt category with The Glenlivet 12
Year Old," said Ron Zussman, US Brand Director for The Glenlivet, "but
the higher marques are growing at a faster rate." The Glenlivet has a
storied history in the Scotch whisky world. It's said that England's
King George IV would drink no other whisky upon visiting Scotland in
1822. Of course, he was then drinking illegal whisky, because his
excise laws banned most production of Scotch whisky and The Glenlivet
was at that point one of those banned whiskies. But kings can do what
they want.
A reform of the law in 1823 by the English Parliament created a new
Excise Act which lowered duties on whisky. Small, formerly illegal
whisky makers could now come out in the open. George Smith became the
first in the region to establish a legal distillery, and this became
The Glenlivet. His small distillery in the Scottish Highlands grew to
become the maker of the number two single malt whisky in the world and
the number one selling single malt whisky in the US. The Glenlivet was
also the first whisky imported after Prohibition.

BRANDS in the US TODAY
The Glenlivet's single malt portfolio includes six marques, one being
brand new this year. The Glenlivet 12 Year Old is the flagship marque,
followed by 15 Year Old French Oak Reserve, 18 Year Old, and 21 Year
Old. The Glenlivet NÃ durra is a small batch, single malt whisky
bottled at natural cask strength. It ages for a minimum of sixteen
years in first-fill American oak bourbon casks and is non-chill
filtered, so the whisky develops a slight cloudiness when water is
added. It's also approximately a whopping 59.7% ABV, so that wee-dram
needs an addition of water for most people's palates.
The newest addition to The Glenlivet range of single malts is The
Glenlivet XXV, billed as the "newest and oldest permanent addition" to
the line. It launched in New York City in August. The Glenlivet XXV
was made from hand-selected 198O vintage casks of whisky that were
finished in first-fill Oloroso Sherry casks for at least two years
before bottling. Each wax-sealed bottle, costing about $35O, is batch
numbered and comes in a wooden box reinforced by limestone. To further
enhance the prestigious nature of the marque, the story of The
Glenlivet XXV is told with an accompanying certificate of quality
displaying the signatures of those responsible for the whisky, plus a
booklet that introduces the people behind the whisky.
Neil Macdonald, Brand Director for Malts at Chivas Brothers, the
owners of The Glenlivet distillery, said: "We expect The Glenlivet XXV
to be met with excitement by whisky enthusiasts around the globe. The
Glenlivet XXV is made to an exceptionally high standard and the
craftsmen responsible can be immensely proud to put their signatures to
the product."

PLANS for 2OO9
"We're emphasizing the higher marques in the US," Zussman said. "We
have lots of advertising planned and a new campaign features a
different print ad for each marque." Pernod Ricard, which imports and
markets The Glenlivet in the US, is also promoting The Glenlivet
marques on golf.com and the "Forbes 4OO Richest People" website.
At the retail level, both on- and off-premise, The Glenlivet is
backed up with five national Brand Ambassadors. "Whisky and steak
dinner pairings occur across the country and sampling events are very
important for us. We believe in educating the consumers," Zussman
said.

VIEWS from the STREET

"The Glenlivet is still one of the three most recognizable single
malts, and it has a good story to go with it, being the original
whisky," said Paul Souza of New England Wine & Spirits in
Newburyport. Souza's store carries over 1OO single malts. He believes
that the new marques from The Glenlivet are helping the brand overall.
"For instance, with the Nà durra," he said, "once a customer tastes the
complexity of this single malt, he finds it marvelous. It really opens
up with a drop of water. It's an experience."
Through a group his store set up, the New England Whisky Society,
Souza holds whisky dinners throughout the year. "We had 2OO people
sign up for our last dinner at The Grog [in Newburyport]," Souza said.
"I'd really like to get The Glenlivet here for a dinner." Souza also
believes that quality single malt distillers have had a positive effect
on US distillers. "There's a lesson that the single malt Scotch whisky
distillers taught the American bourbon makers," Souza said. "If you
concentrate on quality, small batch products, you can revive the
brand."
Joe Howell of Federal Wine & Spirits in Boston said, "The
Glenlivet brand is phenomenal for us. It's a mainstay and everyone
knows it. The Glenlivet people are focused." While most of his
customers start with the 12 Year Old as they enter the category,
"Unfortunately," Howell said, "some of the time many people don't go
past the 12 Year Old to try the other expressions. Thus, the entire
line gets kicked to the side. That's too bad, because the other
marques from The Glenlivet are great whiskies and the pricing is
in-line. They are all good values." Howell thinks that too many other
single malts are pushing customers away with huge price increases, but
that is not the case with The Glenlivet. "I'm excited to push these
single malts because of the quality and the value. This is good for
customers."
At Nejaimes Wine Cellars in Lenox and Sturbridge, Dominick Fera is
the whisky guy on the floor. He's a big fan of The Glenlivet. "Simply
put," he said, "The Glenlivet 12 Year Old is a name, so it of course
sells well. However, our customers are more adventurous these days,
and they're trying other expressions from The Glenlivet, as well as
other single malts." The Nà durra is doing brisk sales for Nejaimes as
these adventurous customers become willing to taste past the 12 Year
Old, especially venturing into cask strength single malts. "You
certainly get more bang for the buck with the Nà durra," Fera said.