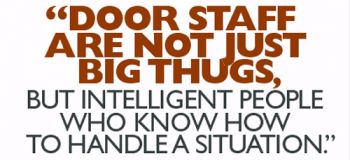 Anyone
holding a license to serve alcohol in Massachusetts may soon
face tougher and more costly regulatory requirements. A home
rule petition now pending in the state legislature would
require all licensees to run criminal background checks on
all employees involved with admitting patrons. This includes
door staff and anyone else who screens customer driver's
licenses or other IDs. Although the venues most affected
would likely be crowded nightclubs and bars, which earn most
of their income through alcohol sales, the proposal's
language includes security staff, doormen, floor staff, or
others who perform duties related to admitting patrons or
maintaining order and safety at any establishment licensed
to serve alcoholic beverages. Any licensee that accrues
three or more reported incidents of assault and battery by
an employee on a patron must have its staff trained by an
independent, third-party company. Over the past 18 months
there have been a few highly publicized incidents involving
bouncers and bar staff committing violence against
customers. The most infamous case is probably that of Darryl
Littlejohn, a bouncer accused of murdering a New York
graduate student from Massachusetts in 2OO6 after she
stopped in at the New York City club in which he worked. An
ex-con with a lengthy criminal background, his employment at
the bar was a violation of his parole. In a separate
incident, another Manhattan bouncer, Stephen Sakai, was
charged with shooting four patrons, one of whom
died.
As far and few between as
such grave incidents are, these high profile cases caught
the attention of Boston Mayor Thomas Menino and Boston City
Councilman Michael Flaherty. It was Flaherty who drew up the
home rule petition earlier this year. He and Menino now want
Boston licensees to adopt more stringent personnel checks
and training. State Representative Jamie Murphy picked up
Flaherty's proposal for a possible statewide measure. If
approved, the Boston Licensing Board would be responsible
for implementing the regulations. "I don't think owners make
a lot of mistakes. Employees don't always understand. Rather
than de-escalate the issue, they get into an argument. What
you want to do is to get away from an aggressive situation,"
explains James Staples, a partner with Guest Intervention
Strategies, a Boston-based security personnel training
company. During the company's six hour course, Staples
shares his knowledge of liquor laws and enforcement, helping
participants understand and comply with a confusing matrix
of legal requirements. He served for 17 years with the
Massachusetts Alcoholic Beverages Control Commission, which
included 15 years as the supervising investigator
responsible for training field investigators, developing and
implementing enforcement operations and prosecuting cases.
Staples also was a police officer in Boxboro, MA.
"We go through all the
procedures for fire codes, overcrowding and public safety
issues to show them what to look for, as well as what the
law permits you to do and what it doesn't," Staples says.
The program also teaches participants how to deal with
aggressive patrons to prevent bad situations from
developing. Many liability issues stem from employees not
knowing how to deal tactfully with aggressive or annoying
patrons. The only thing training can do is help you," he
notes. If owners can document employee training procedures,
furnish a log of how past situations were handled and prove
their employees received professional third party training,
their chances of a positive legal outcome improve greatly,
he suggests.
The physical and
self-defense aspects of training courses at Guest
Intervention Strategies are taught by another partner, David
Boyle, a martial arts expert and a vice president at
Martignetti Companies, which gives him some insight into the
world of bars and clubs. He also owns two security companies
and was involved in handling security at the 1996 Olympic
Games in Atlanta. "No one takes a self-defense course until
after they've been mugged. A lot of our clients come to us
after they've been cited by authorities or a neighboring bar
has been cited," Boyle says. "If someone comes within two
feet of you, you have to respond. Do you take a step back or
do you push them? I teach people how to grab and control in
a way that doesn't use excessive force. You can't snap and
break a guy's arm," he says, observing how most patrons have
a cell phone with a built-in camera and will probably
photograph any violence. His classes and those of other
trainers include mock situations so participants can
practice their new skills under careful supervision. If
you're prepared, you don't react from emotion, he remarks.
It is against the law for bar staff to touch patrons, but if
someone threatens you or another patron, you can act to
prevent injury because at that point, it's self defense,
Boyle explains. "In seven-plus years, I've never had a
lawsuit or a criminal case filed against me," he says,
adding: "Good training outweighs good instinct."
"The incident in New York
started a lot of stuff. People are happy to sue and the
numbers have gotten a lot bigger in terms of the number of
claims," says Brian Jacobs, owner of Security Liability
Reduction Associates in Boston. He mainly trains nightclub
security staff, as well as staff at entertainment venues,
and focuses on preventing liquor liability issues.
"Depending on the owner, many clients come to us. Sometimes
they want to be proactive, sometimes they've had a slew of
violations," he describes. "State and city officials are
coming down hard on clubs. That means that it's time for
nightclub security to evolve," he says, noting,
"Everything's gotten a little more corporate and
professional. Door staff are not just big thugs, but
intelligent people who know how to handle a situation."
Instead of reacting with customers on an emotional level,
the focus of Jacobs's program is to show clients how to
verbally defuse a situation. This also includes stopping
trouble at the door, he stresses, by spotting fake IDs,
inebriated patrons and other red flags.
Jacobs started his training
program about two years ago in conjunction with the Liquor
Liability Joint Underwriting Association of Massachusetts.
This is the insurer of last resort for alcohol licensees in
the state. The company insures about 2OOO license holders,
which represents about 15 to 2O percent of the total market,
according to President and CEO John Tympanick. "Almost half
of our claims come from assault and battery, and of that, 25
percent of these involve security personnel. We needed to do
something about this," he remarks, adding, "There weren't
any organized training programs in the country. It made
sense to promote this. I can only assume that with certified
security personnel, you are gong to have fewer incidents."
Once he was satisfied Jacobs's program met a high enough
standard, Tympanick began offering incentives to persuade
licensees to have their staff take the course. This includes
a 5O percent discount to the general liability assault and
battery annual premium, which he says to a Boston bar could
mean about $25OO. Another incentive is that the insurance
firm reimburses owners up to $75 for each employee they
enroll in the course, making the approximately $225
enrollment fee easier to take. Still, not everyone sees a
desperate need for independent training.
"We're all for training.
The industry does a fantastic job of training now," says
Peter Christie, President and CEO of the Massachusetts
Restaurant Association. "The vast majority of nightclubs in
Boston are in the business of taking care of their
customers. All of them are training internally every bit as
good as third party trainers. They need to continue
training," he says. The home rule petition "is being
championed by insurance companies and a couple of people who
have recognized the niche and started little training
businesses," he claims. "Who's to say they're better than
the firm with 2O years of experience who's been doing the
same job?"
Christie questions what
licensees would do if, for example, one of their certified
security staff calls in sick and a non-third party trained
staffer is available to fill in. Would this be illegal? And
as for criminal record background checks, the CORI system
available in Massachusetts has a 6O day waiting list, he
says. "Can you wait 6O days to hire a job applicant?" he
asks, adding, "So many of these laws are well-intended, but
they would make it unlawful to have someone at the door who
doesn't have this [third party] training."
Commenting on the state's restaurant and bar owners,
Christie says: "These people realize what they have to lose.
These people are business people, many who run multimillion
dollar establishments. They don't want any incidents." Some
proponents of third-party training argue that ServSafe and
TIPS training programs are conducted mostly by outside
contractors, and see little difference in third-party
training for security issues. Officials of some towns agree.
Newburyport, for example, recently hired Guest Intervention
Strategies to train all licensees there. Bourne and Dedham
have also contacted the company, adds Staples.
Perhaps a proposal that
mandates training was inevitable in Massachusetts, given
recent events and the rising costs of lawsuits and
insurance. Further hearings between legislators and business
owners are planned later this year so licensees can discuss
how the measure would affect them, and changes, if any, can
be made to the proposal. Regardless of the outcome, today's
lucrative, security-conscious environment seems primed to
attract qualified companies to step in so they can do well
while doing good.