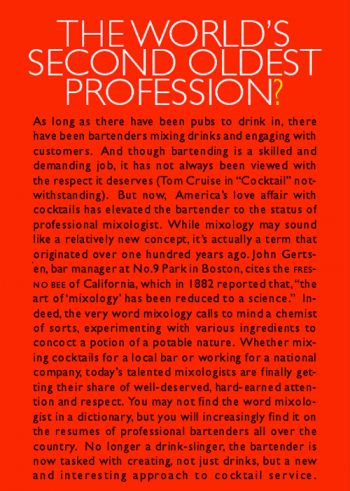 WHAT'S
IN A NAME? Drink
invention is, without a doubt, a major component of
mixology. Today's mixologists experiment with infused
liquors, fruit nectars, aromatics, and flamboyant garnishes,
creating unusual signature cocktails which may take
inspiration anywhere from a Snickers bar to Thai curry. Some
professionals worry, however, that the word mixology
excludes other equally important aspects bartending. Jackson
Cannon is the bar manager at Eastern Standard in the Hotel
Commonwealth in Kenmore Square. When asked about mixology,
he said it was an appropriate descriptor for the art of
mixing drinks. He was, at the same time, uncomfortable with
the title of bartender being replaced by the term
mixologist. To him, bartending involves so many other
disciplines aside from mixing an original drink. Tom Abisso,
of the Professional Bartenders School of New England in
Boston, has a slightly different perspective, maintaining
that "A bartender is just a bartender, but a mixologist is a
well-trained bartender." He has been employing the term of
mixologist for the past twenty years with regards to the
courses offered at the school. To him, what sets a
mixologist apart from a bartender is the quality of service
he or she provides – pouring drinks with accuracy and speed,
working with special requests, and knowing when not to serve
a person who might have already had enough. However you look
at it though, the designation of mixologist certainly
implies a degree of creative license and dedication to a
craft.
MARKETING
MIXOLOGY ON A NATIONAL SCALE
Over the last couple of years, large liquor companies have
realized the increased demand for specialty cocktails and
have turned to the mixologist for assistance. Their
creativity is now a major component in the marketing of
sprits. There's a certain cachet to having a resident drink
professional on staff. To come up with enticing drinks, Grey
Goose employs resident mixologist Nick Mautone, who creates
cocktail recipes used for advertising and special events.
Grey Goose has also compiled a Nick Mautone Home
Entertaining tip guide, which they distribute to retail
stores. Additionally, their website has a link for Mixology
filled with tips and recipes.
And it's not
just Grey Goose that has seen the merit of having a
professional on staff. Other large liquor companies have
launched national campaigns, calling on bartenders from
around the globe to compete to create the most inventive,
delicious cocktails featuring their particular brand. In a
recent "Mix Your Way to Amsterdam" contest, DeKuyper invited
applicants to submit original drink recipes made with at
least one of the eight DeKuyper Pucker flavors and/or
DeKuyper Peachtree Schnapps. One of the winners was Michael
Del Llano, who works at the Macaroni Grill in Burlington.
His winning recipe is the Boston Tea Party, made from iced
tea, vodka and DeKuyper Raspberry Schnapps.
In conjunction
with the release of their new Blueberi vodka, Stoli recently
ran a drink recipe contest open to bartenders. The winner
receives fame rather than money: a feature in a press
release, and his or her recipe in a cocktail recipe booklet
published by Stoli. The website already features drinks
ranging from the simple "Stoli Blue-tini", made with Stoli
Blueberi and Vanil, to the "Blue Daiquiri," a frozen
concoction of Blueberi vodka, banana, banana rum, vanilla
ice cream, and blue Curacao. But perhaps the most impressive
and lucrative campaign thus far was from Smirnoff Vodka. In
February, the company launched a nationwide search for an
official Cocktail Consultant. Smirnoff sought mixologists
who were innovative and well versed in culinary arts.
Entrants submitted applications, a three-minute video and a
recipe for a modern take on the Moscow Mule. The winner was
Cameron Bogue from Las Vegas, who submitted a recipe for a
Beijing Mule, with saffron-flavored simple syrup and Asian
peach infused Smirnoff. He will receive salary and budget
amounting to $1OO,OOO for one year, allowing him to travel
the world, taste up-and-coming products and provide two
detailed cocktail trend reports for Smirnoff. Not a bad gig!
If these campaigns show anything it's that, for a
professional bartender who loves the art of cocktail
creation, the possibilities are both endless and very
lucrative.
INTERNATIONAL
INFLUENCES Of course,
these large-scale promotions wouldn't exist if individual
bars hadn't been gravitating toward this new style of drink
creation and service. This zippier, younger brand of
cocktail culture is evidenced by the very presence of drink
menus at restaurants all over the country. Twenty years ago,
you wouldn't walk into a bar and ask what kind of martinis
they made or if the Mojitos were any good. Nowadays, a
customer expects to try a drink that is unique and different
and, maybe, bluish-green, with a hibiscus blossom floating
elegantly on top. John Gertsen astutely describes modern
mixology as utilizing a "global laboratory". In his bar at
No.9 Park, he seeks ingredients from around the world such
as "dry apricot brandy or some obscure bitters from South
America". Just as American cuisine has become an exercise in
fusion, so too has drink mixing. A sushi restaurant will
commonly offer Lychee-tinis, sake-tinis, ginger martinis,
and cucumber cocktails while restaurants with Latin American
orientation will often serve Mojitos, Caipirinhas, sangria,
or creative variations on the margarita. And what's next?
John says, "Watch out for the flavors of the Middle East and
Eastern Mediterranean to pop up any day now. I'm dreaming of
a retsina/gin cocktail with pistachio foam right now." At
the red-hot Stella in Boston's South End, the cocktail menu
reflects the restaurant's Italian flair. One of the most
popular drinks is their signature Basil Lime Gimlet. Other
featured Italianate cocktails are the Camparitini, made with
Campari, Ketel 1 Citroen and grapefruit juice, and the
Cappuccino Martini, a foamy blend of espresso and vanilla
vodka. Many bartenders are challenging themselves to use
obscure or random spirits in cocktails; Chartreuse and
Campari have made quite a comeback lately. Of course, if a
drink is good, customers will ask for it at other places as
well. Through word of mouth these drinks make the rounds and
suddenly they become so popular that bartenders all over the
city are making them.
OLD
SCHOOL VERSUS NEW With
the rise of new cocktail recipes, some purists are concerned
that the classics might fall by the wayside. Martinis and
Manhattans are still popular choices although even these,
the most traditional of drinks, have been modified for the
modern palate. Martinis are commonly made with vodka in
place of gin and with a much smaller amount of vermouth, if
any at all. In addition, there are cocktails being born
every day that have no relation to their forefathers of the
past with the exception of the glassware in which they are
served. The advent of new flavored liquors, the rainbow of
available cordials, and the avant garde approach to
garnishing takes the world of cocktails to a new level-or
back to square one, depending on who you talk to. When asked
his opinion of the modern cocktail culture versus the old
classics such as the Manhattan, Sidecar and Old Fashioned,
bartender Michael Ray, recently of Stella, replied that the
classics are here to stay. Apple-tinis may go out of
fashion, but the gin martini will not.
Some of the most
successful bars seem to offer a balance between classic and
contemporary. Parker's Bar at the Omni Parker hotel in
Boston has a comprehensive cocktail list, with classic mixed
drinks named after historic and literary figures who have
stayed in the hotel. The flip side of their menu offers the
title "we might be old but we're not dead" with funkier
cocktails such as the "bee-sting" martini (honey-flavored
Stoli Okhotnichaya vodka garnished with a fresh flower). At
No.9 Park, John Gersten asserts that, while their menu is a
mix of old, new and experimental, "Old school drinks are the
foundation of everything (they) make." He believes that a
mixologist must take his or her cues from recipes of the
past, and those tried and true blends provide a more
foolproof framework for innovation. His cocktail menu offers
drinks that may seem unusual to one unversed in the art of
mixology. Current features include the Moscow Mule (vodka,
ginger beer and lime juice) and "an el Bulli-inspired, foam
topped drink called the Dalmatian" (see sidebar). (el Bulli,
as I learned, is a restaurant in Spain that's often referred
to as the best eatery in the world. Almost as famous for its
presentation as its cuisine, it can take up to a year to get
a reservation.) Eastern Standard's drink list also reflects
a balance between old and new featuring cocktails such as
the contemporary Papi's Punch (Dominican rum and tropical
juices) and the classics such as a Sazerac and Hemingway
Daiquiri. Jackson reports that their most popular cocktail
is the Whiskey Smash, a fresh take on a Mint Julep, with
muddled lemon and fresh mint, sugar and bourbon poured over
crushed ice.
COCKTAIL
CULTURE IS BACK There's
an old industry joke that goes: What's the difference
between a bartender and God? Answer: God doesn't think he's
a bartender. The implication of this joke is disproved by
the bartenders' testimonies provided for the sake of this
article. Those interviewed displayed passion and
professionalism with respect to their careers as mixologists
but did not confuse themselves with divine entities. With no
end in sight to the current cocktail phenomenon, it's not
likely that mixology will be going away anytime soon. Drinks
are big business and the masters who create them take the
job very seriously. What's more, customers have embraced the
notion of bartenders as mixologists. People enjoy
experimenting and want to know that their drink of choice is
in capable hands. Whether they work locally or nationally,
wear jeans and aprons or jackets and ties, it's obvious that
the mix masters of today are a breed of true
professionals.
STRIVING
FOR PERFECTION:
THE JACK ROSE SOCIETY
As is evidenced
by this article, Boston has no shortage of
accomplished mixologists, many of whom are
colleagues and friends with one another. About a
year-and-a-half ago, some of these perfectionist
bartenders formed the Jack Rose Society – a group
that meets regularly to create and tweak drinks
that they can serve at their respective restaurants
and bars. Jackson Cannon of Eastern Standard is a
founding member. He started the club so that
bartenders could have a chance to practice recipes
outside of the bar, without the added pressures of
service. The group has five core members including
John Gertsen of No. 9 Park, but is open to anyone
wishing to learn more about drink
mixing.
The society
takes its name from the Jack Rose cocktail, popular
in the early 19OOs made with apple brandy,
grenadine, lemon juice and bitters. Naming their
club for a vintage cocktail shows that while
creating new drinks is often on the agenda, members
of the Jack Rose Society also enjoy reviving old
recipes and studying the history around them. John
Gertsen says, for example, that one of his favorite
drinks at the moment is the Hearst, named after
William Randolf Hearst. It's made with gin, sweet
vermouth, orange bitters and Angostura bitters.
John loves the drink, but he says, "Even more, I
love the conversation it starts." Both in meetings
and at Eastern Standard, Jackson believes in using
all sizes of jiggers when making specialty drinks.
To him, making a drink is like baking, and an extra
teaspoon of Cointreau could affect a cocktail as
much as an extra teaspoon of yeast could affect a
loaf of bread. Precision is key. In keeping with
the cooking motif, many of these bartenders prefer
to make ingredients, such as grenadine and bitters,
from scratch. Whether it's cuisine or cocktails,
fresh makes everything taste better.
SO
YOU LIKE IT HOT?
Feeling a little
spicy? Not every cocktail needs to be sweet and smooth.
Twice a year, the East Coast Grill in Cambridge offers a
series of three "Hell Nights" involving ridiculously spicy
foods with specially designed cocktails to complement. Like
the culinary offerings, each drink is defined by zero to ten
bombs in order to alert drinkers of their pain-factor. These
cocktails are not for the faint of heart or stomach!
1
Scary 'Rita with Habanero infused tequila-4 bombs
2
Cold Fusion Martini from Hell (transported from MIT in a
plutonium vacuum canister)-5 bombs
3
The Hurler from Hell- a Raw Oyster and a shot of Hell
Vodka-5 bombs
4
West Indies Style Bloody Mary with Real Inner Beauty Hot
Sauce-2 bombs
5
Habanero Tequila Shot with a Tecate Back-4 bombs
RECIPES
OF THE MASTERS
Boston
Tea Party
(Michael Del Llano, DeKuyper contest winner)
3/4 ounce DeKuyper Pucker Raspberry Schnapps
1.5 ounces Absolut vodka
4 ounces freshly brewed unsweetened iced tea
Combine ingredients over ice in a pint glass.
Shake well and garnish with a lemon wedge or fresh
mint.
Watermelon
Martini (Stella)
3 ounces Skyy vodka
2 ounces fresh watermelon puree
Splash lemon juice
Simple syrup
Serve chilled, straight up.
Whiskey
Smash (Eastern Standard)
Lemon, quartered
8 mint leaves
1ounce simple syrup
2 ounces Wellers Reserve bourbon
Muddle lemon, mint and simple syrup, add bourbon,
shake and strain over shaved ice.
Garnish with a mint leaf.
Palladin
Pear (Nick Mautone, Grey Goose
Mixologist)
1 part Grey Goose La Vanille Vodka
1 part Belle de Brillet Pear Liquor, Massenez
Poire,
or other fruity pear liqueur
Pinch cinnamon
Pinch grated nutmeg
Sliced fresh pear or dried pear for garnish
In a cocktail shaker filled with ice add the vodka,
pear liqueur and cinnamon. Shake vigorously until
the outside of the shaker is frosted and beaded
with sweat. Strain into a rocks glass and sprinkle
nutmeg on top; garnish with sliced
pear.
The
Dalmatian (No. 9 Park)
1/4 ounce Luxardo maraschino liqueur
2 ounces Reyka vodka
Combine the two liquors over ice, stir and strain
into chilled martini glass. Garnish with housemade
maraschino cherry and housemade foam. The foam is
made in large batches and is a multistep process.
Here is the recipe for a batch: Zest from 2O
lemons, 4 quarts simple syrup, teaspoon almond
essence, 1/4 teaspoon orange blossom water. Steep
zest in simple syrup for one week in fridge, strain
out the zest, leave 3 quarts cold, warm 1 quart and
add 2O grams of gelatin, almond and orange blossom
essences. Run this mixture through a fine strainer,
re-chill and combine with the three quarts of cold,
lemon-infused simple syrup. Small quantities at a
time are charged with nitrous oxide via a whip
cream cartridge to make drinks to
order.