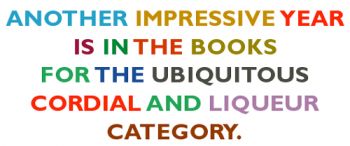 This
is hardly surprising as cordials are virtually everywhere
and are often key ingredients in creative martinis and
myriad other cocktails, while also being frequently served
on their own.
The last year
saw some unique product launches, a variety of savvy
promotions and the continued hot streak of the once-obscure
Jagermeister. One of the remarkable things about the
cordials category is that it impacts every age group and
culture and is a major moneymaker for liquor stores, bars
and restaurants alike. There's a cordial out there for
everyone, from the older drinkers to the ones just of age.
The trick in the industry is to hone in on what flavor is
hot and come up with imaginative drink recipes and
promotions to market to the masses.
FACTS+FIGURES
While the entire category had a strong year, the number one
brand all around continues to be the DeKuyper line which
boasted 2.8 millions cases in sales in 2OO4. According to a
recent release from the Distilled Spirits Council, cordials
and liqueurs are the third leading category in the US
spirits market, representing 12.5% of all spirits consumed.
Revenue grew 12.1% last year, with premium and high-end
premium responsible for the growth at 15.2% and 2O.7%. As
for the imports, they shined even brighter with an increase
of 5.3% to 1O.1 million cases. According to the 2OO5 adams
liquor handbook, Massachusetts boasts the biggest cordial
market in the country, spending a hefty amount on brands in
2OO4 to the tune of $285 million dollars.
JAGERMEISTER
SHAKES THINGS UP
Who could have predicted that Jagermeister, once a
little-known dark brown elixir, would become a household
name that would go on to sponsor hard rock concerts and have
their own chillers in bars nationwide? The brand has gone
gangbusters and was the number one import with sales in 'O4
hitting the 1.8 million case mark, a tremendous 38.5%
increase over the previous year. The German concoction of 56
secret herbs and spices has been around for 7O years and
continues to win people over with its mass cross-marketing
campaigns, innovative promotions and use of the internet.
Over the last five years it has really increased in
popularity and is now part of every consumer's vernacular,
particularly the younger set. "Jagermeister still trucks
along, it still does very well," says Gary Park, owner of
Gary's Liquors in Chestnut Hill. Bob Epstein, President of
Horizon Beverage Company further illustrates the point
saying, "Jagermeister continues to be, both in the local
scene and the national scene, the hottest of them all." He
adds, "It has a mystique and it has a cult following. It's
just amazing to me." Epstein notes that it is the college
crowd and beyond who are still so enamored with it. "Every
time you get a new class in Boston, everybody knows about
Jagermeister, it's the Jack Daniels of the cordials business
and by that I mean it transcends generations," he comments.
Many bars that cater to the college and Generation Y crowd
now have Jagermeister On-Tap, a special chiller that
dispenses Jager at its optimum temperature – ice cold.
"They've sold thousands across the county and they can't
keep up with demand," says Epstein. Kirk Conard, a bartender
at Felt, the popular nightclub on Washington Street in
downtown Boston says, "As far as the club crowd goes it's a
very popular drink because it mixes well with other things."
As for the hip Jager drink du jour, Conard says, "One of
more popular drinks is a Jagerbomb which mixes a shot of
Jager with Red Bull." According to their website,
Jagermeister currently ranks number 15 in impact
international's relevant list of the top 1OO premium spirits
worldwide.
CREAM
of the CROP In the
cream liqueur category, Baileys continued to perform very
well. "Baileys is the brand that surprises most, it still is
doing tremendous – and even with the diet phase of low-carb,
Baileys always moves along," says Gary Park. This comes as
no big surprise as Baileys, which was founded in 1974, was
the first cream liqueur of its kind. Add to that the
continuing popularity of all things Irish (especially in the
Massachusetts market) and it's no wonder Baileys continues
to perform so well. According to the Diageo website, 226O
glasses of Baileys are drunk every minute of every day. Last
year Baileys got into the TV game with a three part VH1
series called "Baileys-The Set" which featured live
performances from bands like Duran Duran and gave Baileys a
huge opportunity to advertise to VH1 viewers. Ami-Lynn
Bakshi, Director of Marketing for Baileys with Diageo,
comments on the brand's continued growth and success: "The
last year's been good for Baileys, it is still the 6th
largest spirit brand in the world, and between Thanksgiving
and New Year's their 75Oml bottle is the number one selling
spirit." They are also rolling out two limited edition
Baileys flavors in time for St. Patrick's Day: mint
chocolate and caramel. In terms of this past holiday season,
Bailey's promotion was focused on giving consumers easy
solutions for at-home entertaining. "If you think about
trying to make a Mojito or trying to make a fancy martini of
any kind, there's always risk in getting the mix right. With
Baileys, it's great because you can just shake it with ice
and pour in into a martini glass," says Bakshi. This winter
Baileys will be launching their "Serve Chilled" campaign
which Bakshi explains is all about taking them more into the
realm of year 'round consumption.
COFFEE
COOLDOWN Moving
from cream to the coffee category, Kahlua is king no more.
Once the indomitable import brand to catch, it has slipped a
little over the last couple of years, though it does still
maintain a strong foothold in the industry. It will be
interesting to see what happens now that Pernod Ricard has
taken over the brand. "I'm very hesitant, Allied Domecq did
a great job with Kahlua and I am very leery about what
Pernod Ricard could to the brand," says Gary Park. Bob
Epstein has a different take on the Pernod Ricard
acquisition, commenting, "Hopefully they will reenergize the
brand because the road Allied Domecq was going down, it just
wasn't working and I think they lost a generation of
consumers because of a lack of marketing." He adds, "They're
still a good brand but they sort of lost their identity a
bit and they've got to get back on track. They have dropped
in Massachusetts, they're probably down half of what it was
fifteen years ago." Peter Colettis, Senior VP and General
Sales Manager with Martignetti, also expresses concern about
Kahlua. "One other brand that unfortunately has had problems
with maintaining its line is Kahlua," he says. Peter also
has some idea of the work Pernod Ricard has cut out for them
with regard to Kahlua. "Their task is to take the imagery
and make it more contemporary, get back on premise, attract
a younger consumer – and I think it's well within their
ability to do that," he remarks. From the bar standpoint,
Kirk Conard notes that the club-goers are shying away from
the spirit while the theater crowd still indulges. "When the
theater crowd comes into our restaurant, they'll have a lot
of White Russians and Kahlua and coffee, but as far the club
crowd it's not a big seller and it can't really be drunk on
its own." Certainly the immense popularity of the Cosmo and
Appletini has had an effect on Kahlua's sales. Many who were
once White Russian or Sombrero drinkers have switched to the
equally sweet but hipper "up drinks".
In terms of some
other big names, Colettis brings up a few for discussion.
"We've had big success involved with a variety of products
in martinis – the creative martinis. Brands like Cointreau
have done very well for us," he says, adding, "Another brand
that has done really well is Grand Marnier. It's found new
life as an ingredient in margaritas and I think Grand
Marnier straight up is making a comeback." On the downside,
Peter points to things like brandies and creme de cocoas,
which he says have been slowly dying. "What's happening now
is the new flavors are taking over the traditional
flavors."
REGAL
RASPBERRY The
French black raspberry liqueur Chambord continues to knock
consumers' socks off as people are enjoying it year 'round
in a variety of drinks from raspberry margaritas to flavored
martinis. Though the last few years have seen many raspberry
flavored spirits come onto the market, from cordials to
vodkas, Chambord remains top of its category. "We've had
another really great year for Chambord. Our sales have been
up 9 or 1O% this year, and our sales have gone up for the
past ten years in a row," says Kevin O'Brien, National Sales
Manager for Chambord. O'Brien points out that it's the
younger set who are zeroing in on different types of drinks
as they get a bit older. "There's a cocktail explosion going
on around the country and the young people who have
graduated college seem to be moving away from beer as the
beverage of choice and they are discovering the more complex
taste of spirits and cocktails and Chambord is used in a
million different cocktails," he says. As far as promotions
go, Chambord teamed up with Project ALS this year and is
running the ongoing campaign: The Chambord Project: Raise
Money by Raising Your Glass. Chambord has sponsored a
variety of both on- and off-premise promotions to benefit
the project including donating $1 for each drink made with
Chambord at participating bars and restaurants on specific
holidays throughout the year.
The
DeKUYPER FACTOR
It's impossible to examine the cordials category without
looking at the brand from Holland that dates back to the
late 16OOs. DeKuyper planted its roots stateside in 1933 and
in 1987 they were bought by Jim Beam Brands. At present they
have 55 flavors available – everything from Anisette to
Thrilla Vanilla and beyond. Brand Director Nicole Ertas says
that the Pucker line of DeKuyper have been the frontrunners.
"DeKuyper is the best selling line of cordials in the US and
DeKuyper Pucker is the best-selling line of sweet-and-sour
schnapps," she says. Let's not forget that it's their Pucker
Sour Apple Schnapps that is the cornerstone ingredient of
the original Appletini that is still a hugely popular drink.
This year DeKuyper celebrates the 2O-year anniversary of
their classic Peachtree Schnapps, and they have plans to use
this fact to reinvigorate it. As for other promotions, Ertas
speaks of bartender education, consumer education with
regard to home mixing, and an expansion of marketing efforts
with on- and off-premise promotions and sampling in core
markets and key gay markets. "According to a survey that we
conducted last summer, the cocktail culture is a trend
that's here to stay and flavor innovation is the main factor
driving the popularity of cocktails," says Ertas. As for one
of the big challenges, Ertas strives to get the on-premise
consumers to do some home mixing. "It's not easy to convince
them that they can make the same cocktails at home, but
we're confident that DeKuyper can lead the way in building
consumer confidence and showing them that mixing cocktails
at home is surprisingly easy to do."
NEW
PLAYERS 2OO5 saw
several unique additions in the cordials category making for
quite an interesting year. Starbucks created a stir by
jumping into the spirits world. Teaming up with Jim Beam,
they first they introduced a coffee liqueur and just
recently added to that with a cream liqueur. "It's been an
outstanding year, Starbucks Coffee Liqueur launched in
February of 2OO5 and we have been so pleased with the trade
and consumer response that we decided to launch Starbucks
Cream Liqueur as a quick follower to capitalize on the
holiday and gift giving season," says Kelly Doss, Global
Brands Director of Starbucks Liqueurs from Jim Beam Brands
Worldwide. Doss adds that the cream liqueur is their highest
scoring product ever tested by JBB, including all those
flavored DeKuyper brands. However, the brand has been slow
to catch on in retail stores in Massachusetts. "Starbucks, I
did nothing with. I sold one bottle and I've had it since it
came out. I'm not bothering with the cream liqueur," says
Jim Chiesa, owner of Leahy's Liquors in Taunton. "The
biggest disappointment has been Starbucks," agrees Gary
Park. When asked to elaborate, Park points to price. "It's
priced a lot higher than Kahlua, about 25% more and Kahlua
has a very strong image. It's always been competitively
priced. If Pernod messes with Kahlua that could help
Starbucks out," he says. Epstein, however, remarks that fans
of coffee and Starbucks are showing an interest. "If you're
a coffee drinker or a Starbucks loyalist, they're coming on
very nicely and Jim Beam is doing a very effective job of
getting out distribution and getting out a product," he
says
One particularly
interesting addition to the market last year was a
chai-flavored liqueur. The sweet spiced tea from India has
certainly become part of the American beverage vocabulary
when it comes to things like lattes, but what about in the
cordial category? Enter into the picture Voyant Chai Cream
Liqueur. It's made with aged virgin island rum, fresh Dutch
cream, black tea from India, premium spirits from Holland,
and a blend of spices from Asia. Robert Back, VP of
Operations for Bacmar International, importers of Voyant
Chai Liqueur, explains that he and his business partner did
some research and quickly discovered that chai sales were
approaching a billion dollars and it has become extremely
mainstream. Still, they had to really roll up their sleeves
to get their idea off the ground. "It was very difficult to
formulate Voyant; it took us almost a year to finalize the
recipe. We wanted a cream liqueur where the spices are
balanced and where you could actually drink more than a
glass without getting the alcohol "burn" associated with
most liqueurs," he says. Voyant's immediate marketing plans
are "viral", meaning simply word of mouth, and then they
hope to move onto print advertising and other marketing. At
present Voyant is focusing also on on-premise tastings at
liquor stores and other events. They also know what a vital
role the bartender plays. "Bartenders, if they are good,
must try all liqueurs, not just Voyant. They must keep
abreast of new flavor profiles out there and then be
creative in creating the next new, big cocktail," says
Back.
Baileys also
launched an entirely new enchilada called Dulseda that is a
far cry from their Irish Cream. The super premium liqueur,
made with Caribbean rum and cream, launched in October and
capitalizes on the fact that in the Hispanic culture and
beyond, the taste of dulce de leche is revered. "It's a
fantastic product," says Bakshi, adding that it is best
enjoyed on the rocks or sipped straight. "It's targeted
toward the Hispanic consumer or toward the consumer who's
really interested in discovery that goes looking for
interesting new brands." Bakshi explains that the whole
campaign for Dulseda is "'Trading your spoon for a glass.'
In traditional Latin culture you would eat dulce de leche
and now we have this opportunity for you to drink
it."
Another newbie
to the US market is super-premium Rhum Clement's liqueur
called Creole Shrubb, which actually dates back to 1887 from
Martinique. It's made with orange peels and pulp as well as
traditional Creole spices which are macerated and infused
into pure cane syrup then mixed with white rum. Kate Laufer,
a representative from the public relations firm Evans
Communications, explains that Creole Shrubb has its own
unique identity. "The orange flavor offers a unique aspect
to the rum which consumer enjoy. It is often compared to
Grand Marnier, but receives a more positive response as to
its lightness and smoothness," she says. "Because cordials
are available in different options from Baileys to Schnapps
and now Creole Shrubb, consumer education is critical,
whether it comes through the media or one of the most
influential outlets – the bartender," she says.
One of the new
liqueurs getting a lot of buzz this year is the pink potion
X-Rated Fusion Liqueur, which has caught on like a house on
fire. It blends French vodka and Provence blood orange along
with mango and passion fruit. Geared more towards female
consumers, with drinks like the "Ex-Boyfriend Shot", X-Rated
has been in the spotlight due to heavy promotion and
exposure with celebrities like the cast of Desperate
Housewives. Park and Chiesa, at the retail level, both point
out that it does well for them. "It has a very nice sweet
fruity flavor and mixes really with just about everything
for a really lighter flavor shot, something that is not too
strong and not too heavy," says Kirk Conard at
Felt.
the
WORD from BEHIND the BAR
So what's the latest in the Boston restaurant scene? Ryan
Shocklee, Bar Manager at Sibling Rivalry in Boston's South
End, says the hottest drink they're mixing these days is
what they call a Pear Sidecar. It combines pear brandy with
Cointreau and fresh lemon juice, and is served in a
sugar-rimmed glass.This is hardly surprising as cordials are
virtually everywhere and are often key ingredients in
creative martinis and a myriad other cocktails, while also
being frequently served on their own. "We found that we were
selling a lot of Sidecars as it were so we decided to go
with something a little more fall/winter. We have a French
butter pear amaretto crisp on our dessert menu so we wanted
to kind of mirror that with something on the cocktail list
as well," he says. Across town at the Ruth's Chris
Steakhouse, Senior Manager Dominic Delimpio says that the
Sidecar drinks and martinis are doing quite well.
"Everything is back to retro now." Though he also says that
there are a couple of new products that have sparked public
interest. "The two new ones that they're dabbling with are
Limoncello and a new one out called Amber, and they're
making an attempt to make an impact in the cordial market."
Amber is the new single malt scotch whiskey liqueur with
maple and pecan flavors that was recently launched by
Macallan. It seems that at this restaurant, old school is
the new school. "I've asked three of four bartenders and
three of four distributors and they've all agreed that it's
the old basics; the ports, the cognacs, the sambucas.
Sambuca is the number one right now, it's going right back
to the old days," says Delimpio.
The Pendulum
Swing Clearly the cocktail craze is here to stay and it is
certainly fueled by the younger generation of consumers who
continue to branch out and educate themselves in terms of
what they're drinking. "The cordials and liqueurs consumer
base has broadened due to the resurgence of the cocktail
culture and the introduction of new flavors," says Nicole
Ertas. Amy Bakshi agrees, commenting, "There's been a huge
shift towards cocktail culture with consumers." She also
knows that cordials are in the forefront every month of the
year. "Consumers are very savvy and they're looking at
different kinds of cocktails for different times of the day
or the year. They're not just looking at cordials as after
dinner or at the holidays anymore, they're really looking at
them as more of a year 'round drink." Peter Colettis chimes
in as well on the subject of the cocktail's skyward ascent.
"The fashionabilty of the spirits and the glassware that is
being utilized – plus the return of classic cocktails – have
really had a positive effect on the cordial business." He
also notices a trend towards the lighter side. "I think the
thing you see in common for the most part now is that the
cordials that are doing so well seem to be a little lighter
in style and viscosity," he says, noting that Baileys is one
exception to that. "It's actually pretty exciting to
consider the pendulum swing that has occurred with cordials
and how they're right back in the height of fashion
again."
CREATIVE
CORDIAL COCKTAILS
Here are some recipes to shake things up with that
use some of the cordials and liqueurs mentioned in
this article, including some that keep Valentine's
Day in mind.
CAFE
GINGER
1 part Starbucks Coffee Liqueur
Ginger Ale
Pour Starbucks Coffee Liqueur into a rocks glass
filled with ice. Add ginger ale and garnish with a
cherry.
X-PLICIT
DREAM
1 part X-Rated
1 part Malibu Coconut Rum
1 part White Cream de Cacao
Shake over ice and straine into a sugar-rimmed shot
glass.
CANDY
APPLE MARTINI
1 and 1/2 shots of vodka
1/2 shot of lemon juice
1/2 shot of Chambord
3/4 shot of apple liqueur
Shake and serve in a martini glass.
FREDDY
KRUEGER
1/2 ounce of sambuca
1/2 ounce of vodka
1/2 ounce of Jagermeister
Mix and serve in a chilled shot glass.
BEAM
ME UP SCOTTY
3/4 ounce of Kahlua
3/4 ounce of banana liqueur
3/4 ounce of Baileys
Carefully add the ingredients, in the order listed,
into a cordial glass – layering each on top of the
previous.
VALENTINE
2 ounces of banana liqueur
1 ounce of vodka
3 ounces of cranberry juice
Shake banana liqueur, vodka and cranberry juice
with ice and strain into a red wine
glass.
SATIN
SHEETS
1 ounce of Kahlua
1 ounce of Bailey's Irish Cream
1 ounce of chocolate liqueur (Godiva)
Milk
Combine Kahlua, Bailey's and chocolate liqueur over
ice. Add milk to fill the glass.
LOVE
POTION
3/4 ounce of Remy Martin
1/4 ounce of Di Saronno Amaretto
1/4 ounce of Frangelico
2 ounces of cream
1 dash of Grenadine
Shake and strain over crushed ice in a cocktail
glass.