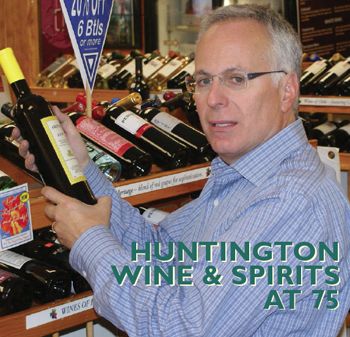 HUNTINGTON WINE & SPIRITS AT 75
In his office above Huntington Wine & Spirits, Steve Rubin has vintage Coca Cola bottles displayed on a high shelf. The walls are festooned with old rock and roll concert posters: Pink Floyd, Woodstock, Aerosmith. Judging from these collectibles, you might say Rubin is a nostalgic type. You wouldn't be wrong.
"The store opened in 1936. It has a lot of nostalgia," he said matter-of-factly. In this day and age, it goes without saying that in nearly every realm of retail, big box stores overwhelm customers with volume; websites offer an impersonal shopping experience. A low-key beacon on a bustling urban street may be just the place for busy urbanites to find a restorative moment. And convenience.
Huntington Wine & Spirits celebrated its 75th anniversary in July, and Rubin, the owner since 1989, doesn't rest on his laurels. He doesn't depend on his reputation because as savvy business owners know, it only takes one false move to sully a seemingly deep-seeded, respected image. In a way, Rubin is a model of how to adapt a business to changing times and, thus, keep it running strong. That's exemplified in the appearance of the store itself. Upon entering, it's hard not to notice the bulky columns amid the amply stocked racks of wine and shelves of spirits. Those are the building's original columns that were boxed in about 2O years ago when the store was updated and modernized. The vestibule leading to the walk-in cooler has a copper ceiling. So does the cooler itself.
Rubin's start in the liquor industry began in 1975 when he spent a summer with his uncle Arthur who worked for the Seagram wholesaler in Providence, Rhode Island. In the early 197Os, another uncle, Willie Oxman, a Boston nightlife impresario, bought the Huntington Street shop. In the 196Os, the store had been a meat market with a full liquor license, but when he bought it, it was called Huntington Market. It featured a deli in addition to the liquor. At the time, amid pizza shops and Chinese take-outs, soups and salads were something of a novelty.
Rubin would come in and help in his uncle's store. In 1989, he decided he wanted in, and bought out his uncle's two partners. Then in 1995, he bought out uncle. On top of running the store today, Rubin is in the food concession business. He owns several concessions, including one at Thompson Speedway in Connecticut, and one at Star Speedway in Epping, New Hampshire.
As we spoke, Rubin stepped outside and surveyed his neighbors along the busy Huntington Avenue. There are residential apartment buildings across the way. He's a stone's throw from the Huntington Theater and Symphony Hall, a few of Boston's most respected cultural institutions. He's in the sightline of New England Music Conservatory and a few blocks from Northeastern, the largest private university in the city. A great deal has changed in the demographic over the decades, but there's a core clientele that remains immutable. Sort of.
"The South End has moved our way. Gentrification changed everything in the '9Os. Fenway is crunching towards us, too," he said. "We've always been a college area liquor store and we always will be, but now things have changed and we're considered a fine wine destination, too."
Twelve years ago, he took out the deli. From there, all major changes in the store have been, logically, a reaction to swings in the industry. Arguably, the development that's had the biggest impact on his business is the radical progress of the beer industry.
"We've benefitted from the evolution of craft and small batch beers," Rubin proclaimed. "Gen Y really helped with that. The consumer base is so well educated, instead of low-priced domestic beer, they're willing to spend an extra two or three dollars on craft beer."
Without pause, Rubin noted the debt owed to Sam Adams for sparking that growth. "Jim Koch used to come in when he was getting started. He'd be lugging three cases of beer and be like, 'Try this, try this, try this!' Now the national sales team of Boston Beer comes here for their trainings. He never forgot where he came from."
Indeed, Boston Beer Company's Koch recalls his early work with Rubin and the store with admiration: "Steve Rubin has always been a visionary," Koch said. "When I started Samuel Adams back in 1984, I got a lot of blank looks and rejections when I asked people to carry my beer because it was so different from everything else on the market then. Steve was different. He was one of my earliest customers, and he grasped the potential of a full-flavored beer like Samuel Adams. He instantly saw that the future of the beer business could be in quality not quantity. He gave his business – and mine – his full and personal attention and it's been great to watch his business grow, and to see how much he has supported craft beer in Boston."
But it's hardly only beer magnates who appreciate Rubin's dedication to the business and taking it in new directions.
"Over the 2O-plus years I've watched Steve operate several successful businesses, he's always been very respectful of the wholesale-retail relationship. He grants time to listen to a presentation or new idea. He's helped develop some unique marketing ideas that propeledl brands to the consumer," said Tom Kelly of Martignetti Companies. He applauds Rubin for his knowledge of how to take advantage of featuring brands as they develop in the on-premise market, as well as for the time he's devoted to support neighborhood causes and charities. "His unique style and sense of humor – especially during his many speaking engagements – did not go unrecognized. In a tough independent market in Massachusetts, he grew Huntington's share of the beverage business to record levels. I think all of us in sales look forward to making the call on Steve."
Indeed, it takes a village to sustain a business. Success never happens in a vacuum. And to be sure, Rubin does his fair share to foster a community.
Beer, wine or spirit tastings take place in the store every Thursday, Friday and Saturday from September to May. And there are quarterly customer appreciation nights. In addition to tastes and entertainment, everyone receives a gift, be it a glass, t-shirt or bottle opener. That was epitomized with the anniversary party in July, which featured a harp player and passed hors d'oeuvres. Tastings are publicized through Facebook, which Rubin proclaims an increasingly valuable tool. Additionally, he employs "guerilla marketing" measures, like distributing flyers, to promote sales and in-store specials. Rubin also advertises specials on Boston.com. To identify trends, he holds focus groups with LDA students from Northeastern, where his son is a student. And he's involved with nearby on-premise activities, like a pub crawl.
"If anyone is doing a promo with anything in the neighborhood, they usually kick it off here," said Rubin, but he was quick to note that it's not all party and celebration. Community action and social awareness are high on his agenda. "We want to be a true neighborhood store. We're active with fundraisers. We make donations – cases and cases of wine." He's also active in civic events, like the neighborhood association's campaigns and initiatives.

With all this regular interaction directly with various demographics, it's little wonder Rubin and his staff are able to react to the his customers' changing needs – immediately as well as over time. He still marvels at some of the trends he's seen emerge. ("We have a sweet reds section. I never thought I'd see that!" he said.) But to be sure, the rise of sweet wines dovetails with the broader tendency of customers moving toward bolder flavor profiles.
"Flavors are hot with the Pepsi generation. That pertains to wine, beer and spirits," Rubin noted. "In the 197Os, people drank dry, boring wines. Today, sweeter wines are popular, like rosé. And Moscato and Riesling and Malbec." To help customers navigate and interpret the crowded wine section, pairing sheets posted around the store offer suggestions for the many varietal styles.
Helpful as those clear-cut charts may be, that's the least of the education initiatives at the store. Rubin has developed an inventory of craft spirits that have grown particularly popular in mixology circles. Of course, those brands still have a massive amount of ground to gain in the mainstream market to be considered even minimally competitive with the marquee brands. In Rubin's experience, while distributors are often concerned with moving those national brands, he takes it upon himself and his staff to advocate for the little guys, per se.
"It's all part of the process of getting ahead of the curve," Rubin said. "The picture of the industry is national brands, but we hand-sell a lot."
Regular staff trainings are essential. At Huntington, it's not good enough for staff members to attend any and all wine tastings conducted in the store. All employees are tech-savvy, he said. And those are just a few of the measures that have ensured the store's longevity in an industry that's forever in flux.
"Steve has always been more than willing to bring in any new or innovative products that we supply. He's always been a step ahead of many in terms of how he merchandizes his store," said Bill Burke, President and CEO of Burke Distributing. "He's a true hands-on owner. He has a lot of foresight when it comes to looking at the business's direction in terms of new beers, craft beers and changes in consumer preferences – like going from high-end to less expensive bottles of wine. We also just celebrated 75 years, and it's been a great relationship the whole time." Like Kelly at Martignetti, he also applauded Rubin's community involvement, particular his efforts battling underage drinking at colleges.
But Rubin is not one to rest on his laurels, especially because looking ahead, he sees plenty of challenges. He anticipates a spike in the number of outlets selling beer and wine, particularly supermarkets. The nearby Shaw's Supermarket is already healthy competition. Like any independent retailer, he knows he has to distinguish himself as a destination to stay ahead of the game. "We specialize, so if someone needs an item the next day, we'll have it. We have a lot of niche brands that other retailers don't have," Rubin said. "Bostonians are a real neighborhood consumer. Everyone has its own clientele. It's exciting and challenging. But still, you can't be old school. You have to be progressive."
Those who have worked with Rubin say there's little surprise that the store continues to garner faithful customers and thrive throughout the decades as seasons, economic climate, market trends and neighborhood demographics fluctuate. Jim Whalen, Massachusetts Regional Manager for Off-Premise with Bacardi credits Rubin's consistently forward-looking approach. "Steve is and has always been a progressive retailer. He is on top of the latest consumer trends and applies this knowledge to brands he offers in his store," Whalen said. "He knows his customers and he markets his store and services to them"
But other people who have known Rubin professionally over the years point to different qualities. Matt Chivian, Portfolio Manager, Fine Wines & Spirit for Martignetti Companies, credits Rubin's emphasis on keeping an eye on local needs. "At the end of the day Huntington Wine & Spirits is a neighborhood store in a neighborhood that has undergone many changes over the past 75 years," Chivian said.
"On a macro level, the City of Boston is a very different place; on a micro level people's tastes have changed. Steve is in a unique locale – on one side he has the Northeastern students, who know what's new and what's changing, and on the other side he has people in the workforce who want to know what's on the cutting edge. Steve's success comes from knowing that what's worked in the past won't always work in the future."