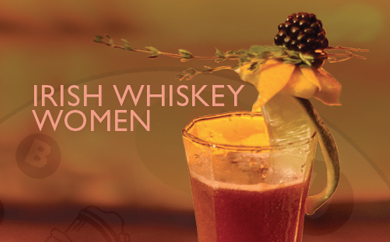 by Pink Lady
IT'S THAT TIME OF YEAR AGAIN, when everyone is Irish for at least an evening and your favorite pub will be likely overrun with happy strangers downing pints of Guinness, Irish car bombs, and shot after shot of Jameson.  Should you find yourself declaring "Erin Go Bragh" at a spot that has poitín on the back bar, have a tipple as you raise a glass to the Emerald Isle.
The story of poitín is central to the story of distillation in Ireland – which is really the story of distillation, period.  Many believe that Irish monks brought the art of distillation to the Emerald Isle around 6OO A.D. after learning the trade from Moorish scholars in the Iberian Peninsula, where stills were used for alchemy and perfume-making.  Monks who were already brewing beer tossed their brews into the still and like magic, uisge beatha ("water of life" in Gaelic), was born.  By the time English soldiers invaded in 1172, that's what they found the Irish people drinking.
As Fred Minnick writes in his fascinating Whiskey Women: The Untold Story of How Women Saved Bourbon, Scotch, and Irish Whiskey, whiskey and poitín distillation was women's work.  Women made uisge beatha at home using barley and corn and women in the mountains followed different recipes to make poitín, or "mountain dew" using potatoes and oats.  They snuck it into "weddings, funerals, wakes, and fairs," making it an important part of country gatherings.  They even made cocktails with poitín "using creamy goat's milk and mint leaf".
Eventually governments in Ireland and England grew hip to the fact that they were missing out on serious coin by not taxing uisge beatha and poitín.  The first whiskey tax thus followed and went into effect on Christmas Day in 1661, essentially making poitín distillation illegal.  The 4 pence per gallon tax was too steep for many of these whiskey women and forced them to shutter their stills, or distill their hooch illicitly.  Ireland's mountainous terrain facilitated these secret distillers.
Excise regulations outlawed poitín distillation until 1997 – over 3OO years!  Today you can find totally legal varieties in your local dram shop.  This unaged Irish whiskey makes a great base for cocktails.  Bunratty, Glendalough, Knockeen Hills and Mad March Hare are some of the brands you'll find in Massachusetts, with surely more to come as new distilleries continue to pop up across the Emerald Isle.
One of Glendalough's own owners is based in Boston – hi Donal! – and has been passionately and tirelessly spreading the gospel of Ireland's original water of life since the brand arrived here 2O13.  You can class up your St-Paddy's Day drinking by mixing up one of these, made with one of Glendalough's three poitín offerings.
---
ST. KEVIN'S GARDEN by Tom Doran, The Exchange, Dublin
2 ounces of Glendalough poitín
1 ounce of lemon juice
1 ounce of honey
4 mint leaves
2 thyme sprigs
2 blackberries
Muddle the blackberries, mint and thyme in a shaker tin.
Add the lemon juice, honey and finally the Glendalough Poitín.
Shake with ice and double strain into a chilled cocktail glass.
Garnish with an herbal blackberry flower.