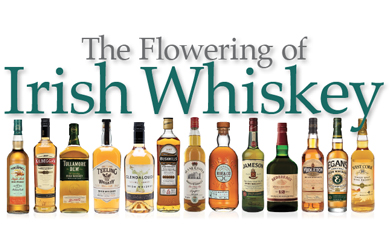 by LEW BRYSON
AFTER YEARS of being a two brand market, Irish whiskey's growth has attracted other players to the game. First there was Cooley, with their TYRCONNELL and KILBEGGAN brands. Then TULLAMORE DEW returned, back in America after years away. When Cooley was sold to Beam, the sons of founder John Teeling started their own TEELING WHISKEY company, and then joined John in another new distillery, the Irish Whiskey Company. Then Tullamore Dew was bought by Wm. Grant and Sons, who bankrolled a beautiful new distillery, and GLENDALOUGH started making poitín, while down in the southwest of Ireland in Skibbereen the West Cork distillery was starting up, and Diageo sold BUSHMILLS to Jose Cuervo, and SLANE CASTLE got bought by Brown-Forman who also built a distillery . . . and Diageo is launching a new brand of Irish whiskey (ROE & CO.) and building a distillery at the site of the Guinness brewery in Dublin.
Did you get all that? Well, don't get too settled with it, because it only hits the high points. There are lots of other brands, and more small distilleries starting up in Ireland (a friend of mine has opened one in County Waterford). Of course, a lot of them wash up on Massachusetts's shores, and they're prospering. "The entire category has really taken on a life of its own," says Gary Park, of Gary's Liquors in Chestnut Hill. "There are a lot of new distilleries opening. A lot more niche brands that are doing well; but also the better bottlings of JAMESON, and REDBREAST. We sold an amazing amount of MIDLETON [Very Rare] over the holidays. There's a local guy doing this new FLAMING LEPRECHAUN whiskey, a hot cinnamon flavored one, kind of like an upscale Fireball. Did very well for us over the holidays."
Brian Mantz, the bar manager at Hops Test Kitchen in Cambridge, is glad to see the new faces. "Irish whiskey wasn't broken, it didn't need to be fixed," he says. "It just got better. It got all consolidated over the past 4O years, and now they're all opening new places. You have different distilleries, different kinds of stills, different water, different people, different eyes on it, and different ideas about what good and bad is. It's more interesting that way."
It's more profitable, too, thanks to continued growth in the category. According to the annual figures from the Distilled Spirits Council, in 2O16, Irish whiskey was by far the fastest-growing spirit type, posting an overall gain of 18.7%, adding 6O3,OOO cases for a total of 3.8 million cases sold, $795 million in sales. The "High End Premium" sector (which includes about 9O% of Irish whiskey sales) outpaced the overall category at 21.4%. Compare that to the 6.8% growth in American whiskey, or even the 11.8% growth in "Super Premium" American whiskey. Irish is killing it.
Two of the newer brands are EGAN'S, with a family heritage that goes back six generations; and WEST CORK, which goes back all of thirteen years. West Cork started in 2OO3 when a food scientist, John O'Connell, was talking whiskey with his friends Dennis and Jerry McCarthy, a pair of fisherman. By the time they were done talking, they'd talked themselves into the idea that if craft beer could make it, surely craft whiskey was just around the corner, and they'd best get started. They did it right, too. The distillery is in Skibbereen, a small town in County Cork, and they not only make their own whiskey, they make it with local spring water and Irish barley that they malt themselves on-premise. Craig Brody, the national sales manager for MS Walker, handles the brand, and noted that the major Irish whiskey brands were all foreign-owned (Jameson is owned by French family firm Pernod Ricard; Bushmills is owned by Jose Cuervo; Tullamore Dew is owned by Scotland's William Grant & Son; and Kilbeggan is owned by Beam Suntory). "They've invested in Ireland, and that's great," he was quick to add, "but West Cork is all Irish owned. That's important to people."
West Cork's 1O-year-old single malt is all their own make whiskey, "light, smooth, and approachable," says Brody. There's also a 3-year-old aged in bourbon casks, and three new 12-year-old cask selections that aged 12 years in bourbon casks, then finished for 115 to 14O days in either Maduro Superior port pipes, Pedro Ximenez sherry butts, or Caribbean rum barrels. (Not all of the 12-year-old whiskey was distilled at West Cork.)
"West Cork is aged in bourbon casks, and they note that," says Gary Parker. "They're looking to capitalize on the bourbon craze; smart. They also had a gift pack available for the holidays, which a lot of brands don't do anymore. It makes a difference."
Egan's goes back to the 18OOs as a brand of whiskey; you can still see the old P&H Egan's malthouse in Tullamore today. The family sold the business in 1968, but Jonathan Egan dreamed of getting back into it. When he did, he recalled that the last Egan's bottled back then was a 1O-year-old sourced from Jameson. "So we wanted to pay homage to this with a 1O-year aged statement from Cooley," he says, showing respect and transparency in one blow. "We are about to release a Single Grain a bit later this year, and in last quarter we will release a 15-year-old."
Jonathan mentioned the 1O-year-old's price. "I think we are excellent value at the $49.99 mark," he says, and notes that prices on age statement Irish is likely to go up as the supply gets tighter and demand gets hotter. "Grab it while you can!" he encourages.
Demand certainly seems strong for Irish, and it's been driving growth of the category since before I've been writing about whiskey. The mighty engine of that growth has always been Jameson, and it's not letting up. Gary Parker says it's his whiskey of choice, and has been for decades. "Back in college, I had roommates who played in an Irish band, and they drank Jameson," he recalls. "That's my thing, basic Jameson. The older ones are smoother, sweeter, but I like Jameson." That kind of loyalty, multiplied many times over, would be enough. But as Ryan Maloney (owner of Julio's Liquors in Westborough) notes, Irish Distillers (the branch of parent company Pernod Ricard that makes Jameson) isn't resting on their laurels at all, they're driving the category. "Jameson is leading the category, and that's the brand that your father drank, which is different," he says. "Go to something like Canadian, and brands like V.O. and Mist are down, and the innovation is coming from guys like John Hall (at 4O Creek). New guys. But in Irish, the innovation is coming from the guys who've been there for a long time. Jameson is starting this, Jameson led the charge, and it brings name recognition and money, they can pay to bring the category up to scale. The little guys can't afford that."
"We remain dedicated to providing new Irish whiskeys," confirms Lauren Nodzak, the director of external communications (spirits marketing) for Pernod Ricard USA. "From Redbreast Lustau Edition for those who enjoy the richer influences that come from sherry barrels, to Midleton Dair Ghaelach, featuring a beautiful and rare Irish oak influence."
There are also direct take-offs on the Jameson line, where a major shakeup is underway as age statements are dropped in favor of special projects like the Jameson Caskmates line, where Jameson whiskey is finished in barrels that previously held stout, or cider. "The Caskmates partnership [has] been a success," Nodzak says, "and due to the overwhelmingly positive feedback we've received, we plan to continue working with our brewery partners." Expect other types of beer-seasoned wood for aging Jameson whiskey in the future.
Are Jameson and Irish Distillers feeling the heat from the competition of the smaller, newer distillers and bottlers? Nodzak responds in words that suggest the tide is still rising, and all the boats are floating. "We are excited to see this boom, which is a direct result of consumer interest in the Irish whiskey category. We see this as an opportunity to attract more Irish Whiskey fans and continue making innovative products within our portfolio that add to the growth of our brands."
Maloney isn't completely convinced, looking at the success of the smaller brands. "Jameson's still growing, and the little guys aren't taking away sales," he muses. "But if those little brands weren't around, Jameson might be growing more. It's hard to say. Still . . . Jameson's okay with growth in smaller brands? Famous last words of Sam Adams."
One thing Gary Park noted that no one had said in all the years I've been writing Irish whiskey pieces. "It's definitely selling throughout the year now," he say. "It's not just St. Patrick's and Christmas any more, it's the real deal, a real category. The entire category has really taken on a life of its own."
Irish whiskey is still a good value, if no longer the bargain it was. There are excellent new expressions from the established brands: Jameson's Cooper's Croze, the brand new Bushmills Red Bush, and Tullamore Dew 14- and 18-year-old. There are great new bottlings arriving, like Writer's Tears, that new Egan's Single Grain, and Hyde whiskey.
It's a flowering of Irish whiskey that hasn't been seen in a hundred years. We're lucky to be alive.
A COUPLE OF COCKTAILS.
After we talked about the lack of classic Irish whiskey cocktails.  Brian Mantz sent along these two cocktails from the menu at Hops Test Kitchen in Cambridge.  The names are catchy; Egan's Best Mate is an Irish version of The Old Pal, while the Derringer . . . Glendalough Double Barrel?  Witty folks at Hops Test Kitchen!
EGAN'S BEST MATE
1.5 ounces of Egan's single malt
.75 ounce of  Aperol
.75 ounce of dry vermouth
stir and strain into a coupe glass rinsed with caraway bitters.
spritz with lemon oil.
DERRINGER
1.5 ounces of Glendalough Double Barrel
.5 ounce of falernum
.5 ounce of sweet vermouth
.5 ounce of fresh lemon juice
shake and strain into a coupe glass.  spritz with lemon oil.