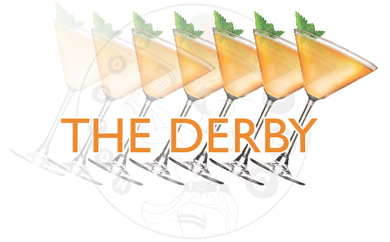 ENDANGERED COCKTAIL OF THE MONTH by PINK LADY
WHEN YOU THINK Derby you most likely think Mint Julep, as that's the official drink of the super famous Kentucky Derby that happens each May. But National Bourbon Month is here, so we suggest reaching for a different drink that employs America's Native Spirit . . .
The Derby Cocktail.
This is one of those drinks that has unknown origin and several different recipes sharing its nomenclature – three recipes appeared in the 1947 Bartender's Guide by Trader Vic, but by 1967 he must have given up on the drink, as the edition published that year has none.
The recipe for this refreshing tipple comes from Trader Vic via Ted Haigh's Vintage Spirits & Forgotten Cocktails, and calls for lime juice to tarten the drink, which is an unusual choice. One wonders if the clever innovator wanted to see what would happen if you crossed a Margarita with a Manhattan and used Bourbon as the base. If you've ever decided to get creative with whatever you have in the liquor cabinet you are aware that this type of mixological chimera can produce a delightfully sippable drink.
THE DERBY
1 ounce of Bourbon Whiskey
1/2 ounce of Sweet Vermouth
1/2 ounce of orange curacao
1/2 ounce of fresh lime juice
Shake ingredients with ice in a cocktail shaker.
Stir into a chilled cocktail glass.
Garnish with a sprig of mint.