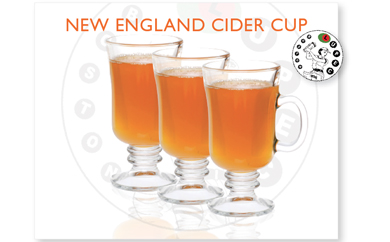 by PINK LADY
LIVING IN NEW ENGLAND, the birthplace of the Revolution, you can't swing a cat without hitting something historic, and this is particularly so in Quincy Center.  To get into the spirit, we LUPEC ladies suggest you hop on the Red Line and pop down to the Hancock District where you can brush with history while fortifying with a cocktail.
This area, which is coming to the fore as a drinking and dining destination, was the stomping grounds for revolutionary rock stars John Adams and his wife Abigail, their son John Quincy, and John Hancock, among others.  The Adams' tombs are located just steps from the Quincy T in the haunting crypt of the Greek Revival masterpiece United First Parish Church, which has been dubbed the Church of the Presidents.  John Adams was a tippling man who greeted each day with a tankard of apple cider, and continued the day with porter, rum, and madeira.  Lack of potable water is partially to blame, and he believed the properties of cider to be good for the stomach.  For a cocktail variation that would have moistened the clay nicely for the second president, we present a drink from Poppy Cannon & Patricia Brooks' 1968 book The Presidents' Cookbook.  Poppy was a LUPEC forebroad in her own right, a food editor for ladies' home journal and house beautiful and contemporary of James Beard and Julia Child.  Precise, scientific measurements such as "a splotch of wine", "a flurry of coconut", or "a great swish of sour cream" famously peppered her recipes.
We're quite certain John Adams would approve of Poppy's Cider Cup recipe, and would feel equally fond of the Townshend, a classy watering hole (named for the Townshend Act) that overlooks his place of final rest.  Drinks here are bespoke creations served without pretense: feel free to ask your barkeep to whip up a vintage cocktail and tell you a good story while doing so.
If you're hankering for more history, the John Adams and John Quincy Adams birthplaces, the birthplace of the Constitution, the Adams farmhouse mansion at Peacefield, and America's first presidential library are all within walking distance.  Let your interest be truly piqued.  Here's to partying like it's 1776!
NEW ENGLAND CIDER CUP
(from The Presidents' Cookbook)
1 quart of sweet cider
1 pint of sparkling water
1/3 cup of Sherry
1/4 cup of Cognac
2 tablespoons of lemon juice
1/2 peel of a lemon
sugar to taste
Combine ingredients then stir the mixture with ice until thoroughly chilled.
Serve in a tankard, punch cups or champagne glasses.
Dust with a dash of nutmeg.  Makes 12 servings.