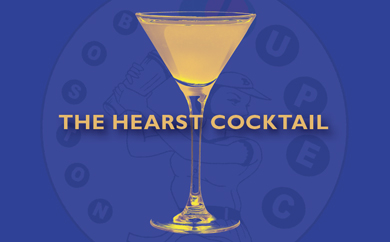 by Pink Lady
BERNARD DE VOTO once wrote: "The proper union of gin and vermouth is a great and sudden glory; it is one of the happiest marriages on earth, and one of the shortest lived." He was writing about the martini, of course,
but if you've never twirled sweet vermouth and gin in your mixing glass we recommend you give it a go.
Add a dash of Angostura and a dash of orange bitters and you've got a Hearst cocktail, quite a refreshing and potent concoction made with gin but robust enough to please a whiskey drinker's palate.
The drink was originally printed in the Old Waldorf-Astoria bar book, and was credited to the newspapermen who worked for media mogul William Randolph Hearst according to cocktail sage David Wondrich.
Hearst is himself an interesting figure, credited with the creation of "yellow journalism",
or sensationalized stories backed by dubious facts, which seems to be having a renaissance in the digital age. His newspaper and magazine business was once the largest in the world, and he is even cited as inspiration for the main character of the film Citizen Kane. Whether William Randolph ever sipped a Hearst cocktail himself is unknown but his crackerjack reporters "were in the habit of dropping in at odd times when assigned to a story in the neighborhood," according to the OLD WALDORF-ASTORIA BAR BOOK. Gin-soaked writers . . . who knew?
---
2 ounces of Plymouth gin • 1/2 ounce of sweet vermouth • 1 dash of angostura bitters • 1 dash of orange bitters
stir ingredients with ice in a mixing glass • strain into a chilled cocktail glass • garnish with lemon oil