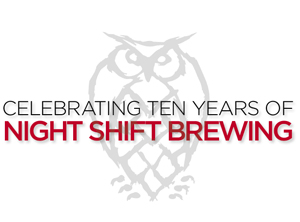 CELEBRATING TEN YEARS OF – NIGHT SHIFT BREWING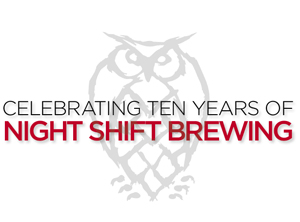 by KIRSTEN AMANN
What homebrewer hasn't sat around the kitchen table with friends, drinking beer and waxing philosophical about the brewery of their dreams? For founders Mike O'Mara, Rob Burns, and Michael Oxton, this is where Night Shift Brewing was born, on Josephine Ave in Somerville.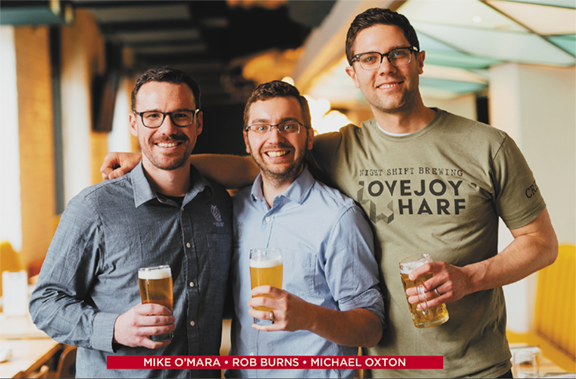 "It started right out of college," says Michael Oxton. " I moved to Boston [in 2OO7] with Rob, we found an apartment and started homebrewing at a very, very small scale." Craft beer was hitting a stride in New England, especially in Maine, where the pair attended college and were surrounded by Allagash, Gritty's, Shipyard and more. "There was this whole collective of Maine breweries doing it well," says Oxton, who had opened his eyes to the joys of craft beer. The initial goal with homebrewing was simple: to elevate their own drinking experience. "The fact that we could make beer ourselves and sometimes make it taste better than what we could buy was really cool. It was a fun challenge."
Five years later, the nighttime hobby they had dubbed Night Shift Brewing had become an obsession. "We went from casual to very serious homebrewers, with brew logs and recipe sheets," says Oxton, and an operation that took over their entire rental unit, landlord be damned. When their third co-founder Mike O'Mara moved in, the team was making beer faster than the six housemates could drink it. "We started hosting parties for feedback, inviting 1OO people at a time on the condition that guests provide feedback on the beer," says Oxton. "People would show up thinking 'Sweet! Free beer!' And they'd be greeted with a rating card and a request for serious feedback." By late 2O11 the team decided to actively pursue their dream. "It would be two o'clock in the morning on a Wednesday, and we would be up talking about the floor plan of the grand brewery we wanted to open someday," Oxton reminisces. "None of us were tired, none of us was excited about our day job the next day, all we wanted to do was keep brewing. When it's all you want to think about and talk about, how can you not pursue it full time?"
"WEIRD" BREWS AND BOOTSTRAPPING Oxton, O'Mara, and Burns crowdsourced their initial investment from friends and family. "They loved our beer and would tell us 'I would buy this on the shelves! I'll support you if you want to start something,'" recalls Oxton. A business plan followed, and the team raised $1OO,OOO from their immediate circle: "I know for a fact that every one of them thought it was a very nice donation to some friends," he adds. Their first lease was for a small space in Everett, a "little warehouse with a really small brewery," he says. "It was glorified homebrewing, with just three-and-a-half barrels, and we did everything by hand, by ourselves." Early adopters remember a shared bathroom in the warehouse complex that was famously scary, described by one patron as "a scene from the movie Saw," but that grittiness seemed to add to the upstart charm. Today, Encore Boston Harbor stands on the site of Night Shift's original home. "The first two years were a grind," Oxton remembers. Brew days were 18 hour affairs that kicked off at 6am and ended at midnight, worked by the three founders in six-hour shifts. "It was all the time. Just sleeping and brewing." In addition to the myriad of other brewery operations, Oxton was the delivery guy, sales guy, worked in the tap room and did the labels. Mike (O'Mara) handled finances, brewed and did QA and QC and Rob developed the recipes. A total team effort. Night Shift's early offerings were esoteric brews that garnered attention and a cult-like following from the start. "Our flagship was a habanero rye ale," says Oxton. "It was a delicious, interesting product, but you can't really grow with that. There's just not a big enough audience. I think to make a name for ourselves, we really knew we had to try something very different. It definitely got our name on the map and got people talking about us." People still ask for the Viva Habanera today.
NEVER SAY NEVER Night Shift Brewing's original plan was to sell wholly distributed beer, to never make an IPA, and to hopefully sell 1O,OOO barrels by their tenth year. Today, the business boasts on-premise beer gardens and tap rooms in Greater Boston, a wholesale distribution company that sells beer, spirits, wine, and hard seltzer in Massachusetts and Connecticut, and the IPA they eventually broke down and made is a flagship. They've clearly outgrown the original plan.
"As a business, we challenge ourselves to reevaluate and ask, what should we be focusing on?" says Oxton, "because today's hot thing is not tomorrow's hot thing." Forays into the on-premise, for example: "We didn't even have tap rooms in the original plan, because at the time in 2O11, tap rooms were not a thing," he notes, largely due to a law that prohibited beer on draft in Massachusetts taprooms. The laws changed in 2O13, and Night Shift was one of the first breweries to push for it. Today, Night Shift Brewing has a roster of unique locations to tip back a pint: their Owl's Nest beer gardens (Assembly Row, multiple locations along the Charles River); a restaurant and innovation brewery at Lovejoy Wharf; a brewery and taproom in Everett; a restaurant and beer garden at Encore Boston Harbor; and a taproom at Level 99 entertainment complex in Natick, which Oxton notes is "like being inside a video game."
Night Shift Distributing was born of necessity. "Back in 2O16, we hit the volume limit on how much you can self-distribute," says Oxton. Faced with the choice of whether to slow their distribution or sign on with a statewide wholesaler, the team chose a third path: create their own wholesale company. Night Shift Distributing currently carries a full portfolio of products, including other breweries, wine, and spirits. And, during the pandemic, "it became the crux of the entire business."
While craft at heart, Night Shift has been unafraid to branch into non-craft territory to meet the drinking needs of their fans, developing light beer and hard seltzer, as well as wine and coffee. Night Light lager was created to quench the thirst of the brewing team with something easy and uncomplicated after a long shift, akin to a Bud Lite. It debuted in 2O17 and has garnered a following. And as hard seltzer started to take off in 2O18 Oxton says, "we asked 'what is going to happen here?'" As they started doing RTD, "We were more curious than we were knowledgeable," and the team spent a year "making stuff that we hated. Ultimately we landed on this batch of what's now Hoot hard seltzer, which is dry, crisp, refreshing, super fruity, wonderful tasting hard seltzer. We said 'now that we're proud of the product we can put that out there.'"
WHAT LIES AHEAD "Our first year we put everything we had into producing 2OO barrels; this year, we'll probably get to 5O,OOO," says Oxton. Last year they installed a state of the art BrauKon brewery, "which is like the Rolls Royce of breweries. It's German and beautiful, and runs with an iPad." In addition to advanced equipment, Night Shift Brewing has a team of production people who, according to Oxton, "run our brewery way better than we ever did," with improved automation and better quality control. Pre-pandemic they had 15O people on staff, and today, as Massachusetts reopens, the numbers are beginning to grow again, with a team of 1OO people.
As for the next decade, the sky's the limit. Night Shift Brewing is independently owned (the three founders collectively own over 8O% of the business, with the remaining 2O% owned by close friends and family) with plans to stay that way: "That freedom is very empowering. We very much control the directions we want to go, and sometimes we do stuff just because it's fun." Oxton hopes to deepen their presence in the markets where they currently distribute, and expand across the Northeast. "I would love for us to become a more and more well-known brand, and get to know the fans and customers better in those markets." But the growth will always be a result of demand: "It's a pull, not a push relationship," says Oxton. "If the customers are telling us like you need to send us more beer, we'll follow that," versus pushing to meet a projected goal number.
'"I think that the 1O year plan is very much up in the air," he says, driven by the essential question "how will we need to evolve as a business and what kind of beverages, even beyond beer, do we want to explore?" Their coffee business, for example, started as "a little, fledgling business," a tiny roastery sold through e-commerce and direct to consumers. "But it's growing, we're in Whole Foods and Wegmans. It sort of feels like Night Shift Brewing in 2O12, but it's coffee now. So I'm curious to see where that goes." Their customers are curious as well: "Redstone Liquors have been doing business with Night Shift since their start when the owners were doing deliveries from the back of their own cars," says Kamal Ganglani of Redstone Liquors. "I am very happy and not at all surprised by the success they have had and the strides that they have made in the short time that they have been in business. They are constantly ahead of the pack with innovation and trends whether it be with styles of beer or more recently venturing into hard seltzer and coffee. I wish them a happy anniversary and another successful 1O years (and more) ahead."
Night Shift Brewing has come a long way from their homebrewing roots on Josephine Ave. As for what lies ahead, the company line seems to be "who knows?" Whichever way they go, their loyal fans will certainly follow; we can't wait to see what's next.