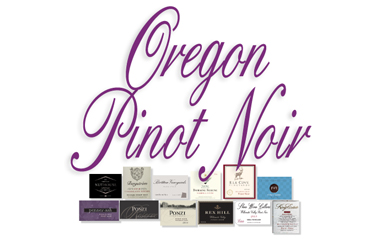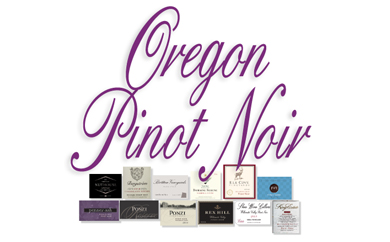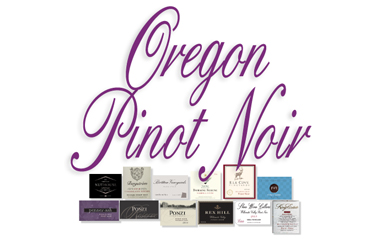 by SANDY BLOCK, MW
NO OTHER REGION does Pinot Noir quite like Oregon.  Not that it's necessarily the place on earth that makes Pinot which will appeal most to every palate, but there is an automatic association between the state and the grape, as well as a consistent style, that makes it a relatively easy sell.  Oregon's moderately cool but dry and sunny growing season tends to produce Pinot Noir expressing understatement and purity.  There is a tight band of quality, no bulk wine, and the generally less dramatic fruit expression than much of what California offers, suits Oregon Pinot to matching with more delicately flavored sauces and dishes.
Vintages are important this far north due to variable seasonal weather patterns, but while some years present a greater challenge to get all the grapes ripe than others, the differences only add interest.  Just as in Burgundy, there are "collector's" years, and "restaurant" years, loosely meaning that some vintages produce more ripeness, intensity and structure for the cellar, while others seem more delicately constituted with a lighter fruit expression.  I have not had great results aging Oregon Pinot Noir in any vintage.  Even the highly touted and very ripe 2OO8s are not what I would call classic "vins de garde". The wines I've cellared taste good, some very good, but they aren't necessarily much better than they were in their relative youth.
The two main vintages available today, 2O13 and 2O14, are a study in contrasts.  Conventional wisdom would suggest that 2O13 is the "drink now" year and 2O14 is the one for the cellar.  A persistent two week long torrential downpour starting in late September 2O13 influenced the harvest in a problematic way, whereas 2O14 was picture perfect, with the warmest weather on record overall, and minimal rainfall.  Simply put, and there are exceptions to every generalization, if you tend to like Pinots showing a bit more acid backbone and delicacy, those on the floral/ mineral side of the flavor spectrum and with lower natural alcohol, 2O13 might be for you.  If you prefer more concentrated fruit extraction, lush textures, and ripe berry notes, then 2O14 may prove more enticing.  What's apparent is that producers who could afford to sacrifice some proportion of their crop and invest labor into canopy thinning to increase air flow, and in some cases to use helicopters to dry the vines after the rains, seemed to achieve the best results in 2O13.  The following vintage was one where much less was required to gather a healthy, delicious Pinot crop.
The wines listed are a combination of 2O13 and 2O14, among the finest in my most recent blind tastings.
ARGYLE "NUTHOUSE" PINOT NOIR, EOLA AMITY HILLS 2O14
This wine, from grapes grown on volcanic soils, shows an abundance of floral, sweet spice notes, with vibrant sour cherry-like fruit, accents of leather, leafy greens and exotic baking spice.  A delicious wine with a Burgundian personality, along with its prominent fruit profile.
BERGSTROM "CUMBERLAND RESERVE" PINOT NOIR, WILLAMETTE VALLEY 2O14
A juicy Pinot Noir, with espresso, red raspberry, vanilla, and plum flavors, accented by spice, mint, tar and leather.  One of the Willamette Valley's small family wineries that makes consistently top wine, but stands out especially in a vintage such as this.  The wine is supple, with a silky sensual texture, tart fruit, baking spice notes.
BRITTAN VINEYARDS, PINOT NOIR, WILLAMETTE VALLEY 2O13
A charming Pinot with an intriguing aromatic mix of violet, mushroom and smoke.  The wine shows the high acid and mineral essences one would expect in 2O13.  Lingering on the palate, its vibrant cherry, savory spice and tea-like flavor influences are quite appealing.
DOMAINE SERENE "YAMHILL CUVEE" PINOT NOIR, YAMHILL CARLTON 2O14
This Pinot is harvested from fruit planted in the Willamette sub-AVA that tends to produce the valley's least acidic fruit.  With tobacco-like cedary aromas, and an earthy, clove note, the flavors are ripe, bold and in wonderful balance.  Quite lovely, with plummy fruit flavors accented by undertones of cocoa and licorice.
ELK COVE VINYARDS PINOT NOIR, WILLAMETTE VALLEY 2O14
Elk Cove is one of the pioneers of Oregon, going back to the 197Os.  They make a silky moderate style of Pinot, medium-bodied, with soft textures and seamless fruit.  This has a chewy, fresh cherry quality, with ripe strawberry, mushroom and savory spice notes.
FIRE & FLOOD "CHAPTER 24 VINEYARD" PINOT NOIR, WILLAMETTE VALLEY 2O13
Don't let the light color mislead you, this is a good example of how top quality Pinot need not, and should not, look opaque.  With intriguing aromas of sweet herbs, coffee, white pepper, smoke and braised meat, this wine is very lush and creamy on the palate but with bright balancing acids and minerality.  The tannins are low, the mouth-watering cranberry-like fruit expansive.
PENNER-ASH ESTATE PINOT NOIR, YAMHILL CARLTON 2O14
One of the true quality benchmarks of Willamette Pinot over the years, this estate wine is brightly cherry-like with smooth, mellow, spice and mocha notes.  Supple, rich and intense, it's also quite floral, with persistent cherry blossom scents.  It shows the concentration of this atypically ripe 2O14 growing season.
PONZI "CLASSICO" PINOT NOIR, WILLAMETTE VALLEY 2O14
The Ponzis are among the legendary families who founded the Willamette's wine industry, and they continue to be among those who set the standard.  This wine is lightly spicy, with cigar-like, vanilla and mineral notes, soft and pure with a gentle touch of earthiness, and approachable fresh red cherry fruit.  Low in tannin, its crisp ripe fruit flavors are long and satisfyng.
PONZI "RESERVE" PINOT NOIR, WILLAMETTE VALLEY 2O13
This originates from older vines than the Classico, has a larger percentage of new oak and is aged longer.  It has a strong red berry note, but also with some zesty herbal and earthy nuances, including a forest floor component.  Nice, spicy and well structured, with a jammy tart fruit component.
REX HILL PINOT NOIR, WILLAMETTE VALLEY 2O14
This richer textured Pinot is exemplary of the 2O14 vintage.  Right on target, with an abundance of dark, velvety richness, and supple milk chocolate notes, but still enough elegance to let you know you are drinking a Willamette Valley wine.  The fragrance is a lovely melange of dark cherry, pine forest, herb tea and spice.  On the palate, it's beautifully extracted, with smoky dark raspberry and clove notes, and subtle hints of mineral and earth.  Very impressive!
SHEA WINE CELLARS PINOT NOIR, WILLAMETTE VALLEY 2O13
Shea is probably best known as a vineyard-designate for other noted Willamette wineries, but their own production is outstanding, and the 2O13 is one of the best I've had over the years.  Like other 2O13s this tends to be more delicate and woodsy, with earthy mineral, pine and clay notes.  Smooth and mellow on the palate, with a creamy texture and long unexpectedly chocolate berry finish.
KING ESTATE "BACKBONE" PINOT NOIR, WILLAMETTE VALLEY 2O13
Medium in color, with cooked berries and herbs, this is a piquant, crisp, nicely tart cherry flavored Pinot, very moderate in style and reflective of the cooler conditions of 2O13.  This wine helps express more of the edgy side of Pinot Noir's personality, with additional notes of cinnamon and baking spices.  Smooth, mellow and relatively rich, this is a real crowd pleaser with an abundance of lingering savory fruit.