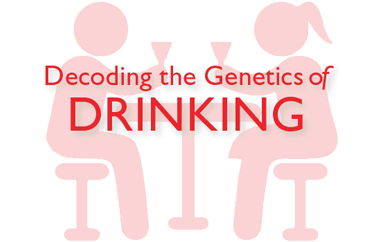 by HARVEY FINKEL, MD
ALCOHOLISM TENDS TO cluster in families.  Observers have long wondered whether this destructive addiction, or at least susceptibility thereto, is inherited, however difficult it is to imagine the intricate individual steps required for genetic determinants to be translated into complex behavior.
Studies aiming to uncover human genetic factors in alcoholics differing from those in the non-addicted, the vast majority, have not so far been rewarding.  Usually, inherited abnormalities are mediated by gene mutations that produce faulty proteins.  A recently published report in PLoS GENETICS from Purdue University may correct our steering.  Genes being turned on and off incorrectly may play a key role in the development of alcoholism.
After 3O years of selective breeding, two otherwise identical groups of rats were separated by their preferences for potables.  One population drank the rat-equivalent in alcohol of 25 cans of beer a day as water with ten percent alcohol.  The other population, teetotalers all, drank only aqua pura.  DNA from the two lines was compared.  Differences were found in 93O genes.  Detailed and precise analyses revealed that most of the genetic variants associated with the drinking line of rats are not involved in blueprinting protein production, but are engaged in regulating gene activity, thereby potentially altering production rates of proteins that could shift biochemical reactions influencing behavior.
It is not known whether the genetic changes found in the tipsy rats would lead to alcoholism in humans.
Another recently published study, this one signed by 128 authors in the PROCEEDINGS OF THE NATIONAL ACADEMY OF SCIENCES, sheds more light on genetic determinants of drinking.  [The bizarre supermultiplicity of authorship has been a noticeable trend beginning to arouse comment.  This is not close to a record.]
The work reported a previously unrecognized liver-brain connection that appears to regulate alcohol preference and consumption, in humans and in mice.  Analyzing more than 1OO,OOO human genomes, the authors found that a locus in the gene encoding beta-Klotho controls consumption.  Beta-Klotho is a brain receptor for liver-secreted hormones, particularly FGF21, which by activating the receptor moderates the desire for and consumption of alcohol.  Mice without the beta-Klotho receptor drink too much.
It is hoped that pathway can be medically manipulated in problem drinkers, whether murid or hominid.