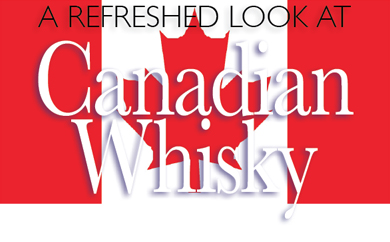 by LEW BRYSON
"OH, IT'S . . . just the Canadian."
That's a line from the pilot episode of "Due South," a 9Os TV show about a Mountie who winds up working with a Chicago cop. His boss at the Canadian consulate is explaining how he overhears secrets and gathers information simply by being the Canadian in the room; no one even notices him.
He might have been talking about Canadian whisky. Despite having a substantial share of the US whisky market – second only to bourbon, actually, surprise! – and the iconic purple bag of CROWN ROYAL, in most stores, Canadian simply fills shelves and quietly moves cases, not really getting attention or excitement. That's what I told a roomful of Canadian distillers back in January. I'd been invited to Victoria to address the Canadian Whisky Awards, and I gave it to them. "The majority of people who think of themselves as whisky aficionados, and even the majority of people who think of themselves as simply whisky drinkers," I said, "don't generally think of Canadian whisky as . . . exciting." No one seemed surprised.
Canadian whisky has a self-esteem issue. Even though there are some dramatically different and decidedly excellent whiskies coming from Canada, they don't seem to know how to present them to get people's attention. That goes back to when things went south for brown goods in general. Ross Hendry, the brand manager for Corby's brands remembers. "We've done a great job of marginalizing our own category over the past 25-3O years," he says. "When the white spirits came in, we stopped talking about it, and thought the value was giving the consumer the price. Sure, keep the price right, but you've got to let them know! We're changing that, but we've got a long way to go. We've got world-class liquid, but we need to continue to push that narrative."
"The Canadians themselves have to take more pride in the great whiskies they produce," says Ryan Maloney, at Julio's Liquors in Westborough. "I mean, the official whisky of Canada was voted to be a Scotch! Drop the inferiority complex and kick butt!" But when I talked to Ryan back in January (for the Irish whiskey story I was working on), he mentioned how the sales of super-premium Canadians were picking up. Gary Park, at Gary's Liquors in Chestnut Hill, said the same thing when I called him . . . both of them without prompting, just something that they'd noticed. Could it be that after 3O years of watching Scotch, then bourbon, then Irish, and then Japanese whisky get their turn in the spotlight, it's finally Canada's chance to shine? If it is, someone's going to have to get the word out, because most whisky aficionados either don't know what Canadian whisky is, or they have it wrong.
"We have done ourselves a disservice for 80 years, by not telling our story," admits Dr. Don Livermore, the master blender for Windsor, Ontario-based J.P. Wiser's (where he works in the largest beverage alcohol plant in North America; that's Canadian whisky for you). "Bourbon, Irish, Scotch master distillers have been out telling that story for years; when was the last time you saw a Canadian doing that?" Livermore does get out there and tell the story, of course, as do John Hall with Forty Creek, and Vicky Miller with BLACK VELVET. They're telling the story, but it's an uphill slog against years of Canadian as a value brand, the pick of a graying generation.
WHAT IS CANADIAN WHISKY?
What is that story, so you can understand it and help your customers understand it, so you can both benefit from what's the last great value proposition in whisky? Here's the key: Canadian whisky is blended whisky. As Rob Mason, VP of North American Whiskies for Beam Suntory put it, "The laws around producing Canadian whisky are fairly moderate, giving our distillers the freedom to do what they do best; make great tasting whisky."
Tish Harcus, CANADIAN CLUB brand ambassador is a bit more precise. "Canadian whisky is a blend of spirits made from a variety of cereal grains," she recites, "with no restriction on quantity, and no upper limits on distillation, aged at no more than 72% (entry proof) in charred oak casks for a minimum of three years. Flavorings such as sherry and fruit wines can be added, to a maximum of 9.O9%, as long as that is aged for a minimum of two years." Mostly just a three year age minimum and that entry proof maximum. Lots of room to play.
Jim Ruane, the Crown Royal brand director, notes that Crown Royal is made starting with five different distillates, which are then aged differently; new barrel, re-used barrel, type of barrel, length of time, and so on. "There are 5O different component whiskies," he says. "That's our spin on blending. Blending is critical, central to that elegance. The blender has an artful active management role; not unlike how cognac is handled."
Livermore really bullet-points it. "Has to be 4O%, made of grain," he starts, "fermented, distilled and aged in Canada, in a wooden cask, and at least 3 years old. But they don't tell me how to distill it, they don't tell me what kind of wood to age it in, they don't tell me what mash bill. They give me latitude. There's only one category of whisky here, not 44.
There's one kind of barrel wood in Scotland, Ireland, and America: by law, whiskey/whisky must be aged in oak. Not here. Heather Howell, director of emerging brands for Brown-Forman, explains how that benefited their luxury Canadian brand, COLLINGWOOD. "It's a very innovative product," she says. The whisky is "aged in once-used white oak barrels, then it's put into a customized maple wood vessel. Toasted maple wood staves; the vessel is customized for Collingwood. It gives it a very sweet, incredibly smooth taste. You have this wonderful landscape where you can use anything to make the best whisky on the market."
And then there's the blending itself, which is much more open-ended than with any other whisky type. Livermore is pretty open about that, unlike some Canadian blenders. "I'm looking at the oldest formulation book in Canada, it goes back to 1884," he tells me. "They were putting Jamaican rum and prune wine in the whisky. I don't even know where you'd find prune wine. Not a lot, a couple barrels of this and that. Take a 1OOml flask, and then add 1Oml of wine. You don't have to, but I can put a 4O-year-old sherry into my blend, and it's still Canadian whisky." He continues, "I can use sherry, cognac, bourbon. If you really want to add sherry, or port flavor, why not just put it in? It's not cheating, and it's not cheap. My supply management person wants to strangle me; those are the most expensive ingredients. But it's the paint on my palette."
Even though it's more complicated than blending Scotch, there are similarities in the end results. Like blended Scotch, Canadian can be light and approachable, like a J&B (Black Velvet); more beefy and gutsy, like a Johnnie Walker Black (Collingwood); full and fruity, like a Famous Grouse (Crown Royal XO); or grand, complex, and rich, like a Chivas Regal 18 year old (Lot No. 4O). But it certainly isn't Scotch, because the potential for blending is much, much broader, as Harcus explained.
Canadian can also be pretty straightforward. "Our whisky is 1OO% straight rye," says August Sebastiani, president of 3 Badge Beverage (Sonoma, California), which imports MASTERSON'S whisky. They source it, and they're open about that ("It's a ten year old product," Sebastiani says, "and we weren't in business ten years ago."), but they decline to say where it was made, an agreement with the supplier. "When we rolled the brand out, we made clear that it wasn't 5O% plus 1, or just a smidge of rye, it was 1OO% rye. There's nothing more to it."
WHAT'S GOOD?
What can you get that's going to put you in a position to spread the word? Well, first off, don't overlook the value of plain old Canadians. Canadian Club, Seagram's VO, Lord Calvert, Canadian Mist, Canadian LTD, Black Velvet: your aging, graying regulars buy this stuff up, but you know what? It's what my 25-year-old son and his friends drink, too, and when I'm in a dive bar, more likely than not, it's CC and club soda for me. That's what this stuff is made for, and you might suggest it to the younger customers; it's a Mad Men thing, after all.
Now, for the better stuff. You have to start with Crown Royal when you talk Canadian; it's so big and so well-known, it almost transcends the category. Although Crown Royal's is in 95% of retailers, an iconic, ubiquitous brand, "only about 3O% of Americans could tell you that Crown Royal is a Canadian whisky," admits Ruane, but he's fine with that. They're loyal fans, and they just like drinking it.
Crown delivers on innovation and variety. "The NORTHERN HARVEST RYE as (whisky writer Jim Murray's) Whisky of the Year signified that," Ruane says. "The single barrel bottling of Coffey Rye (which was awesome at 5O+% ABV). The impact of flavors: Regal Apple is the most successful new spirit innovation ever, Vanilla has been the #1 new spirits product of 2O16, and of 2O17 so far. What else could emerge? Secondary barrel finish whiskies are coming; you tasted the XO, finished in cognac barrels. We have a finish in Cabernet Sauvignon barrels coming. We're laying down a Canadian single malt that's pretty phenomenal." Add in the already amazing Monarch and XR bottlings, and you've got an array of different Crown Royals, with more to come; surely there's something there for almost anyone.
Don Livermore blends whiskies for Corby's, which has the J.P. Wiser's bottlings, ranging from the basic bottling, all the way up to the 18-year-old (including a hop-flavored blend that beer drinkers should know about), and then the specialty bottlings: LOT NO. 4O, PIKE CREEK, and GOODERHAM & WORTS. These three are the ones that he pours as the clincher at festivals. "Nothing that makes them more happy than tasting Lot 4O," he says with a big grin. "People will come back for their last dram of the night; 'Best whisky I had tonight.' That's a good feeling. It's that surprise, and people love discovery. And they bring their friends over to the booth." Powerful stuff.
Collingwood has that unique maple finish, and a good story, too. "We source all of our grains and water right there," says Howell, referring to the town that gives the whisky its name. "We'll go there, have dinner with the local farmers who help us make our blend. We make a huge brand, Canadian Mist there, but we also make this small brand that leverages all that knowledge. We take it very seriously. That's where I see growth in super-premium, it's innovation. It gives us opportunity to play."
How about that Masterson's? Well, when I was at the Canadian Whisky Awards, their 1O-year-old rye won Whisky of the Year. So there's that! "We let the quality speak for itself," says Sebastiani. "Neat is the core to everything; if it works neat, it'll work most places. Put it in a glass and taste it." They just sent me samples of three new expressions aged in American, French, and Hungarian oak; eager to try those. Black Velvet is a familiar brand, but did you know there's an 8-year-old Reserve? There are limited amounts (there are even more limited amounts of 12-year-old, but it all goes to Europe), and Vicky Miller, who pretty much runs the Black Velvet distillery in Lethbridge, Alberta, explains why. "In the past, most of the Canadian distilleries only produced enough spirit to meet their current sales, so there was very little surplus to age for a premium brand. With customers being more willing to try "unknown" products, and the realization that a brand does not have produce 1OO,OOO cases a year to be successful, the market is changing and Canadian distilleries are responding accordingly."
Canadian Club is a solid brand, almost as iconic as Crown Royal, but their higher end bottlings may not be on your radar. Try out the Canadian Club 1OO% Rye in the green label, launched in late 2O14, a robust whisky tagged as Whisky Advocate's Canadian whisky of the year. There's the Classic 12-year-old, too, a delicious and sophisticated bottling that I'm happy to end the night with. The same company – Beam Suntory – makes the deliciously rich ALBERTA RYE DARK BATCH. Launched in 2O15 it is a blend of 91% rye whisky, 8% bourbon and 1% sherry that's been storming through Canadian whisky bars, and it's about time it hit America as hard. (See sidebar for cocktail recipe.)
Sazerac sees the future, and has invested big in Canadian whisky. Their head blender, Drew Mayfield, started in the Seagram's organization, and knows blending inside-out. "We've been engaged in Canadian since 2OO7, when we acquired Rich and Rare, and Royal Canadian from Pernod Ricard," explains Kevin Richards, the company's senior marketing director for whiskey and specialty brands. "Back in 2O1O we made a single barrel Canadian, CARIBOU CROSSING, and it' s been slowly plugging along. We have a single barrel program for retailers." They've also bought a distillery in Montreal, and Mayfield is getting that ready for what they want to do. They're all in, and see the future as bright for Canadian.
And then there's the pioneer of high-end, boutique Canadian whisky, FORTY CREEK. The founder, John Hall, was a winemaker, but had a vision of a better Canadian whisky. Bill Ashburn, the master blender, explains. "Forty Creek whiskies are made of proprietary blends of corn, barley and rye [whiskies], with a strong dominant of corn that drives the smooth taste profile. We blend the distillates towards the end of the whisky making process as opposed to the beginning to pull out their most true flavor." The Copper Pot Still expression is catching on, but the one I'd advise you to try is the big, bold Confederation Oak. That's whisky with story, flavor, and distinction. Just what you want.
There are great whiskies from Canada, and more of them coming every month, it seems. It's up to you – as usual! – to place them, in context, in front of your customers. Explain how Canadian is made, that it's not Scotch (although it's blended) and that it's not American rye (although it does usually have rye in it), and it's not bourbon (although it is sweet). It's Canadian. There is some baggage with that, of course. Ken Gordon, at Gordon's Fine Wines & Liquors in Boston, knows it. "Most consumers think Canadian whisky is a thing of the past. It was probably what your grandparents drank. How would I change their minds to buy a bottle of Canadian whiskey? By doing what I have been doing for years, by sampling brands that deliver the WOW factor every consumer looks for when it hits your palate."
Time to taste; it's time for Canadian whisky.
COMPLEMENTARY
CANADIAN COCKTAILS
candied bacon canadian whisky cocktail with maple bbq spiced rim
by Tim "the brew chef" Schafer
Tim's an old friend of mine who used to be a beer-focused chef in New Jersey.  Now he does culinary consulting in North Carolina.  This is a kind of combination cocktail/appetizer he thought up that is simple, but crazy delicious.
2.5 ounces of Canadian Whiskey
2 tablespoons of pure maple syrup
1 teaspoon of light brown sugar
Cracked black pepper
1 teaspoon of BBQ spice
1-2 ice cubes
pre-heat oven to 35O degrees.
place the bacon (I cook a pound at a time) on a baking tray lined with parchment paper and fitted with a rack.  brush the bacon with about two-thirds of the maple syrup, then sprinkle it with brown sugar and season with the cracked pepper.  bake for 2O minutes until just crisp, and set aside to cool.  Meanwhile, dip the rim of a rocks glass in the remaining syrup, then into the spice.  drop the ice in the glass, pour in the whiskey and garnish with a strip of the candied bacon.  Cheers!
THE INGLEWOOD
Chris Goad, the bar genius who holds court at Seattle's Canon, made this one up to my request for a Manhattan that uses Alberta Dark Batch and emphasizes the sherry component.  I love that he did it in a very direct, Canadian whisky way: he simply added a small amount of sherry.  I tweaked the recipe by cutting the bitters in half; feel free to double what's shown.  Inglewood is a suburb of Calgary, where the whisky is made.
1 3/4 ounces of Alberta Rye Whisky Dark Batch
1/4 ounce of cream sherry
1/4 ounce of Pierre Ferrand Dry Curacao
2 dashes of aromatic bitters
add all ingredients into a mixing glass with ice and prepare your glass, letting the ice slowly melt in the mixing glass to reduce your stirring time.  add a large ice cube to your double rocks glass and garnish with a wide orange peel, cut and trimmed clean.  Finish mixing your drink and pour into class.  Cheers!