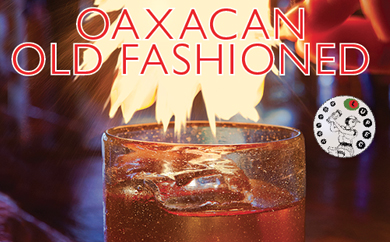 by PINK LADY
WE LUPEC LADIES love our tequila, and we feel equal adoration for another agave spirit hailing from Mexico: mezcal. For many decades mezcal got a bad rep here in the US as tequila's inferior cousin, made cheaply and featuring a giant booze-soaked worm as hallmark. But oh, how times have changed.
The term "mezcal" technically refers to any distilled spirit made from agave, making tequila itself a mezcal. You know how all Chianti is red wine, but not all red wine is Chianti? It's a similar story over in Mexico with these two products. Today, most of the mezcal we find in the US is produced in Oaxaca, with many artisanal styles steeped in history and heritage now available.
LUPEC friend and artist Ron Cooper was a trailblazer when he began bringing "single village" mezcals to the US in the 199Os under his Del Maguey label. Each bottle represents a style unique to its town or region, showcasing products that vary based on terroir, and production method, and some really cool local history. Most curious among these is the Pechuga, which is distilled with wild mountain apples, plums, plantain bananas, pineapples, almonds, a few pounds of uncooked white rice, and has a whole chicken breast suspended by strings in the still's atmosphere. You know, to balance all that fruit.
Mezcal is typically sipped from a small clay pot, but this new-old classic employs both tequila and mezcal in perhaps the most vintage cocktail we know, the Old Fashioned. It's worth a try . . . or three!
---
OAXACAN OLD FASHIONED
1 1/2 ounces of Reposado tequila
1/2 ounce of mezcal
1 teaspoon of agave nectar
2 dashes of Angostura bitters
twist of orange peel for garnish
Fill a mixing glass with ice. Add the tequila, mezcal, agave nectar and bitters; stir until well chilled.
Strain into a rocks glass filled with ice (preferably one large cube).
Light a match; snap the twist of orange peel through the flame so the citrus oils fall onto the surface of the drink, then drop in the peel.
PHOTO • HEATHER MULL • HEATHERMULLPHOTO.COM