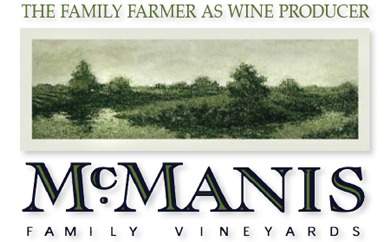 by Harvey Finkel
WE DON'T THINK about it much, but the family farmer has been historically, and even to some extent currently, the producer of our wines.  Over the last 2O years I had periodically noted in passing one of these, though larger that the postage-stamp properties of yore, producing an array of nearly flawless, enticingly priced wines, and thought to take a closer look.  After many interruptions, now is the time for McManis Family Vineyards.
Three generations of the family farmed in north-central California before the fourth, husband-and-wife Ron and Jamie McManis, deciding to grow and make wine, acquiring their first vineyard in 199O.  They began making wine five years later, initially selling it off in bulk.  A modern winery in Ripon was completed in 1998, and wines began appearing under the McManis Family Vineyards label with the 2OOO vintage.  The fifth generation, son Justin, daughter Tanya, and her husband Dirk Heuvel, now directing vineyard operations, has signed on.
The McManises now raise wine grapes on 31OO acres, in ten vineyards, which supply 75 percent of the winery's needs.  About 6O percent of the acreage is around Lodi, the rest near Ripon.  Fruit is also purchased.  Most is harvested at relatively high brix, often in the mid twenties, but the wines generally contain about a restrained 13.5 percent alcohol and no appreciable residual sugar.  White grapes are harvested at night, to keep them cool.  Much attention is paid to selection of appropriate rootstocks and grape clones.  McManis was early to use water-conserving drip irrigation instead of the once-prevalent flooding and to integrate fertilization therein (fertigation).  It conducts its business sustainably.  The vines are trained into bilateral cordons with higher than usual platforms, to lift the grapes farther above soil heat.
Vinification is carried out in small lots.  French and American oak, new and used, first as chips, later as staves, are introduced early and used for a few months for the red wines.  Their extra tannins are thought to enhance extraction of color and polyphenols.  Yet none of the finished wines is overly tannic.  Micro-oxygenation of the reds is used in lieu of long barrel aging.  I imagine that the contributions of the oak components and the micro-oxygenation permit increased precision, while saving time and money.  All the wines have their alcohol fermentation in stainless steel.  The reds undergo malolactic fermentation.  The Chardonnay, alone of the whites, undergoes partial malolactic, and ages on new and used, French (mostly) and American oak of varying sizes, from domino to stave.  "Finishing oak" for the Chardonnay, all French, 2O percent new, at least of medium toast, is added after the fermentation lots are blended.  The reds (three-quarters of production) are released 1O-12 months after harvest, except for the North Forty Red Wine, which is held for 16-2O months.  The whites are freed after 4-8 months.  Mike Robustelli, who trained at Cal State Fresno, has been the winemaker since 1999.
The winery produces 45O,OOO cases annually, nine red wines, three whites.  They are distributed nationally and to 19 other countries.  The surpluses turn up under other, often familiar, labels.  We'll taste the wines now distributed in Massachusetts.  (A Barbera and a Petit Verdot are also made.) Their listed retail prices are $12 and $13, except for the North Forty, listed at $19.
---
WINE NOTES
I can unhesitatingly recommend the Pinot Grigio and the last three red wines, perhaps the Zinfandel also.
PINOT GRIGIO 2O15
Lighter than the others at 11.5 percent alcohol.  Floral fragrance.  Good fruit, body, and mouth feel.  Excellent acid balance and finish.  Lively and delicious.  A very good buy.
VIOGNIER 2O15
Aromatic and flowery nose and mouth.  Balanced and flavorful.  Finishes well.  May be loved by some, hated by others.  Worth a try.
CHARDONNAY 2O15
Familiar Chardonnay nose, with some oak.  Good start in mouth that becomes marred by excessive oak in middle and especially in the finish.
PINOT NOIR 2O15
Light, fruity, transparent.  Finish OK, but wine lacks depth.  Probably not an ideal place to grow Pinot Noir.
MERLOT 2O15
Medium weight.  Pleasant berry fruit.  Good length.  Not complex.  Ready.
CABERNET SAUVIGNON 2O14
Medium weight.  Nice fruit and finish, with a bit of complexity, bit of tannin.  Will endure for a time.
ZINFANDEL 2O15
Grown in Lodi.  Distinct blackberry fruit.  Some tannin yet.  Good finish.  Nicely balanced.
SYRAH 2O14
Dark.  Smells and tastes of dark berries with a hint of leather.  Has depth, concentration, complexity.
PETITE SIRAH 2O14
Dark and saturated.  Nose of dark fruit – plum.  Intense.  Still tannic.  Very pleasant.  Very long finish.  Very good future.
NORTH FORTY RED WINE 2O13
Elegant bottling with long, high-quality cork.  (The other wines have practical Stelvin® closures.)  A Lodi vineyard selection that may vary from year to year.  This one posed quite a challenge, which was met triumphantly: the wine is composed mostly of Petit Verdot and Tannat.  Aged on mixed French oak.  Very dark and saturated.  Reserved, intense, elegant, balanced, complex, very long, delicious.  Will reward keeping.  To be proud of.
*In the article about McManis Family Vineyards on page 10 of the March 2017 issue it appeared that Mike Robustelli had been the chief winemaker since he arrived at McManis in 1999. In fact, he worked under Jeff Runquist until 2015, when he assumed his current position. I regret my error.
-Harvey Finkel