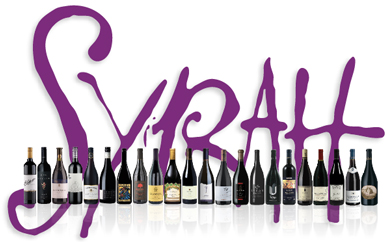 by SANDY BLOCK, MW
WHEN SYRAH FINALLY COMES BACK, as anyone serious about wine knows it must, producers worldwide will be ready.  Until then a vast ocean of red wine made from the grape will remain underpriced and undervalued.  I am convinced that only fashion and reputation have kept Syrah back from broader recognition as the equal of Pinot Noir and Cabernet Sauvignon atop the pantheon of the world's noblest red grapes.  Why are consumer perceptions so tainted?  Most likely because of the grape's meteoric rise in its Australian incarnation, Shiraz, when it captured flavor of the decade honors beginning in the late '9O's, followed by its subsequent plunge from grace.  When it fell, it fell hard, and every Syrah got tarred with the same brush.  This happened previously with Merlot and it may be happening again now with Malbec.  Demand for wine, in many ways, follows a trajectory similar to the price of equities.  As the great Warren Buffett once famously wrote, a stock's price at any point in time reflects its popularity and image; in the long run though, its price is based on underlying fundamentals, or its real worth.  In the case of Syrah, this discrepancy between current image and real worth is indisputable.
Knowing this, what are wine marketers to do?  To invoke the parallel with stocks again, you can arrive early to the party and get stuck with a lot of Syrah you believe in, well before the public catches up.  Or you can gradually introduce savvy customers to the grape until demand rises in your corner of the market, and a niche is created that justifies your beginning to stock more.  Recent tastings of Syrah from a multitude of sources worldwide would suggest that this is a prudent decision.  The challenge is getting consumers to try Syrah – once they do, assuming the wines are selected wisely, loyalty develops and new fans are created.  One of grape's strengths is its chameleon-like mutability, so that there is a Syrah to suit virtually every stylistic preference.  Depending on terroir, there are red fruit Syrahs and black fruit Syrahs, those that taste spicy and those that are fruit forward, soft and mellow wines, big tannic ones and everything in between.  Perhaps this versatility also contributes to the grape's image problem: unlike Pinot or Cabernet, one doesn't know exactly what one is getting with Syrah.
The following wines represent a potpourri of delicious Syrah incarnations tasted recently from a wide diversity of regions and countries.  One might loosely generalize that "Old World" Syrahs (exemplified by those from the Rhône Valley) are earthier and edgier, and that "New World" Syrahs (those from South Australia) are more fruit expressive, but there are so many crossover styles depending on microclimatic, grape growing and winemaking technique, that these labels prove less helpful than knowing the characteristics of each individual wine.  Included in the list are some recently tasted older vintage Syrahs, to set to rest the mistaken notion that this wine somehow doesn't age.  True enough if we're considering mass produced "commodity" Syrah, but then that's the case with these versions of any varietal.
ELDERTON "ESTATE" BAROSSA VALLEY 2O13
Shiraz is Australia's historic red variety, representing about 5O% of all red wine produced there today.  Unfashionable until the 199Os, it came roaring to prominence on the export markets as a ripe, spicy, fruit driven wine packing an oaky vanilla aroma.  That is no longer the style that is widely produced, particularly in Barossa Valley, Australia's largest fine wine region.  This marquee Shiraz district has a hot arid climate and dry sand soils which are the home to many rooted vines.  Elderton uses 1OO% estate-grown Barossa fruit from vines some of which date to the early 2Oth century.  This is a savory, pepper and tobacco-accented wine, very concentrated in flavor, with silky tannins and a long aftertaste.  A great introduction to the Barossa style, although without the rustic leatheriness that the wines from this historic region formerly exhibited.
MITOLO JESTER McLAREN VALE 2O12
McLaren Vale is a slightly cooler South Australian district also very hospitable to red grapes and noted for its well-balanced, sleek Shiraz.  Mitolo uses vineyards for this wine that are in the Willunga district at McLaren Vale's coolest southern end.  The juice undergoes a cooler fermentation, to preserve brightness, and is aged in mostly older French oak for 18 months, producing a dark raspberry-like flavor profile, with hints of dried green herbs, licorice and a firm acidic finish.
ROSEMOUNT BALMORAL McLAREN VALE 2OO1
Those who would suggest Syrah is to be consumed in the first few years need to find a bottle of this.  Note the choice to use the word "Syrah" on the label, indicating classic Rhône Valley antecedents, rather than the ubiquitous, at least in Australia, "Shiraz".  Balmoral shows the density of its origins from old vines, as well as its aging for 18 months in largely new American oak.  Smoky, with black currant and berry fruit, hints of chocolate and oozing with ripeness, this still has another 5 to 7 years of evolution.
JIM BARRY LODGE HILL CLARE VALLEY 2O13
A region better known for Riesling, Clare Valley actually grows more Shiraz.  The vines at Lodge Hill are at 13OO to 16OO foot altitudes, much higher than most other South Australia wine regions.  At these elevations the nights are cool, allowing a delayed, even ripening.  This wine is a bit minty and peppery, with red berry notes mild tannins.  It's an easier quaffer that is ideal for drinking young with seasoned fare.
TYRRELL'S WINES HUNTER VALLEY 2O14
From an historic family winery that dates to the 185Os, this wine originates in the New South Wales district of the Lower Hunter Valley.  A warm, humid region, Shiraz is the leading red grape and it has been planted here since the early 19th Century.  Tyrrell's produces an herb-scented, red berry and cayenne accented wine that is tart and fruity.  Again, for early consumption, and would be delicious with grilled fish or poultry.
JOHN DUVAL ENTITY BAROSSA VALLEY 2O13
Back to Barossa for this blockbuster, a wine produced by John DuVal, for decades the winemaker for the legendary Penfolds Grange, Australia's greatest wine by acclamation.  DuVal makes a lush, full-bodied, brilliantly concentrated wine with black currant, mint, coffee, and caramel tones.  Aged half in new French oak, this is super-polished and has the capacity to age for 15 to 2O years at a minimum.
BONNY DOON LE POUSSEUR CENTRAL COAST 2O13
Randall Grahm has been a big believer over the years in Syrah and has done a lot to promote the cause of "Rhône Varietals" in general.  This lovely wine is sourced from four cool climate Central Coast growers in the vicinity of Santa Maria Valley, a terroir that promotes retention of acid and expression of well delineated nuanced Syrah fruit.  This wine is medium-bodied, beautifully structured, with a floral fragrance and suggestion of blueberry and earth – a wine that can last three to five years, but it tastes too delicious now to wait.
BECKMEN PURISIMA MOUNTAIN SANTA BARBARA 2O11
One of my favorite unsung corners of the world for Syrah is Santa Barbara County's Ballard Canyon, an unofficial subzone of the Santa Ynez Valley located about 15 miles east of the Pacific.  Strongly influenced by moderating breezes and fogs that encourage long hang time, the Syrah produced at Steve Beckmen's biodynamic mountainside estate combine great ripeness with abundant spice and acid.  Planted on rocky soils on slopes that are quite steep, these Syrah grapes produce a mineral-accented wine with undertones of dark plum, tar-like, savory anise flavors.  A great combination of elegance and power.
DUMOL RUSSIAN RIVER 2O13
Perhaps best known for Pinot Noir and Chardonnay, DuMol sources Syrah grapes from high elevations above the fog line in the Russian River Valley.  They harvest a bit early to retain structure, and ferment with a proportion of whole clusters, to increase the fruity expression.  The result is a bold, rich, meaty Syrah, with massive fruit extraction, but great balancing freshness.
NICKEL & NICKEL DARIEN VINEYARD RUSSIAN RIVER 2O12
From a 4 acre parcel in a single vineyard in hills of the Russian River, the team at Nickel & Nickel have crafted a masterful Syrah that is every bit as dense and concentrated as the great single vineyard Cabernets they produce.  This has weight and power, with luscious black raspberry and tobacco notes, and a molten chocolate note that coats the palate.  A spectacular wine with substantial but velvety tannins from aging for 7 months in approximately half new French oak barriques.
NEYERS GARY'S VINEYARD SANTA LUCIA HIGHLANDS 2O14
This is a wine of wild unbridled power.  Originating from a highly pedigreed vineyard known mostly for growing Pinot Noir high up in the hills of Monterey County, the cool climate Syrah grapes for this wine are trodden underfoot to release the juice in gently in an effort to tame some of the intensity.  After a long cool natural yeast fermentation, and aging in French oak, the wine is bottled without filtration.  It's a bold gamey style Syrah with a strong bite, tangy dark fruit flavors and generous accents of sage, rosemary and black pepper.
CRAGGY RANGE LE SOL HAWKES BAY 2O11
While New Zealand may seem too cold in climate for ripening Syrah, this magnificent wine is grown in a very special North Island microclimate within the Hawkes Bay Area.  Gimblett Gravels is a pure well drained gravel bed that was only planted to vines first in the 199Os.  Its stony soils restrict yields and absorb sunlight that is reflected back to the vines as heat in the autumn.  The result: a luscious chocolate and blackberry accented Syrah with licorice, pepper and exotic Asian spice notes, full in body but smooth on the palate and eminently capable of 1O to 15 years aging.
UNDURRAGA TERROIR HUNTER LEYDA 2O11
Terroir Hunter is a project of winemaker Rafael Urrejola who seeks out unique vineyards in diverse parts of Chile to show the best that each region produces.  Leyda is one of those zones in the Chile's northern coast that has only been planted very recently and has been associated with Sauvignon Blanc.  These young Syrah vines are dry farmed, planted on a granite slope at very high densities, forcing the roots to dig deep into the hills to find water and nutrients.  The result is a balanced, earthy Syrah with leafy, herbal scents, a meaty red berry flavor and moderate tannins.  Very promising, a wine to enjoy now with slow cooked meat dishes.
LUCA LABORDE DOUBLE SELECT UCO VALLEY, MENDOZA, ARGENTINA 2O13
This is a wine made by the amazing Dr. Laura Catena that she has named after her oldest son, Luca.  "Double Select" refers to the massale selection used to plant in this vineyard in La Consulta.  The grapes are fermented under temperature control with 2O% full clusters and then matured in barriques for 1O months.  It's plummy, spicy and a bit meaty, with savory, sweet tannins.  Delicious.
RUDI SCHULTZ STELLENBOSCH 2O14
As the Cape's second most widely planted red grape, and its rising star, the Shiraz we're tasting from South Africa is mostly spicy and chocolatey, with smooth textures and mineral accents.  This wine is the personal project of Thelema winemaker Rudi Schultz who sources from a granite-based sandy clay vineyard in the Bottelary Hills ward of Stellenbosch, about 15 miles from the ocean.  Schultz uses a percentage of whole bunches in the fermentation tank, and punches the cap down three times daily, as one might do with Pinot Noir.  Aged for 18 months in mostly used French oak barrels, it's a lovely sleek wine that shows black cherry, raspberry and pepper notes with hints of mocha, earth and spice.
TULIP WINERY RESERVE GALILEE, ISRAEL 2O13
This is a "wow" wine produced at hillside elevations in the north of Israel by Roy Yitzhaki, whose winery is at Kfar Tikvah (or the "Village of Hope") which was once a kibbutz and is now a group home for all mentally disabled people, who comprise the winery workforce.  Blended with a little Petit Verdot, and aged for 14 months in French oak, this has a velvety dark plum and black raspberry flavor, with savory accents of barbecue spices, cured meat and tobacco.
TUA RITA TUSCANY 2O13
Produced from grapes grown on the Tuscan coast, 1O miles south of Bolgheri in the town of Suvereto, this is a monumental wine with amazing density and concentration.  Jammy, but supple, bold super rich black fruit, it is more "New World" in style than European.  It has a lovely core of minerality to balance the powerful extracts.  A wine that can age twenty years with no problem.
YVES CUILLERON LES VIGNES D'À COTÉ COLLINES RHODANNIENES, IGP 2O15
Planted on granitic, alluvial soils in Chavanay, this fresh fruit forward Syrah is on the lighter side, with bright strawberry and herb notes.  The grapes are destemmed and the juice is fermented with native yeasts, then spends eight months maturing in wood.  Mild and soft on the palate, with a good core of tart acidity, this is what I would call an aperitif style Syrah for current consumption.
ALAIN GRAILLOT CROZES-HERMITAGE 2O14
Made from grapes grown on steep terraced vineyards on the banks of the Rhône, this is an old school Rhône Syrah, meaning that there is no destemming of the fruit and no new wood.  It's got a grilled meat, smoky aroma, with some grippy tannins, dark fruit and hot spices.  Not showy but firm and lingering on the palate, a wine to enjoy with roast chicken.
VINCENT PARIS CORNAS GRANIT 3O HERMITAGE 2O13
Situated across the Rhône River from Hermitage, the Syrah grapes grown on these limestone and weathered granite hills carry a certain authority of flavor that has been noted since the Middle Ages.  This is made from 3O-year-old hillside vines that Paris owns; fermented at relatively cool temperatures and then aged in oak barrels for a year, this is a black fruit dominated wine with minerality, floral tones and a long savory finish.  Should be at its peak in a few years.
PAUL JABOULET LA CHAPELLE HERMITAGE 1998
The worldwide standard for Syrah remains Hermitage.  From very steep terraced hillsides around the town of Tain, vines have been planted here since the early Middle Ages.  Jaboulet is one of the great names of the Rhône and their La Chapelle is always a special treat, especially after nearly twenty years in the bottle.  With whiffs of black olive, red raspberry, clove, beef bouillon, and ripe tomato, this wine is still full of life.  It's lost some of its tannic intensity and has transformed into a more supple, even delicate evocation of this unique terroir.  I would drink it over the next five years.
SPRING VALLEY VINEYARD NINA LEE WALLA WALLA 2O12
Many insiders believe that Syrah may be the grape most suited to the dry, high desert conditions of eastern Washington.  This vineyard, about 12 miles northeast of Walla Walla, produces an elegant, refined expression of the grape, with delicate perfume and soft tannins.  Aged for 21 months in 5O% new French oak, it is floral and woodsy in aroma, with earthy, mushroom-like notes, and a nice red raspberry fruit dimension.