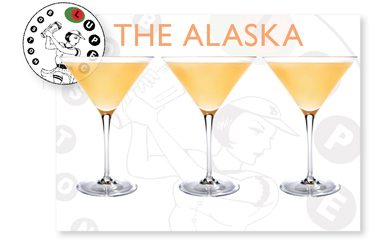 PINK LADY'S ENDANGERED COCKTAIL OF THE MONTH
THE ALASKA
from The Savoy Cocktail Book
VODKA COCKTAILS are so ubiquitous on modern cocktail lists, it's nearly impossible to imagine a time when you couldn't have ordered one from your favorite barkeep. Pre-Prohibition, an era we often reference as the Golden Age of Cocktails, was that time. The spirit was available in the States during the Saloon Age, a staple of vodka shops that dotted Russian enclaves. Where there's a bartender willing there's always a way, and almost certainly a creative drink to be had, but modern day cocktail historians have yet to excavate any printed recipes for vodka cocktails from that time. The spirit didn't make its way to print until the 191Os.
Vodka emerged as a tipple in the States in the 193Os, with American bartenders returning home post-Prohibition with recipes they'd concocted using ingredients that were local during their overseas stints. In 1938, New York's famous Russian Tea Room published a vodka cocktail booklet, which is where this gem of a cocktail recipe was first printed. It's a refreshing aperitif, perfect to sip before you sit down to a meal with summer's bounty.
---
THE ALASKA
1.5 ounces of dry Gin • .5 ounces of Yellow Chartreuse • dash of orange bitters
Stir ingredients with ice in a mixing glass. Strain into a chilled cocktail glass.