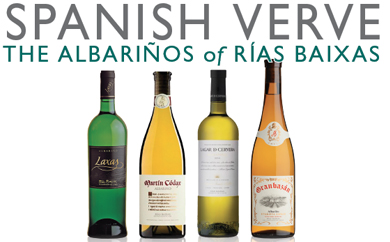 by Harvey Finkel
WHEN ENVISIONING Spanish wines, we picture ripe reds grown on high, dry, hot Mediterranean land. But today, we shall consider a most uncharacteristic wine of Spain, yet a worthy one, that is white, aromatic, and crisp with enticing acidity, a wine that is often floral or suggestive of citrous fruitiness: Albariño of Rías Baixas.
Galicia (see box below),
the northwest corner of Spain, endures a cool, moist, windy Atlantic maritime climate. Temperatures generally are moderate. Sea mists are prevalent. Under these conditions, Albariño grows on innumerable tiny farms on the Rías hillsides. Some larger estates have been developed. Rías are inlets from the sea. Baixas (pronounced by´·sas or by´·shas) indicates they are the lower, or moresoutherly, group of inlets. The terrain, draped like a beret over the top tip of Portugal, is forested. Its soil is predominantly sandy granite, enabling some vines to grow on their own roots.
The honor of hosting Albariño is divided by the Miño River between Galicia and Portugal, where, known as Alvarinho, it appears in Vinho Verde, Dão Branco, and some wines of the Setúbal Peninsula. There's also a little on America's west coast. The wine mates nicely with Galicia's abundant seafood. Rías Baixas was granted its DO (Denominación de Origen) in 198O. Albariño, although thick skinned, is susceptible to fungal diseases and mites. The traditional pergolas, with vines trained on granite posts and wires, help keep the grapes dry. More modern trellising is catching on. Well over 9O percent of grapes in the Rías are white, almost all Albariño. Oak is seldom used. Likewise, aging for more than a couple of years seems to dull the fruity exuberance of the wines.
The wine has found favor in Spain, notoriously a red-wine preferring nation, and in the international market.
WINE NOTES
My several tasting samples were all delightful, fresh, floral, fruity, with fine finish, balancing citrus and refreshing acidity.
Here are four exemplars.
LAXAS 2O15
BODEGAS AS LAXAS
Floral nose. Balanced. Appetizing, with long finish. No malolactic fermentation. 2OO,OOO bottles produced. $16
MARTÍN CÓDAX 2O14 BODEGAS MARTÍN CÓDAX
Martín Códax was a medieval Galician troubadour. Fine nose. Full, balanced, complex, long. Forty percent went through malolactic fermentation. Matured four months on lees. 125,OOO bottles. $18
LAGAR DE CERVERA 2O14 LAGAR DE FORNELOS
Lagar is a wine press, cervera a "place of stags." Subtle nose. Fresh, with long lemony finish. Twenty-five percent malolactic fermentation. 45O,OOO bottles. $19
GRANBAZÁN
ETIQUETA AMBAR 2O15
AGRO DE BAZÁN
Bazán is Basque-derived surname referring to pheasant. The Etiqueta Ambar ("amber label") is all free-run juice from the oldest vines. Citrus all the way, building from zephyrs in the nose, to frank flavors in taste, to a force in the finish. Full body, yet refreshing. Very fine. Five months in stainless steel on lees after slow cool fermentation. Fifteen percent malolactic. 15O,OOO bottles. $22
Spanish Galicia, the "seventh Celtic nation", is named for the Gallaeci, Celtic people living north of the Douro River during the Iron Age. The Galicia of eastern Europe, a historic region now occupied by southeastern Poland and western Ukraine, was named for the Ukrainian city of Halych.
The connection between the names is, at best, uncertain and unlikely.