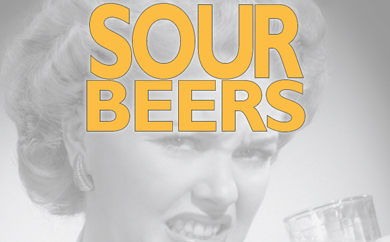 by Andy Crouch
THE RISING popularity of sour beer both exemplifies the strength of the craft beer industry and signals how far the United States has come since the time of light lager's dominance. Aromas of earthy farmhouse funk, acrid smoked ham and sausage, or spicy rye bread are not what television commercials long taught us to expect in a pint or bottle of beer. As distant as it gets from the standard American lager, these beers serve up an initial shock to the system and senses. Despite seemingly being the polar opposite of consumers tastes, sour beers have been on a tear in recent years, limited only by the relative difficulty in their production.
While India Pale Ales have dominated craft beer chatter for more than five years now, resulting in massive growth for breweries focusing on them, sour beer is also demanding brewer attention. Borrowing from regional preferences in small parts of Germany, Belgium, and other places, enterprising American brewers have resurrected several unusual sour beer styles and delivered them to an entirely new audience. These Old World beer styles, including gose and Berliner weisse, were often near abandoned in their home markets.
To the modern palate, these beers are designed to be a little surprising. Playing on tart, fruity, earthy, and tangy flavors and aromas, consumers have come to appreciate characteristics that brewers often view as off-flavors. But with a measured hand, talented and forward-thinking brewers turn shock into awe and skepticism to joy in their courageous customers. A great conversation starter to break out at parties, these beers push the limits of how average consumers think about beer. Despite their quirky nature, the best funky beers are built on a strong foundation that serves to not overwhelm but please your palate with their unexpected drinkability. A fun pairing for food, this diverse group offers something for nearly every type of food and occasion.
Given the right circumstances and selection, your customers might be surprised at just how quickly they can acquire a taste for tart, sour ales. These funky flavored beers are playful, quixotic beers, often deeply grounded in ancient brewing history, with methods dating to long before modern techniques emerged.
These beers are often hard to categorize, with brewers and consumers often preferring to simply refer to them as sour beers. This catchall designation used to cover a wide grouping of ales produced at least in part with wild yeast or bacteria. Taking a page from Belgian brewers, American brewers embraced the use of funky agents that most brewers work to eradicate from their brewing operations. Organisms including brettanomyces, lactobacillus, and pediococcus, whether used as part of a spontaneous fermentation or through barrel inoculation, can turn a great batch of beer into an undrinkable mess if left to their own devices. But when intentionally used and controlled, each contribute interesting and unusual characteristics to beers. With aromas ranging from mildly tart to acid sour, with some exhibiting light wheat or farmhouse notes and others a pungent and shocking funkiness. Many brewers add mild fruits, such as apricots, to balance the acidity and sourness of their beers and others blend older and younger beers to achieve the desired mixture of flavors and aromas. These once rare and still unusual styles require some time to fully appreciate.
SAISON-BRETT BOULEVARD BREWING COMPANY
KANSAS CITY, MISSOURI
8.5% ABV
Based on the brewery's Tank 7 saison, Boulevard's Saison-Brett is an excellent specialty release that you won't have to wait in a long line to enjoy. Pouring with a clear light golden hue and a substantial amount of carbonation and proper fluffy white head, the beer grabs your attention. The aroma really lets you know this is not your typical saison, as it kicks closer to the farmhouse categories with its brett nose of lemon, pepper, and horse character. Light spices also appear in the nose and then again in the flavor, followed by a substantial earthiness from the yeast. The beer is dry hopped and then bottle conditioned with an assortment of yeasts, including brettanomyces, and then aged three months prior to release. The Saison Brett will continue to change the longer it's aged.
SOUR IN THE RYE
THE BRUERY
PLACENTIA, CALIFORNIA
7.8% ABV
Long an influential force in the American wild ale movement, the Bruery of Orange County, California, produces a wide range of great sour and wild beers. The Sour in the Rye is brewed with forty percent rye as a base malt and then aged with the brewery's wild yeast and bacteria in oak barrels for more than one year. Sold under the brewery's new Bruery Terreux brand, the Sour in the Rye pours with a deep copper to amber hue, with some mild haze, and a tight cascade of carbonation. The aroma swells with bright cherries, mild lemon and fruit notes, touches of sharper malt spiciness, and light hints of oak. The flavor follows suit with tart cherries and mixed fruits, a moderate level of sourness, and a balance of spicy pepperiness. Complex but not overwhelming, the beer hides its elevated alcohol level well and always satisfies.
INTERLUDE
ALLAGASH BREWING COMPANY
PORTLAND, MAINE
9.5% ABV
From one of the first American breweries to employ its own koelschip, a long, shallow, and open fermenter in which fresh wort is exposed to wild yeast and microfauna in the local air through slats in the building's walls, this stunner from Allagash is worth the price of admission. The brewery invites the funk into its operation and such adventurousness can be witnessed in its Interlude, its hazy yet brilliant orange hued wonder with streams of gentle bubbles rising up to a billowy off-white head. Fermented with farmhouse yeast, conditioned with Brettanomyces, and then aged in French Merlot and Syrah barrels, the aroma sings with strong and funky fruit character, woody and earthy at times, with some juicy apricot fruit notes tossed in for good measure. The flavor begins soft, with a slight pale and honey malt character, followed by dull fruit, then spiked by an intense tart and slightly sour element that injects wood, earth and a vinous funk into the mix for a dry finish.
BLACK ANGEL CHERRY SOUR
WICKED WEED BREWING COMPANY
ASHEVILLE, NORTH CAROLINA
6.6% ABV
A somewhat recent entrant to the Massachusetts brewing scene, Wicked Weed continues to make a splash with local beer geeks. In addition to its line of accessible and flavorful standards, such as its Pernicious IPA, the brewery has grown its reputation in the world of sour and wild ales. The Black Angel Cherry Sour is a mixture of cherry sour beer and a bourbon barrel aged dark strong beer. Near black to dark brown in color, this is no ordinary sour. The head pours substantial, tan, and then disappears leaving a melange of fruit and barrel aromas in its wake. Produced with Montmorency cherries from Michigan, the beer mixes cherry with the aforementioned bourbon barrel character to pit two dominating elements against one another in a wonderful battle for control of your palate and interest. Hints of vanilla, chocolate, caramel, cherry, mixed fruit, and a touch of mouth-puckering sourness bring this one home.
MADAME ROSE
GOOSE ISLAND BEER COMPANY
CHICAGO, ILLINOIS
6.7% ABV
Brewed in the Flanders Oud Bruin tradition, this excellent offering from Goose Island shows that craft breweries can continue to produce excellent, palate challenging beers even after joining up with bigger corporations. The brewers take a base brown ale and age it in in French oak Cabernet Sauvignon barrels, adding Michigan cherries and heavily inoculated the beer with the brettanomyces strain. Unlike many sour and wild beers, Madame Rose is a beer that consumers can reasonably rely on finding in stores despite its somewhat limited release nature. Pouring with a deep reddish hue and well sustained off white head, the beer nose is all brett, mixed with funky cherry tart notes. Hints of tannins play through as well as do mild oak notes. The flavor is not overwhelmingly sour or acidic, well-balancing playful cherry and fruit notes with layers of earthiness, cider, and wine reminiscent of a delightful balsamic vinegar. Madame Rose will continue to age well for several years in the bottle.