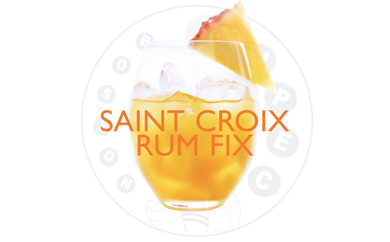 PINK LADY'S ENDANGERED COCKTAIL OF THE MONTH
SAINT CROIX RUM FIX
by Pink Lady
AS THE DAYS GROW LONGER and warmer our thoughts turn to porch drinks – the type of cocktails you want to sip on a veranda as you watch the sun go down. Or, if you live in a shoebox-sized apartment in a city with sky-high real estate, on a stoop or fire escape. Whether sipped on the roof deck or at the garden (AKA basement) level, a cocktail can be a quick "fix" for urban-dwelling blues.
The fix, like the julep or the fizz, is a category of drink born before Prohibition which enjoyed a great deal of popularity through the end of the nineteenth century. "Then the drink – a simple combination of spirits, juice, water, sugar, and ice – mysteriously disappeared," writes Ted "Dr. Cocktail" Haigh in Vintage Spirits and Forgotten Cocktails.
The simple drink morphed during its "38-year lifespan" as the bartender's palette grew, calling for syrups and eventually liqueurs "and the fix's uniqueness blurred", writes Dr. Cocktail. "This may be what killed the fix as a class of drink: no overriding identifiable characteristics." The basic template lives on for modern bartenders, even if they may not realize the structure for what it is: a reliably constructed and refreshing antique.
Dr. Cocktail offers up the St. Croix Rum Fix, which we're thrilled to mix for a porch hang, originally printed in Albert Barnes' The Complete Bartender, circa 1884.
---
SAINT CROIX RUM FIX
2 ounces of Virgin Islands rum • 1/2 ounce of pineapple syrup • juice of 1/2 a lemon • 2 teaspoons of sugar or simple syrup
In a tumbler or large wineglass, combine ingredients. stir until dissolved. pack crushed ice into the glass and garnish garnish with seasonal fruit. serve with a straw.
---
PINEAPPLE SYRUP
4 cups of cane sugar • 2 cups of water • 1 small fresh pineapple, skinned and cubed
add together in a bowl or quart jar. let stand for 24 hours. remove the pineapple cubes, lightly pressing them with a hand juicer or other method to squeeze some additional juice into the mixture. stir to dissolve any residual sugar. pour the resulting syrup through a tea strainer or cheesecloth lined funnel into a 1.5 liter bottle. add a small dash of spirits (any distillate of at least 😯 proof; 151 rum is recommended) as a preservative. keep refrigerated – it should keep for three months easily.