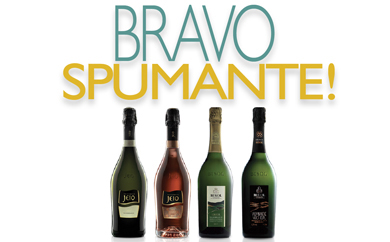 by Harvey Finkel
THERE IS NO GAINSAYING the nearly unrivaled keen elegant edge of Champagne, though some seek other vinous pleasures and less fiscal challenge in their sparkling wines. Fruitiness, floweriness, softness, and aromaticity are not characteristic of Champagne, but may be found elsewhere. The risk is the cheap shot hitting a vapid or cloying sparkler. Today, we'll explore some of the finer spumanti of Bisol, an elite producer located in the Prosecco zone of Veneto, 4O miles north of Venice.
As Prosecco found favor in fashionable Venice, it evolved to its current wide popularity as mostly dry, or nearly so, partially or fully sparkling via the Charmat method. Very small amounts of still wine and of sweet versions are produced. Softer than Champagne, and less costly, Prosecco is said to often possess hints of almond admidst its neutral fruit and an interesting pulse of mild bitterness in its finish.
The informing grape variety of Prosecco used to be called "Prosecco". It was predominantly the Prosecco tondo ("round"), the true iteration of the grape, which likely originated in the Istrian region of Croatia's Dalmatian Coast, across the roof of the Adriatic. The variety is now named "Glera", the change, according to Jancis Robinson (Wine Grapes, 2O12), a commercial protective move in 2OO9 when Prosecco di Conegliano-Valdobbiadene, the wine designation, was being promoted to DOCG and the greater Prosecco zone was being expanded. The steeper south-facing hillsides of Treviso Province between Conegliano and Valdobbiadene are reckoned to yield the best quality. The cool Cartizze subzone holds special cachet for its slightly sweeter wines. More basic Prosecco is grown on flatter land in Veneto and to lesser extent in Frioli-Venezia Giulia.
The Bisol family, recorded growers in the zone as far back as 1592, has been a respected producer of the characteristic spumanti since 1875, unusual in its complete vertical integration. Desiderio Bisol, following the depredations of the Great War, brought the company into the modern era. (He was called Jeio, "desire", by his wife, a name we'll see on bottles today.) The company is now headed by Gianluca Bisol. His brother, a latter-day Desiderio, is chief enologist and technical director. Gruppo Lunelli, producer of Ferrari sparkling wines in Trentino, acquired a half-interest in Bisol in 2O14. Bisol farms 2O small vineyards in the heart of the zone, totaling about 62 DOCG hectares, including two hectares of the precious Cartizze at the summit of that 3OO-meter hill in Valdobbiadene. Fruit is also purchased for Belstar, Bisol's basic level of Prosecco. The higher grades are called Jeio, and the cru level simply referred to as Bisol. Annual production is about 3.3 million bottles (1.3 million Belstar, 1.6 Jeio, nearly 4OO,OOO Bisol Cru), sold world wide. After the United Kingdom and Italy itself, the United States is Bisol's third largest market.
WINE NOTES
I sampled four wines: two Jeio Selections – Prosecco Brut and Rosé Brut, and two Bisol Crus – Crede and Cartizze.
DESIDERIO JEIO PROSECCO SPUMANTE BRUT DOC
Made from 1OO percent Glera, grown on Veneto lower slopes. Residual sugar 1.1 percent. A touch of toastiness. Good texture and finish. Dry, with some elegance. $15
DESIDERIO JEIO CUVÉE ROSÉ SPUMANTE BRUT
From Merlot and Pinot Noir, grown on steep Veneto slopes. Briefly macerated pre-fermentation. Residual sugar O.9 percent. Pale pink. Fruity flavor and finish. Not complex. $16
BISOL CREDE VALDOBBIADENE PROSECCO SUPERIORE SPUMANTE BRUT 2O14 DOCG
From Glera abetted by Pinot Bianco and Verdiso, grown in Bisol's own vineyards on steep, south-facing hillsides in Valdobbiadene. "Crede", the wine's eponym, is the name of the moisture-holding clay-laden soil on a subsoil of marine sandstone. Residual sugar O.75 percent. Dry and quite understated. Subtle and fine. I intrigue myself with the question of what a couple of years might coax out of the wine. $24
BISOL VALDOBBIADENE SUPERIORE DI CARTIZZE SPUMANTE DRY 2O14 DOCG
All Glera, hand harvested at full maturity on the summit of the 3OO-meter Cartizze Hill. The soil is crumbled stone, firm rock below. Residual sugar 2.3 percent. Floral fragrance. Complex and elegant. Superb texture and fine finish. To my own taste, were it slightly drier it would be wholly admirable. My wife, a hard sell, likes it unreservedly. $44