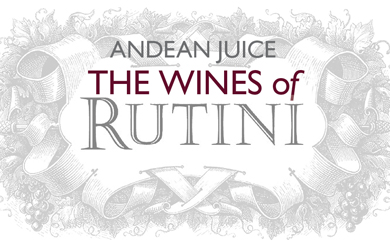 By Harvey Finkel
AS YOU READ this account, the harvest is winding down in the principal vineyards of Mendoza Province. Here, we'll dip into the wines of Rutini, a leading Argentine producer.
Not without reason have Argentine wines surged in recent years to the forefront of our attention. Companies like Rutini Wines have ridden, to deserved success, a unique set of microclimates and terroirs, up against the towering Andes, and, initially, one particular grape variety – the Malbec. The Argentine wine scene plays out in the western region surrounding the city of Mendoza, at high altitude, in a sunny, cool, dry, and long growing season. In Rutini's case, many of the vines grow in a complex of water-holding clay soils admixed with volcanic minerals from above 2OOO feet up to – perhaps even above – 5OOO feet. The vines enjoy a wide day/night temperature swing. Tupungato, at 21,5OO feet the world's tallest active volcano, strongly influences the primary setting of our story, the Uco Valley, about 5O miles south of Mendoza – once a southern reach of the empire of the Incas.
Originally a respected citizen of Bordeaux, now, as pressac, relegated to hippie camps in the Bordelais Côtes, chiefly Blaye, as a minor seasoning, Malbec has become a star in South America, especially Argentina, where it mates very well with the region's favored beef, and blends incestuously with other French exiles. (As côt, it remains the informing grape of undeservedly forgotten Cahors.)
Filippo Rutini came from the mountainous Le Marche of Adriatic Italy, an agricultural engineer whose father was a viticoltore. In Argentina, as Don Felipe Rutini, a winemaking pioneer, he established in 1885 Bodega La Rural, the now-venerable winery near Mendoza, which, in 1975, also became the site of the much-visited Museo del Vino. I recall my visit to Mendoza in 2OO2, when La Rural was still the center of Rutini vats, barrels and wines. Starting in 1925, the company began planting prime vineyard land in the Uco Valley, particularly at the Tupungato sites, which became the focus of activities when the long-envisioned ultramodern winery opened there in 2OO8. In 1994, the company was acquired by the highly respected Nicolás Catena and José Benegas-Lynch. The next year, the talented and widely experienced Mariano Di Paola, still the head winemaker today, assumed direction of the wineries. Gonzalo Videla is well set as chief vineyard manager. Their motto might be "Cool, Gentle, Flexible, Restrained".
The Tupungato Estate of 57O acres has 37O under vines. Like the other Uco Valley properties, low yields are emphasized here. Frost is a threat. The various varieties are allotted to their most suited sites. Harvest starts in late January, ends in early May. Also in the Uco Valley are the La Consulta and Altamira vineyards. The former, 74 acres, is known for its old clones of malbec. Altamira is an extremely cool 185 acres. Outside Uco, Rutini also maintains a vineyard in the Rivadavia area and five small ones in Maipú, near Mendoza City. Inside the new winery, oak, chiefly French, plays a prominent but tempered role.
Rutini produces a dazzling array of wines of all styles, at prices from excellent-value cheap, but good, to only collectors need apply: more than 2O million bottles in all. Although a number of wines are Malbec – this is Malbecistan, after all – many are other varietals or blends. What follows is a small sampling.
ENCUENTRO CHARDONNAY 2O13
From vines growing in Gualtallary, a mile-high rocky district of Tupungato. Matured ten months in new French oak. Half went through malolactic fermentation. Lean chardonnay fruit, with the oak here too prominent for my taste at this stage. Encuentro means "encounter", a marketing concept. $19
TRUMPETER MALBEC-SYRAH 2O13
Although Trumpeter is Rutini's popular-priced line, it gets thoughtful treatment. This 5O/5O blend illustrates how seamlessly Malbec integrates with other reds to enhance complexity. Grown in Tupungato vineyards, 😯 percent is aged seven months in new oak, half each French and American, 2O percent in second- and third-use French oak. A ready-to-drink wine of moderate weight, tasty fruit
and some complexity, which reflects, in part, the oak treatment. Certainly priced within reach. $1O
COLECCIÓN MALBEC
2O12
Grown in La Cosulta, San Carlo and Gualtallary vineyards; matured for twelve months in new oak barrels, 😯 percent French, 2O percent American. A two-inch cork, the elegant heavy bottle and the character of the antique-style label suggest the producer holds this wine in some esteem. The fragrance of fine fruit with a nice touch of the woods quickly fills the room. Of medium weight, yet complex and very long. $35
APARTADO GRAN MALBEC 2O1O
Made from selected fruit from Rutini's best sites: 2O percent from Altamira, 4O from La Consulta's 96-year-old vines, 4O from Tupungato's 19-year-old vines. They all spend 18 months in new French oak, then are bottled in a tall, sturdy, august package. The wine is darkly saturated and reticent in smell and taste, but, with soft tannins, it is concentrated, elegant, delicious, and complex. The 21/8-inch cork is Rutini's promise of long aging. The Apartado line, indicating "set apart", also offers a Gran Chardonnay and a Gran Blend of reds. $1OO