PINK LADY'S ENDANGERED COCKTAIL OF THE MONTH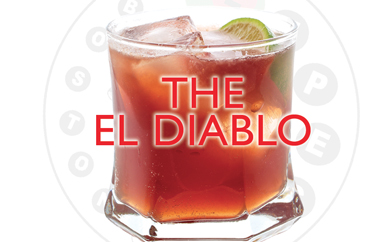 WARM WEATHER will soon be upon us which makes us LUPEC ladies want to reach for a Margarita. It's one of the very few classic cocktails made with tequila and, when made properly, is as refreshing a cocktail as can be. There's no question in our minds why it's one of the most popular cocktails in the world. And it's not the Margarita's fault people will choose to abuse it next month on Cinco de Mayo.
Perhaps this Cinco de Mayo you'll join us in reaching for a different kind of tequila drink, one made long and tall by a godfather of Tiki: the El Diablo. Trader Vic is credited for the El Diablo, which first appeared in print in his 1946 Book of Food and Drink, over a decade after the Margarita made the printed page. The Tiki craze was in full swing and we could easily imagine sipping one of these while decked out in Tiki dress at one of Trader Vic's famed establishments.
As always, we recommend choosing a high quality tequila, and if offered anything "gold" or "mixto" just say no. We're fans of the bright and citrus-y organically-made Chamucos tequila and think its orange blossom notes are a perfect complement to this fruity highball.
---
THE EL DIABLO
Trader Vic's recipe
1/2 lime
1 ounce of Chamucos blanco tequila
1/2 ounce of crème de cassis
Ginger ale
Squeeze lime juice into a 1O-ounce glass; drop in spent shell.
Add ice cubes, tequila, and crème de cassis. Fill glass with ginger ale.
Ditch the sombrero. Don a Tiki shirt.
Cin-cin!