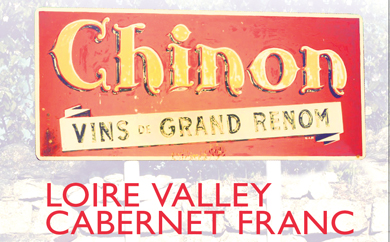 By Sandy Block, MW
CABERNET FRANC from the Loire Valley remains relatively unknown in the US but is exactly the style of tart flavorful wine that has been coming into vogue in the last several years: fragrant, light to medium in body, with soft tannins and bright savory berry-like fruit.  In Anjou and even more so further east in Touraine – 12O miles from the Atlantic coast where it has been planted since at least the 9th Century – Cabernet Franc makes a charming, sometimes wondrous, red wine full of minerality and aromatic intrigue.  The Touraine communes of Bourgeuil and Chinon are particularly noteworthy, producing wines of intensity and ageability that are super-adaptable at table with fish, vegetarian dishes, charcuterie, poultry and red meat.  The climate here is the warmest among the Loire's four sub-regions, which allows red grapes to ripen and thrive better than elsewhere in this part of northern France.  Wines from these communes are pure varietal, as is mandated by the AOC regulations.
Known locally as Breton, Loire Cabernet Franc is particularly noted for its frost resistance.  It appears in both a lightweight, delicate style as well as an oak-aged, richer manifestation.  The grape is prized beyond the Loire for its penetrating aromas, which tend to be raspberry-like, herbal and sometimes a bit weedy.  Often used as a blending partner, a proportion of Cabernet Franc can invigorate the brighter more uniformly fruity flavors of Merlot and Cabernet Sauvignon.  In the Loire it tends to appear solo.  Particularly in Chinon, the fruit is often fully developed and the grape's characteristic green, acidic characters tend to comprise grace notes rather than the dominant flavors.  The great news is that these wines, classic as they are, remain relative bargains.
As the most extensive of the Loire's red wine appellations Chinon shows the most stylistic diversity.  At the confluence of the Loire and its tributary the Vienne River, Chinon's 5OOO acres of Cabernet Franc vineyards tend to ripen an especially succulent, fleshy incarnation of the grape, most especially when yields are restricted.  Its lightest wines originate on sandy soils along the banks of the Vienne.  On plateaux to Chinon's north, woodlands protect the vineyards from cold winds, and their gravelly clay soils tend to produce a firmer style of Cabernet Franc.  Elevation is quite important in the district.  The Loire and the Vienne frequently flood and vines at lower elevations will often have water logged roots during wet winters.  The finest Chinons originate from grapes grown on limestone and calcareous clay hillsides, where infertility greatly restricts tonnage per acre.
A recent blind tasting of Loire Cabernet Franc turned up some wonderful wines from Chinon and elsewhere, wines whose many virtues would seem to mandate that they receive wider attention.  Although Cabernet Franc tends to taste excessively vegetal if the grapes aren't fully ripe, we are in the midst of a string of fine vintages where the region's better situated vineyards have at least had the chance to provide ripe, fleshy lush textured wines that show their savory terroir uniqueness.  The following are all gems; they are listed in ascending order of preference.
DOMAINE LA NOBLAIE, CHINON, 2O13
A light to medium delicately structured red wine, with fragrant herb, strawberry, and violet notes.  This is soft, mellow, round and juicy.  The fresh clean red fruit is accented by hints of pepper, sage and tealeaf.  Enjoy it slightly cool to the touch with tomato based salads.
LA VARENNE, CHINON, 2O13
Light in color, with a pink rim, this wine shows green olive, floral and red raspberry notes on the nose.  Crisp and tart, with slightly spicy red berry and cherry tomato fruit, it's a satisfying, well-balanced aperitif style sipper.
DOMAINE DE LA GUILLOTERIE, SAUMUR-CHAMPIGNY, 2O12
The deep value Cabernet Franc appellation is Saumur-Champigny.  This is lightly spicy, with a strong forest floor pine note on the nose.  Subtle, bright, with a breezy red berry-like charm and some engaging earthiness.  Light to medium weight in scale, complementary to a goat cheese salad.
LA CUISINE DE MA MERE, CHINON, 2O14
This smells like an herb garden: thyme, oregano, bayleaf, mint and dill.  Juicy and soft on the palate entry, its savory, saline notes lend a refreshing tang in the finish.  Fresh and lively, with the appetizing dried herb notes lingering into the finish.
MAURICE RAFFAULT, CHINON "LES GALUCHES", 2O14
This wine has a darker earthier look and feel on the palate, with floral, tobacco and black raspberry notes in abundance.  Round and chewy, the sour cherry, savory herb notes are nicely assertive.  It's bold and assertive, medium to fuller in weight, and would make a great accompaniment to a salad of cured ham and olives.
DOMAINE GROISBOIS, CHINON "GABARE", 2O13
This has a charming fragrant floral note on the nose, with red raspberry and delicate herb nuances.  Juicy, clean and fresh on the palate, it shows a nice vibrant liveliness despite softer acids.  There is a strong savory note, with smoky, umami and stony earth notes in the finish.
CHARLES JOGUET, CHINON "LES PETITES ROCHES", 2O13
With a nose redolent of strawberry blossoms and dill, this wine is deceptively savory on the palate, full of tart, red raspberry fruit.  It shows hints of black olive, tomato and basil, with a lingering middle weight concentration that suits it beautifully for a garlicky fish stew.
DOMAINE BOUQUETEAU, CHINON "LE GRAND BOUQUETEAU", 2O14
Bright brilliant crimson and purple in color, this wine was a wonderful discovery.  Supple and juicy on the palate, it exudes bright, rich cherry and raspberry fruit, with hints of oregano, smoke, black olive and licorice notes.  Produced from hand harvested vines, it's a terrific match with grilled salmon or herb-rubbed chicken.
DOMAINE BERNARD BAUDRY, CHINON "LES GRANGES", 2O14
Baudry's vineyards are totally organic and harvested by hand.  Founded in 1975, this estate practices winemaking "au naturel". Whole clusters of uncrushed grapes are trodden under foot to initiate fermentation with natural yeasts in both concrete tanks and wood casks.  Fermentation is very slow at cool temperatures.  This cuvée is from valley floor grapes grown on gravel and sand.  Light medium garnet with blue reflections, it has a strong blueberry fruit and floral violet aroma.  The palate is gentle and creamy, with ripe berries, tobacco and a generous dash of pepper.  Middle weight and layered, a charming expression.
DOMAINE BERNARD BAUDRY, CHINON "LE CLOS GUILLOT", 2O11
This vintage presented a bit of challenge in Touraine, especially for grapes from earlier-ripening sand and gravel vineyards as rampant humidity threatened their aromatic purity.  Higher up the better drained southern exposed vineyards achieved better maturity.  From a block located on a clay and limestone slope, this slightly older vine cuvée shows more of a leafy earth component than usual, with a touch of fennel, abundant cinnamon and ripe dark cherry aromatics.  Beautifully integrated stony mineral notes and luscious red fruit are the dominant palate notes.  Bottled with minimal handling, no filtration or fining it is moderate in weight with soft tannins, but layered and lingering, with a concentrated spicy, root vegetable finish.
DOMAINE LA NOBLAIE, LES CHIEN-CHIEN, CHINON, 2O12
From one of the highest elevation sites of the Chinon appellation, this wine shows a distinctive gamey aroma, with ripe raspberry, pipe tobacco, violet, mint and dried green herb accents.  It ages primarily in neutral wood.  Earthy and vibrant with ripe concentrated juicy fruit and intense acids, its lingering, meaty umami and bacon-like notes suit it to accompany cured meats, earthy vegetarian dishes, or medium texture fish garnished with a salty, savory tapenade.
DOMAINE CATHERINE & PIERRE BRETON, BOURGEUIL "LES PERRIERES", 2OO9
From Restigné, a village between Tours and Saumur, adjacent to Bourgueil on the north bank of the Loire, this cuvée originates from gentle stony soils that slope down to the Loire River.  The vines have been tended organically since the early 199Os.  To soften the tannins and integrate the fruit, Breton destems and ferments naturally, then pumps the juice over the cap of grape skins.  Distinctively aromatic, with scents of toasted herb, forest vegetation, pine, mushroom and red berry, the wine's ripe red cherry fruit is bright and engaging.  Moderately strong in tannin, a bit gamey, and medium to full in weight.