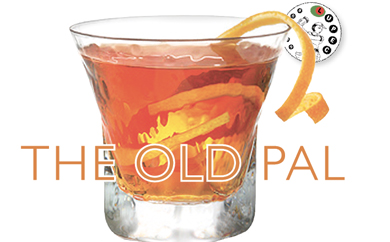 Valentine's Day arrives this month, the first holiday to officially call for eating and drinking since our New Years' shenanigans were put to bed last month. It's said to be the busiest day of the year in restaurants with couples arriving in droves, turning an otherwise sleepy winter evening into a main event with commensurate expectations of grandeur.
After decades behind the stick we LUPEC ladies prefer to lay low on Valentine's Day. For our lovebird readers, we recommend you celebrate with Champagne, or some cocktail variation thereof that's festive-y and topped with bubbles. If you're going stag this year, or are just put off by commercial holidays in general, we recommend settling in with an Old Pal.
This drink is credited to the late, great Harry MacElhorne, an Irish-born bartender who plied his trade in New York before making his way back across the pond to Paris in 1922. MacElhorne kept many endangered cocktails alive at Harry's New York Bar, where he hosted famous regulars and ex-pat writers like Ernest Hemingway and F. Scott Fitzgerald, and innovated many new drinks during the long dry years of American Prohibition.
MacElhorne also penned two cocktail books which are still in print today, Harry's ABC of Mixing Cocktails and Barflies and Cocktails. The Old Pal first appeared in print in one of these (exactly which one and when falls into that murky grey area of cocktail history where we shrug and reach for a bottle.) The drink has long been credited to a sports writer nicknamed "Sparrow" Robertson who was known to call even new acquaintances "Old Pal".
Isn't that who'd you'd rather spend your time with on Valentine's Day, anyway?
---
THE OLD PAL
1/3 part Canadian Club (or American rye whiskey)
1/3 part dry vermouth
1/3 part Campari
Stir ingredients with ice in a mixing glass.
Garnish with a twist of lemon.