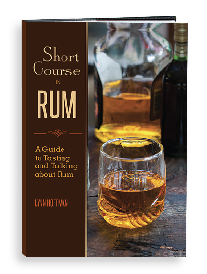 Lynn Hoffman
Hardcover And E-Book
This book covers all aspects of the rum story: Rumbullion, KillDevil, Demon Rum, rum and the American Revolution, lush desserts, the sugar trade, the Anti-Saloon League, prohibitionists, abolitionists, alchemists, the world's best wood-aged sipping rums, recipes for the best rum cocktails, working in a small craft distillery and more.  Lynn Hoffman taught at the Wine School of Philadelphia; is a former restaurant critic for Philadelphia Weekly; founded the culinary arts program at Drexel University; and is the author of Short Course in Beer.
Published by Skyhorse Publishing.